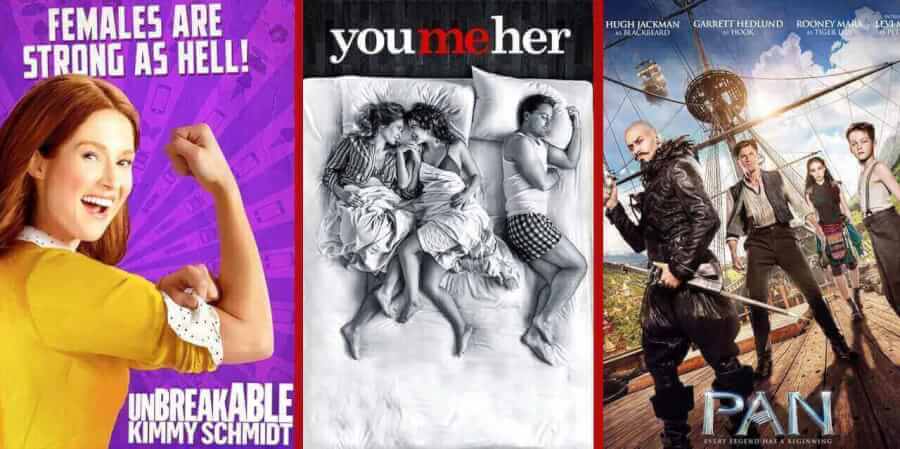 We're finally into June now and summer is almost upon us. This week, June 2nd 2018, Netflix UK welcomed a total of 40 new titles available to stream. This includes 20 new movies, two new documentaries and 18 new TV series. As usual, we're going to pick three titles out of the lot and give you some insight into what they're all about. Hopefully, you'll find something on the list this week that you'll want to add to your watchlist.
Our top pick this week is season four of Unbreakable Kimmy Schmidt (2018). Kimmy is weird and wonderful – she's not everyone's cup of tea. Who could blame her? She was kept in an underground bunker for years and did not see daylight. Now that she's free to roam the world, Kimmy takes on plenty of new challenges. Season four showcases Kimmy in a new and professional job – she's the kindest person you could meet but it can still be taken the wrong way if she doesn't realise the implications of her actions. This show is not to be taken seriously; it's a comedy that many have enjoyed for its intriguing and truly original qualities.
You Me Her (2018) focuses on the challenges and rewards of polyamory. Jack and Emma hit a bump in their marriage and their lack of sexual desire seems somewhat of a problem. However, that's soon resolved when they are both confronted with Izzy – a part-time escort and student. All of them appear to feel more than they first thought they would and they eventually decide to try out the relationship. The third season of the series follows the trio as they adapt to life together. Things are more difficult than they seem as they all have different visions for their lives and how they want it to play out. You Me Her is comedic, romantic and tackles the issues that those in this type of relationship can face.
We all know the stories of the boy who went to Neverland and grew up knowing the island. What we don't know is the deeper story behind what happened when he arrived. Pan (2015) is a prequel to the well-known story and delves into what happened when Peter Pan first met Captain Hook. We all know Captain Hook as the bad guy but, believe it or not, there was a time when he wasn't the one to be feared. Peter Pan, Captain Hook and Tiger Lily must fight for Neverland and all its powers from the evil pirate Blackbeard. From that moment, Pan became the true hero and protector that we know and love…
Take a look at the full list of 40 titles below:
20 New Movies
A Midsummer Night's Sex Comedy (1982)
B.A. Pass 2 (2017)
Beach Rats (2017)
Everything You Always Wanted to Know About Sex But Were Afraid to Ask (1972)
Galaxy of Terror (1981)
Grace Jones: Bloodlight and Bami (2017)
Katt Williams: American Hustle (The Movie) (2007)
Maggie's Plan (2015)
MirrorMask (2005)
Natsamrat – Asa Nat Hone Nahi (2016)
November 13: Attack on Paris (2018) Netflix Original
Pan (2015)
Pedal the World (2015)
Sara's Notebook (2018) Netflix Original
Species II (1998)
The Darkness (2016)
The Island of Dr. Moreau: Director's Cut (1977)
The Perfect Dictatorship (2014)
Two Weeks (2006)
Wish Upon (2017)
2 New Documentaries
Terms and Conditions May Apply
Trump: An American Dream – Season 1 (2018)
18 New TV Series
12 Monkeys – Season 3 (2017)
America's Got Talent – Season 1 (2018)
Arrested Development – Season 5 (2018) Netflix Original
Catching Hell – Season 1 (2014)
Gabru: Hip Hop Revolution (2018)
Joseph Campbell and the Power of Myth – Season 1 (1988)
Lockup: Raw – Season 1 (2017)
My Next Guest Needs No Introduction With David Letterman (2018)
Project Runway: Junior – Season 1 (2014)
Queen of the South – Season 2 (2017)
Splash and Bubbles – Season 2 (2018)
The Break with Michelle Wolf – Season 1 (2018) Netflix Original
The Sniffer – Season 3 (2017)
The Story of God with Morgan Freeman – Season 2 (2017)
Unbreakable Kimmy Schmidt – Season 4 (2018) Netflix Original
Whisker Wars – Season 1 (2011)
White Gold – Season 1 (2017)
You Me Her – Season 3 (2018) Netflix Original