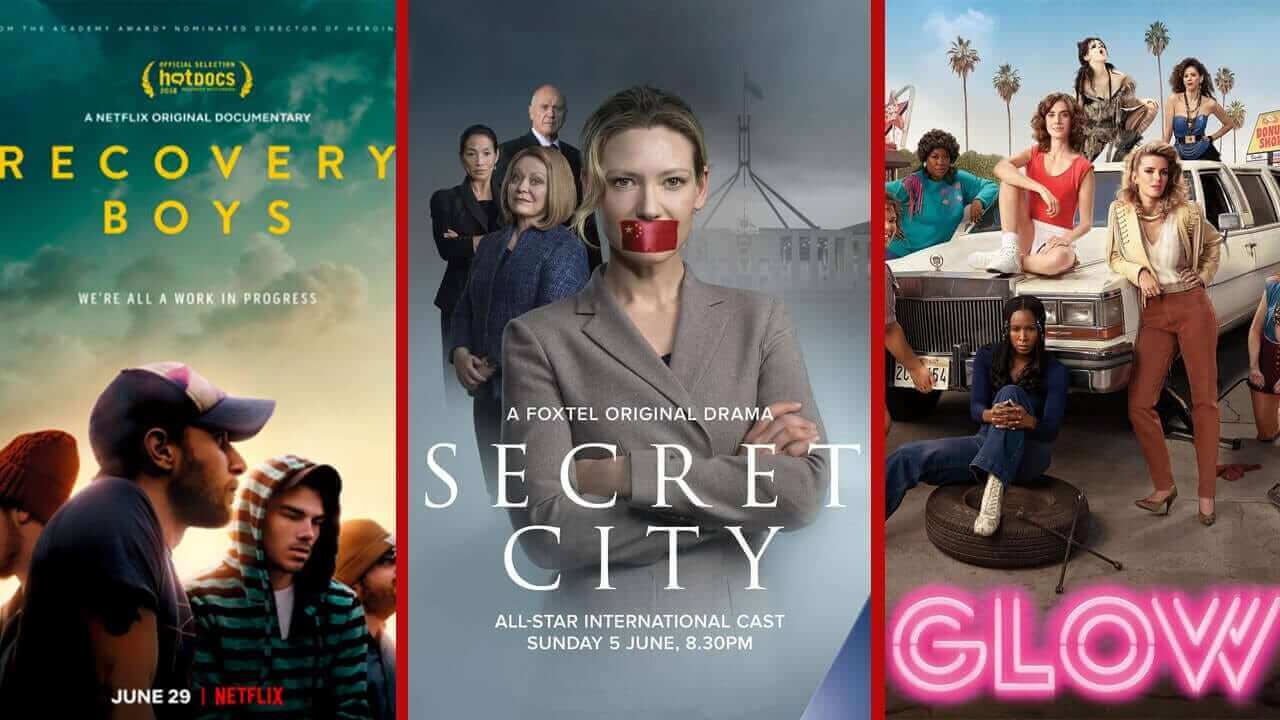 We're at the end of June now and the Summer months are among us. This week, 30th June 2018, Netflix UK has added a total of 36 new titles. This includes 18 new movies, 15 new TV series, one new documentary and two new stand-up specials available to stream. As we do every week, we're going to recommend three out of the whole list and give you some insight into what they're all about.
Our first pick of the week is the TV series GLOW (2018). This Netflix Original is on its second season, which means that if you haven't started this series already, you have lots to watch! It focuses on the lives of a group of women who seek stardom. Ruth Wilder finds her chance to be in the spotlight and it's all about her putting on the glitter and rising to fame in the women's wrestling industry. One group reinvent themselves in the hope that they will become the best, brilliant and brave. GLOW is a comedy created by those who brought us Orange Is the New Black. 
If you've ever been addicted to something, you'll know how hard it is to give it up. Days go by and you can't go without that one thing that keeps you above everything else. Four young men in the new Netflix Original film Recovery Boys (2018) have to rebuild their lives after years and years of drug addiction. Relationships were lost and time wasted but now it's time to make amends and fix the things that were broken in the past. The four men create an unexpected bond while on a farm-based rehab as they share the challenges and rewards of overcoming their addiction.
Sexuality is a very personal thing. We all go through those times in our life where we question it and ask ourselves: Who am I? It's taken Simone a lot of courage to try to admit to her Jewish family that she likes women but everything changes when the unexpected happens. After all that time pondering how to tell her family, she finds herself attracted to a man. The film To Each, Her Own (2017) is a comedy focused on Simone's life and challenges with her sexuality.
Take a look at the full 36 new titles below:
18 New Movies
A Hundred Streets (100 Streets) (2016)
All Is Lost (2013)
Birthmarked (2018)
Black Mass (2015)
Calibre (2018)

Netflix Original

Denial (2016)
Don't Breathe (2016)
Jonathan Creek: Special 2016: Daemons Roost (2016)
La Pena Maxima (2018)
Recovery Boys (2018)

Netflix Original

Sausage Party (2016)
Tau (2018)

Netflix Original

The Boss (2016)
The Limehouse Golem (2016)
The Mighty Quinn (1989)
To Each, Her Own (2017)

Netflix Original

Yoko and His Friends (2015)
You Got Served (2004)
15 New TV Series
Call the Midwife (Season 6)
Doctor Who (Season 10)
Dream High (Season 1)
Dream High 2 (Season 1)
GLOW (Season 2)

Netflix Original

Good Doctor (Season 1)
Harvey Street Kids (Season 1)

Netflix Original

Nailed It! (Season 2)

Netflix Original

Nice Guy (The Innocent Man) (Season 1)
Paquita Salas (Season 2)

Netflix Original

Sassy, Go Go (Balchikhage Gogo) (Season 1)
Secret City (Season 1)

Netflix Original

The Disastrous Life of Saiki K. (Season 2)
The Forest (La Foret) (Season 1)

Netflix Original

Yoko (Season 1)
1 New Documentary
2 New Standup Specials
Jani Dueñas: Grandes fracasos de ayer y hoy (2018)

Netflix Original

W. Kamau Bell: Private School Negro (2018)

Netflix Original