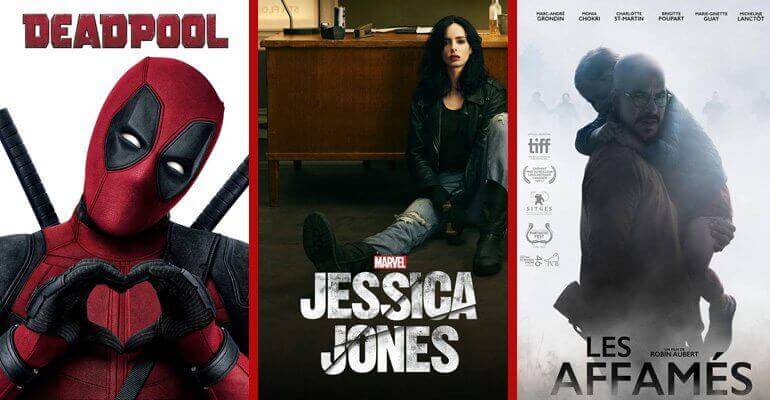 Time flies when you have plenty of good Netflix shows and movies to watch, doesn't it? Days are spent waiting for the evening where we can all sit on the sofa, watching our favourite characters and their adventures. This week, 10th March 2018, we have 36 titles to share with you. This includes 18 new movies, four new documentaries, 13 new TV series, and one stand-up special. All of these have been added to Netflix UK and are there and ready, waiting to be played. As we do every week, we're going to recommend three of those titles and hope that you enjoy them as much as we will this weekend.
Our favourite 'Merc with a Mouth' has finally come to Netflix UK, and he is on a mission. Deadpool (2016) is based on the Marvel comic and was originally distributed by 20th Century Fox. He's witty, he's smart, and he's got healing powers. As all supervillains though, he does have a weakness. He will stop at nothing to ensure the safety of the woman he loves. Ryan Reynolds plays this unstoppable protagonist, and it's fair to say that he did a great job at creating a character that is entirely different to any other. Deadpool talks to the camera, has a continuous stream of sarcastic and amusing comments, and really makes the audience feel part of the movie. The film is different and is definitely not something you'd let the kids watch.
Yesterday was Internation Women's Day and Jessica Jones: Season 2 (2018) is the perfect series to celebrate that. Jessica is an independent woman who doesn't need anybody, or so she seems. She enjoys plenty of alcohol, staying focused on a case, and saving the world every now and again. Everyone has their own problems and their own fears that haunt them – Jessica is no exception. Although she has weaknesses, she has super strength too, so I guess that comes in handy pretty often. While working as a private investigator she comes across other demons in her life, and she must battle these until they banish. If you are a Marvel fan, we expect you're already halfway through the season by now. If you're not, you're missing out on a whole lot of drama.
Article Continues Below...
We've picked another film to tell you about, and have stuck with the dark and slightly mysterious theme. Ravenous (2017) came to Netflix UK this week and it's all about the horrors of an outbreak of something terrible. It focuses on the survivors and their attempt to get away from the infectious zombies. The film has had mixed reviews, so clearly, there's a love-it-or-hate-it vibe going on, but it is worth a watch if you're into zombie-based entertainment. The French title for this film is Les Affamés, and it is a Canadian creation directed by Robin Aubert.
Check out the full list of 36 titles added to Netflix UK this week:
18 New Movies
Alvin And The Chipmunks: The Road Chip (2015)
Born Free (1966)
Bullet Head (2017)
Deadpool (2016)
Deathgrip (2017)
F The Prom (2017)
Fly Me To The Moon (2018)
Judwaa 2 (2017)
Kill Hitler! The Luck Of The Devil (2015)
Love Beats Rhymes (2016)
Midnight Special (2016)
Ravenous (2017)

Netflix Original

Secret In Their Eyes (2015)
Solo (2017)
Something Huge (2017)
The Chase (2017)
Tope: The Bait (2016)
Yaadein (2001)
4 New Documentaries
Bugs (2016)
Girls Incarcerated: Season 1 (2017)
Ugly Delicious: Season 1 (2018)

Netflix Original

Whitney: Can I Be Me (2016)
13 New TV Series
Al's Fish'n With Mates: Season 1 (2015)
B: The Beginning: Season 1 (2018)

Netflix Original

Best Lover: Season 1 (2016)
Erased: Season 1 (2016)
Flint Town: Season 1 (2018)
Ghost Wars: Season 1 (2017)

Netflix Original

Hitler's Circle Of Evil: Season 1 (2017)
I Am Innocent: Season 1-2 (2015)
Mahi Way: Season 1 (2010)
Surveillance Oz: Season 1-2 (2012)
The Doll Life: Season 1 (2015)
Unveiled: Season 1 (2017)
Yukon Gold: Season 1 (2013)
Jessica Jones: Season 2 (2018)

Netflix Original
1 New Standup Special
Gad Elmaleh: American Dream (2018)

Netflix Original