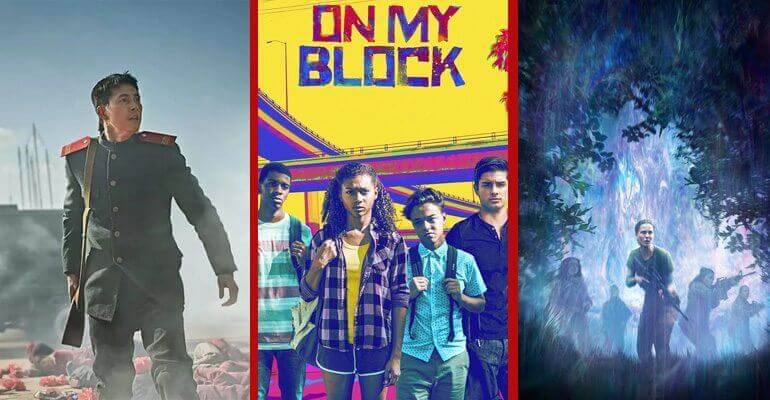 We're halfway through March and Netflix UK has dropped a whole new set of titles for us to watch. This week, 16th March 2018, there's a total of 54 new titles added. This includes 14 new movies, four new documentaries, 14 new TV series, one new standup special, and 21 foreign movies. As we do every week, we're going to recommend three of our favourites from the lot.
War is something that many fear, and if you had the power to control it – would you? If you enjoy watching action and adventure movies that have a believable storyline, then give Steel Rain (2018) a watch this weekend. A former North Korean intelligance agent and a South Korean security member team up for a secret mission in order to avoid a nuclear war. This film depicts real-world problems, and that's what makes it so intriguing and intense. As long as you're happy reading subtitles, you'll appreciate the storyline, the emotion, and the action all in one.
Your teenage years can be a tough time, especially when you're finding out new things and trying to find your way through high school. Four friends in the series On My Block (2018) must try to stick together during the good and the bad times. They're more than friends, they're family. They've known each other too long to separate, but once high school begins, new adventures do too. This Netflix Original will both capture your heart and have you laughing. You'll be awaiting a season two. There's a total of 10 episodes, all of which last about half an hour.
Article Continues Below...
How far would you go for the one that you love? Would you make a significant change in order for the love to stay alive? The 2016 film I Love You focuses on the lives of a married couple who need to find a way to bring love back into their relationship. When Marianne wants to separate from her husband, he realises it's time to make a change in his life in order for his marriage to survive. This film is a Swedish comedy and is easy to watch on a Saturday night.
---
Check out the full list of 54 titles added to Netflix UK this week:
14 New Movies
Act of Valour (2012)
After Earth (2013)
Annihilation (2018)

Netflix Original

Benji (2018)

Netflix Original

Christine (1983)
Grown Ups (2010)
I Love You (2016)
Kygo: Live at the Hollywood Bowl (2017)
Little Lunch: The Halloween Horror Story (2016)
Little Lunch: The Nightmare Before Graduation (2016)
Promised Land (2012)
Steel Rain (2018)

Netflix Original

Stretch Armstrong: The Breakout (2018)

Netflix Original

The Jungle Book (2016)
4 New Documentaries
Drugs Inc. (Season 1)
Go Back To Where You Came From (Season 1)
Prison Women Compliatios: Texas Hold 'Em
Take Your Pill (2018)

Netflix Original

Wild Wild Country (2018)
14 New TV Series
Aquarius (Season 2)
Bad Education (Season 3)
Ben & Holly's Little Kingdom (Season 1)
Children of the Whales (Season 1)

Netflix Original

Edha (Season 1)

Netflix Original

Live (Episode 1)
Occupied (Season 1)
On My Block (Season 1) Netflix Original
Secret of the Nile (Season 1)
Spirit: Riding Free (Season 4)

Netflix Original

STEINS;GATE (Season 1)
Terrace House: Opening New Doors (Season 1)

Netflix Original

The Garfield Show (2 Seasons)
The Hollywood Masters (Season 1)
1 New Standup Special
Ricky Gervais: Humanity (2018)

Netflix Original


Yoo Byung Jae: Too Much Information (2018)

Netflix Original
21 Foreign Movies
3 Türken & ein Baby (2015)
Bilu Rakkhosh (2017)
Boone: The Bounty Hunter (2017)
Chal Dhar Pakad (2010)
Ek Cup Chya (2009)
Haapus (2010)
Irada Pakka (2010)
Jag älskar dig: En skilsmässokomedi (2016)
Jomonte Suviseshangal (2017)
Kaththi (2015)
Lalbaug Parel: Zali Mumbai Sonyachi (2010)
Maheshinte Prathikaram (2016)
Masters (2012)
Mili (2015)
Ok Kanmani (2015)
Pizza, bira, faso (1998)
Ranbhool (2010)
Satrangi Re (2012)
Sthaniya Sambaad (2010)
The Art of Loving (2017)