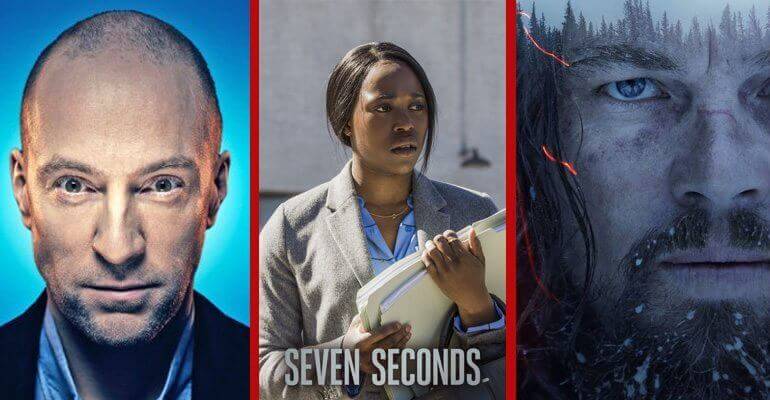 It's that time of the week again where we update you on the latest titles added to Netflix UK. March has snuck up on us already but luckily we have quite a few good ones to share with you today. This week, 2nd March 2018, there's a total of 49 new titles which includes 31 new movies, three new documentaries, 13 new TV series and two new stand-up specials. As usual, we're going to give you a preview of three of our favourites.
How would you deal with the death of a loved one? Would you crumble or would you stand tall? The new Netflix Original series Seven Seconds tests the stability of a family who lost a 15-year-old African American boy. This crime drama has plenty of tension, as the death of the boy was the doings of a white police officer. He doesn't cover it up by himself though, he has help from his colleagues at work – people who don't want to see him go down for murder. There's a total of ten episodes available to watch, all at around an hour in length.
Known for his psychological tricks and pushing regular members of the public to their limit, Derren Brown is back with a new special made for Netflix. The Netflix Original film, Derren Brown: The Push (2018), shows Derren manipulating an unwitting bloke into doing something unspeakable. Will he break and give in to intense pressure? Or will he accept what he's done and face the consequences? The show involves 70 actors who know and have rehearsed the plan, all that's left for them to do is carry out the scenario with one targeted man at its core.
The last film that we are going to tell you about today was nominated for 12 academy awards, three of which were won, and has been praised for the excellent storyline and acting. The Revenant (2015) came to Netflix UK this week and we are so glad that it did.  With Leonardo DiCaprio as the main character, this film is bound to be an exciting one. He plays the part of Hugh Glass, a man who is injured from a bear attack, loses his son, and must find a way back to normality. The film is set in 1823 and stars Tom Hardy, Dohmnall Gleeson, Will Poulter and Forrest Goodluck.
Check out the full list of 49 titles added to Netflix UK this week:
31 New Movies
10 Cloverfield Lane (2016)
A Silent Voice (2016)
Again Kasargod Khader Bai (2010)
Anti-Social (2015)
Big Bear (2017)
Derren Brown: The Push (2018)

Netflix Original

Gallows (2015)
Hans Zimmer: Live In Prague (2017)
Haseena Maan Jaayegi (1999)
Havenhurst (2016)
Hide & Seek (2010)
Ice Age: The Meltdown (2006)
Jack Goes Home (2016)
Kill Command (2016)
Milk (2008)
Mute (2018)

Netflix Original

Pandemic (2016)
Run (2004)
Sex Tape (2014)
Shakti: The Power (2002)
Shanghai (2012)
Shararat (2002)
Shaurya (2008)
The Brothers (2001)
The Girl With The Dragon Tattoo (2009)
The Plan (2015)
The Revenant (2015)
The Shaukeens (2014)
The Silence (2015)
Under Siege 2: Dark Territory (1995)
Verónica (2017)
3 New Documentaries
Beats, Rhymes & Life: The Travels Of A Tribe Called Quest (2011)
Poh And Co.: Season 1-2 (2015)
The Big Ward: Season 1 (2016)
13 New TV Series
21 Thunder: Season 1 (2017)
Bear Grylls' Survival School: Season 1-2 (2016)
Beauty And The Beach: Season 1 (2015)
Big Dreams, Small Spaces: Season 1 (2015)
Boonie Bears: Spring Into Action: Season 1 (2014)
Go Back To Where You Came From: Season 1 (2011)
Heavy Rescue: 401: Season 1 (2016)
How Safe Is Your House?: Season 1 (2014)
Love Your Garden: Season 1 (2011)
Mega Food: Season 1 (2013)
Robocar Poli: Season 1 (2011)
Seven Seconds: Season 1 (2018)

Netflix Original

Timeline: Season 1 (2014)
2 New Standup Special
Adel Karam: Live From Beirut (2018)

Netflix Original

Marlon Wayans: Woke-Ish (2018)

Netflix Original