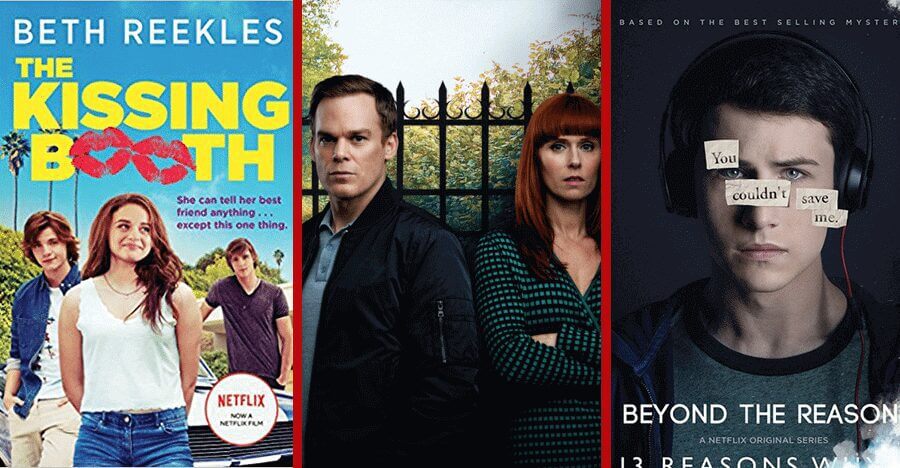 The list may be quite a bit smaller than last week but there's still plenty of crackers to enjoy. This week, May 11th 2018, Netflix UK has introduced a total of 22 new titles. This includes eight new movies, 10 new TV series, two new documentaries and two new comedy specials. Just like we do every week, we're going to pick out three titles from the whole list that we think you may want to take a look at during your free time and give you a brief overview of what you can expect.
The Kissing Booth (2018) is about more than you may first think. Yes, it's a teenage rom-com. Yes, it really does involve a kissing booth. Yes, it's possible there may be some cheesy scenes. However, if you're after something that is easy to watch and focuses on the lives of teenagers with a crush, this is the one to watch. Kissing your crush is huge – right? You all know the one – the boy that everyone wants but nobody can have. Elle's first kiss leads to more than a simple crush but did she ever imagine that her relationship with her best friend could be in jeopardy while attempting to get the guy of her dreams? This film is based on the bestselling book by Beth Reekles, which those of you who have read the book will likely be excited to see the characters come to life in this new Netflix production.
Created by the well-established crime author Harlan Coben, Safe – Season 1 (2018) has arrived to Netflix UK. This Netflix Original is a story of loss, learning and life. Tom is a widow. He's grieving for his wife who was taken by cancer. It's not easy being a father to two teenage girls and when one of them goes missing, that's when things start to unveil. Everyone has secrets… It's just that some secrets are worse than others. There are some things that simply shouldn't be shared but along Tom's journey, he unravels the darkness that those closest to him have been hiding. It's then that things become more difficult than he first imagined. The show stars Michael C. Hall (who played Dexter in the series of the same name) with an English accent. The show has a total of eight episodes which first hit Netflix yesterday, May 10th 2018.
Article Continues Below...
For those of you who are anticipating the released of the second season of 13 Reasons Why, you may want to take a look at 13 Reasons Why: Beyond the Reasons – Season 1 (2017) beforehand. It focuses on the troubles of the teenagers in the show and the exploiting tragedies that they go through. The cast, writers, producers, and even mental health experts bind together to discuss the sensitive topics that are explored in the show. It gives you some great insight into how they felt when portraying those characters but also sends everyone a message that it's okay to speak up if there's something not quite right going on in your life. Hannah Baker's story in the show has shaken the world – people suffer in silence and can make it seem like nothing is wrong. I guess you never know what's going on in somebody's head until they open up about their insecurities and woes. Hannah Baker may have taken her own life but for those who were affected by her presence, the memories still remain as a constant reminder that they could have done more… This series gives us that extra insight that is needed after watching such an emotional story.
Check out the full list of 22 new titles:
---
8 New Movies Now on Netflix UK
Pup Star: World Tour (2018)
City of God: 10 Years Later (2013)
Daddy Day Care (2003)
Jeepers Creepers 3 (2017)
Bad Neighbours 2 (2016)
Taxi Driver (1976)
London (2005)
The Kissing Booth (2018)

Netflix Original
---
10 New TV Series now on Netflix UK
Poldark – Season 2 (2016)
Sab Jholmaal Hai – Season 2 (2017)
Prince Jai Aur Dumdaar Viru – Season 2 (2017)
Liquid Edge – Season 1 (2015)
Schitt's Creek – Season 4 (2018)
Safe – Season 1 (2018)

Netflix Original

The Who Was? Show – Season 1 (2018)

Netflix Original

Spirit Riding Free – Season 5 (2018)
Ha Unlimited – Season 2 (2016)
Bill Nye Saves the World – Season 3 (2018)

Netflix Original
---
2 New Documentaries
13 Reasons Why: Beyond the Reasons – Season 1 (2017)

Netflix Original

Evil Genius (Evil Genius: The True Story of America's Most Diabolical Bank Heist) (2018)

Netflix Original
---
2 New Comedy Specials
Hari Kondabolu: Warn Your Relatives (2018)

Netflix Original

Carlos Ballarta: Furia Ñera (2018)

Netflix Original