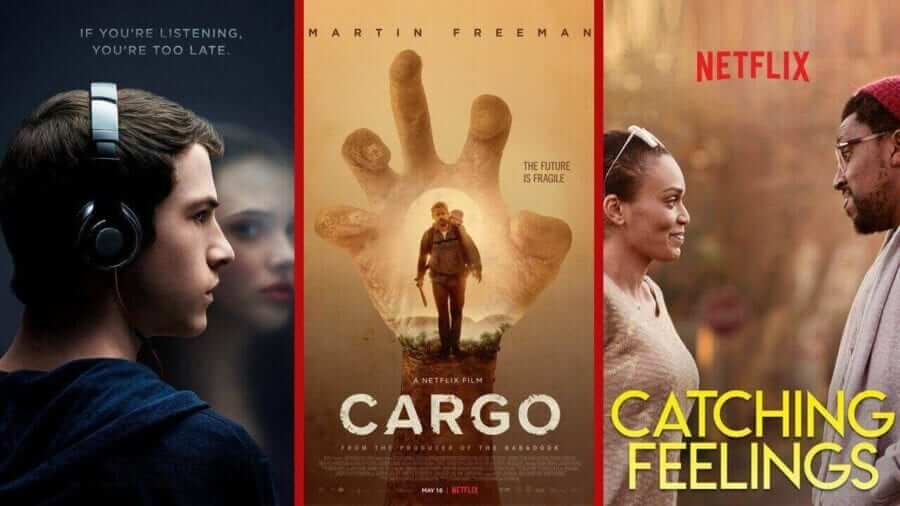 This week, 18th May 2018, Netflix UK released a total of 45 new titles for us to watch. This includes 20 new movies, 14 new TV series and 11 new documentaries. There's quite a few good ones released this week and we're going to pick a few out of the lot that we think you will find interesting. As usual, we'll give you some of the details for each title in the hope that you'll find something worth while to watch this weekend.
Our first pick of the week is a series that we have all been anticipating. 13 Reasons Why Season 2 came out today and we'll finally see the next chapter of the story. Hannah's story is tragic, but it's what she left behind that is even more haunting. Clay is troubled with the things that he didn't do to save Hannah and everyone else has a reason to blame themselves. This series focuses on some very real problems – suicide is no joke. Some people are silent and nobody knows before it's too late. Season 2 holds 13 episodes, all around an hour long each. For those of you who are fans of the show and are perhaps already a few hours into the episodes, you'll also be pleased to find out that 13 Reasons Why: Beyond the Reasons – Season 2 was also released, so there's plenty for you to indulge yourself in.
Catching Feelings (2018) is a South African dark comedy that has many surprises. Marriage can be a difficult road to go down and there will always be pressures that get in the way. A professor and his journalist wife have their lives turned around when they are influenced by a famous writer. The film stars Kagiso Lediga, Pearl Thusi, Akin Omotoso and Andrew Buckland. Kagiso Lediga also wrote and directed the film, which has a 1 hour and 56 minute running time.
Article Continues Below...
The final pick of this week is the new Netflix Original film Cargo (2018) which has Martin Freeman at its heart. He plays a desperate father searching Australia for someone to help his daughter. How far would you go for someone you love? During a zombie invasion, one man must fight to save his daughter before his fate is decided for him. He has 48 hours to save her before it's too late… This movie shows the emotional journey of loss, love and despair. The film has already had positive reviews and is worth a watch if you're into horror films with a sentimental twist.
Check out the full list of 45 new titles:
---
20 New Movies Now on Netflix UK
Aadu 2 (2017)
Action Replayy (2010)
Aiyaary (2018)
Ali Wong: Hard Knock Wife (2018)
Andaz Apna Apna (1994)
Cargo (2018)

Netflix Original

Catching Feelings (2018)

Netflix Original

Chalay Thay Saath (2017)
Food on the Go (E il cibo va) (2017)
I Am Not a Witch (2017)
Kickboxer: Retaliation (2017)
Lupin the 3rd: The Castle of Cagliostro: Special Edition (1979)
Midnight Express (1978)
Rishtey (2002)
Singh Is Kinng (2008)
The Intern (2015)
The Legend of Wu Kong (WuKong) (2017)
The Meddler (2015)
The Punisher (2004)
The Social Network (2010)
---
14 New TV Series now on Netflix UK
13 Reasons Why – Season 2 (2018)

Netflix Original

Animal Intervention – Season 1 (2012)
Asian Provocateur – Season 2 (2016)
Dance & Sing with True – Season 1 (2018)

Netflix Original

Doomsday Preppers – Season 1 (2012)
Hwarang – Season 1 (2016)
Love in the Moonlight (Gooreumi Geurin Dalbit) – Season 1 (2016)
Party Like – Season 1 (2012)
Saint Seiya: The Lost Canvas – Season 1 (2009)
The Invaders – Season 1 (2011)
The Producers (Peurodyusa) – Season 1 (2015)
Top 10 Secrets and Mysteries – Season 1 (2016)
Uncontrollably Fond – Season 1 (2016)
Unusual Cultures – Season 1 (2012)
---
11 New Documentaries
13 Reasons Why: Beyond the Reasons – Season 2 (2018)
Brain Games – Season 3 (2015)
Crimes Against Nature – Season 1 (2011)
Disaster Earth – Season 1 (2011)
Drugs, Inc. – Season 2 (2013)
How Big Can It Get – Season 1 (2011)
Inside Cocaine Wars – Season 1 (2012)
Lockdown Oz: Maximum Security (2008)
The Game 365 – Season 2 (2016)
The Krays: The Myth Behind the Legend (2015)
Wild Australia – Season 1 (2014)