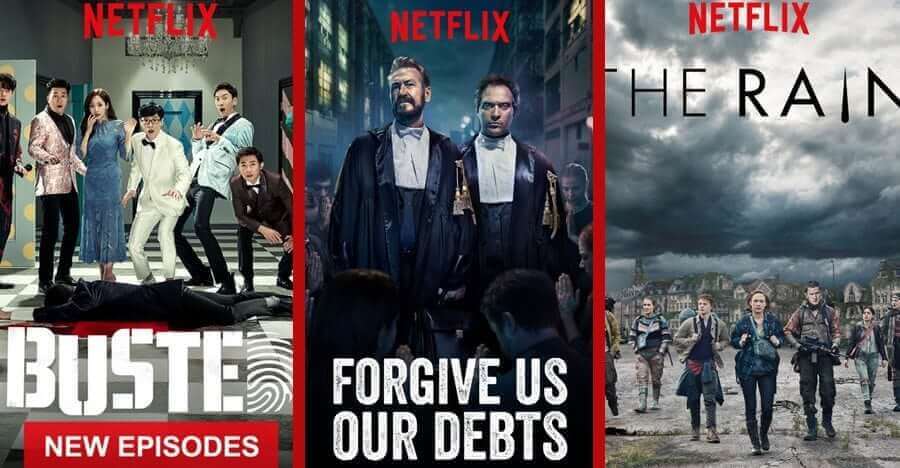 We're now into May and the Bank Holiday weekend has arrived along with some sunny weather. An extra day just means that there's more time to indulge in some quality entertainment and we're going to share with you three recommendations that we think is worth watching. In the lineup this week, 5th May 2018, there's a total of 108 new titles, which includes 58 new movies, 32 new TV series, 14 new documentaries and four new comedy specials. Our favourites this week are all Netflix Originals.
The first of the three is the new TV series Busted! (2018) which is full of mystery, judgement and intrigue. Each episode holds a new mystery to solve but none of which are as difficult as solving the biggest one of all. This Korean programme has plenty of jokes up its sleeve while the seven detectives do all that they can do find clues and find a resolution. Episodes are released on a Friday and there are currently two episodes available to watch so far – both almost an hour and a half each.
What would you do if the world around you collapsed? What would you do if there was no way back? A deadly virus wiped out most of the Scandinavian population and now there's only a select few left and hoping for survival. The Rain Season 1 (2018) has come to Netflix UK and focuses on two siblings who find other young survivors. They're all seeking help, safety and security. They're also pretty keen to know what happened six years before and why the virus wiped out almost the entire population. There are eight episodes available to watch, all at around 40 minutes each.
You've just lost your job. You have no money. You owe a huge amount to people who don't mess about. What would you do? Forgive Us Our Debts (2018) is all about one man who is under the threat of creditors. In attempt to save himself, he agrees to take a job as a debt collector but that decision was one that needed more thought… Many things can happen to those who make compulsive decisions, and this case is no exception. A deal is a deal and it must be done – whether the consequences are worse than it first seemed or not. If you're looking for a dark and cut-throat film this weekend, give this one a try.
Check out the full list of 108 new titles:
---
58 New Movies Now on Netflix UK
21 (2008)
Abhinetri (2016)
Ajji (2017)
Audrey Rose (1977)
My Father and My Son (2005)
Billu (2009)
Cameraman to the Queen (2015)
CIA: Comrade in America (2017)
Darc (2018)
End Game (2018)

Netflix Original

Enter the Ninja (1981)
Family Blood (2018)
Forgive Us Our Debts (2018)

Netflix Original

Gun Shy (2017)
Gurgaon (2017)
Hombanna (2017)
I'm Not Crazy! (2018)
Jailbreak (2014)
Jewel's Catch One (2016)
Kings of the Sun (1963)
Lakeview Terrace (2008)
Life, Animated (2016)
Lo más sencillo es complicarlo todo (2018)
Love Ni Bhavai (2017)
Maigret Sets a Trap (2016)
Maigret's Dead Man (2016)
Manhunt (2017)

Netflix Original

Miracles from Heaven (2016)
My Perfect Romance (2018)
Nativity 2: Danger in the Manger (2012)
Nativity! (2009)
Nibunan (2017)
Onaatah (2016)
Pocoyo & Cars (2015)
Pocoyo & The Space Circus (2008)
Pocoyo Carnival (2015)
Pocoyo Halloween: Space Halloween (2015)
Pocoyo Halloween: Spooky Movies (2014)
Pocoyo Special Sports (2016)
Pompeii (2014)
Ringan (2015)
Running Shaadi (2017)
Si saben cómo me pongo ¿p;á qué me invitan? (2018)
Sing-a-long with PJ Masks (2016)
Some Like It Hot (1959)
Sometimes (2016)

Netflix Original

Stagecoach: The Texas Jack Story (2016)
Stratton (2017)
Talladega Nights: The Ballad of Ricky Bobby (2006)
The Angry Birds Movie (2016)
The Clapper (2017)
The Standoff (2016)
Thi Mai (2017)
Toc Toc (2017)
Trailer Park Boys: Countdown to Liquor Day (2009)
Trailer Park Boys: The Movie (2006)
Waiting (2015)
Wild Orchid 2 (1992)
---
32 New TV Series now on Netflix UK
A Little Help with Carol Burnett – Season 1 (2018)
Anjaan: Special Crimes Unit – Season 1 (2018)
Black Crows – Season 1 (2017)
Bottersnikes & Gumbles – Season 2 (2017)
Boys Over Flowers – Season 1 (2009)
Busted! – Season 1 (2018)

Netflix Original

Cold Feet – Season 6 (2016)
Dear White People – Season 2 (2018)
Hinterland – Season 3 (2016)
Iris – Season 1 (2009)
Kakegurui – Season 1 (2018)
Khan: No. 1 Crime Hunter – Season 1 (2018)
Kong: King of the Apes – Season 2 (2018)

Netflix Original

Little Boy Blue – Season 1 (2017)
Love Island – Season 2 (2016)
Love Rain – Season 1 (2012)
Maggie & Bianca: Fashion Friends – Season 2 (2017)
Mere Papa Hero Hiralal – Season 1 (2018)
Monty Python's Flying Circus – Season 4 (1974)
Over the Garden Wall – Season 1 (2014)
PJ Masks – Season 1 (2016)
Prime Suspect – Season 7 (2006)
Prime Suspect 1973 – Season 1 (2017)
Sam Faiers: The Mummy Diaries – Season 1 (2016)
Simon – Season 1 (2016)
Spiritual House – Season 1 (2017)
Superstition – Season 1 (2017)

Netflix Original

Swami Baba Ramdev: The Untold Story – Season 1 (2018)
The Durrells – Season 1 (2016)
The Frankenstein Chronicles – Season 2 (2017)
The Rain – Season 1 (2018)

Netflix Original

Top Gear – Season 15 (2017)
---
14 New Documentaries
27: Gone Too Soon (2017)
A Life of Its Own: The Truth About Medical Marijuana (2017)
A Night on Earth: Africa – Season 1 (2014)
Alias JJ, la celebridad del mal (2017)
American Experience: Rachel Carson (2017)
American Experience: Tesla (2016)
American Experience: The Battle of Chosin (2016)
American Experience: The Race Underground (2017)
Coffee for All (2017)
Le K Benzema (2017)
Maya Angelou: And Still I Rise (2016)
Requiem for the American Dream (2015)
Roberto Saviano: Writing Under Police Protection (2016)
The Carter Effect (2017)
---
4 New Comedy Specials
Agustín Aristarán: Soy Rada (2018)

Netflix Original

Dany Boon: Des Hauts De France (2018)

Netflix Original

John Mulaney: Kid Gorgeous at Radio City (2018)

Netflix Original

Queens of Comedy – Season 1 (2017)