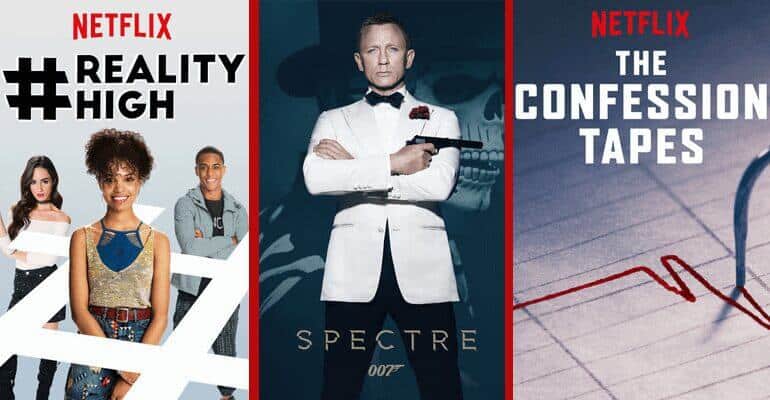 This week, Friday 8th September, we have a total of 43 new titles available on Netflix UK. That includes 26 awesome movies, 12 TV series, two documentaries and three stand-up specials. Before we know it it'll be the end of September and be getting even closer to Christmas! For now, though, we're going to celebrate our top three picks out of this week's Netflix UK line-up.
Our first pick is the new Netflix Original movie #realityhigh (2017) which is all about love and social media. Attracting the interest of your long-term crush is a huge thing. Well, it is for Dani anyway. When she decides to change her ways, it's then that her life changes too for both the good and the bad. The main problem is that her boyfriend's ex is a social media star and her friendly face is just an act. Dani gets caught in a teenage girl fight and it's not something she ever wanted. If you're a Mean Girls kind of person, you'll probably enjoy #realityhigh.
As we're on the topic of movies, Spectre (2015) has come to Netflix UK. With Daniel Craig as James Bond, this movie is great for a Friday night. While Bond is on leave from MI6, he decides to follow a trail of clues that lead him towards the global criminal organisation known as Spectre. It seems that Bond can't leave his past behind him as this organisation has ties with what happened in the previous films. Spectre is the 24th spy movie in the James Bond series. It's one man, agent 007, against one familiar face.
Our final pick is the Netflix Original documentary The Confession Tapes, which is on its first season. It follows the cases of people who have been convicted of murder argue against their previous confession. They claim that their confession was coerced, involuntary or false. This documentary features true crime stories and examines why false confessions happen and how to stop them. If you enjoyed watching Making a Murderer, then The Confession Tapes might be an interesting watch for you.
Here's the full list of all 43 new titles available this week:
26 New Movies
#realityhigh (2017) Netflix Original
Don't Be a Menace to South Central While Drinking Your Juice in the Hood (1996)
Edge of Winter (2016)
Emma's Chance (2016)
Gbomo Gbomo Express (2015)
Incorruptible (2015)
Invasion (1987)
Just Go With It (2011)
Kicking and Screaming (1995)
Krish Trish and Baltiboy – Battle of Wits (2013)
Krish Trish and Baltiboy – Best Friends Forever (2016)
Krish Trish and Baltiboy – Comics of India (2012)
Krish Trish and Baltiboy – Oversmartness Never Pays (2017)
Krish Trish and Baltiboy – The Greatest Trick (2013)
Krish Trish and Baltiboy I (2009)
Krish Trish and Baltiboy: Part II (2010)
Mercury Rising (1998)
Mighty Raju Rio Calling (2014)
Mistress America (2015)
Nocturama (2016)
Operation Avalanche (2016)
Out of Luck (2015)
Railroad Tigers (2016)
Revenge of the Pink Panther (1978)
Spectre (2015)
The Duplex (2015)
12 New TV Series
Apaches (Season 1)
Borderline (Season 1)
Call the Midwife (Season 5)
Greenhouse Academy (Season 1)
Luxury Travel Show (Season 1)
Maniac (Season 1)
Oggy and the Cockroaches (2012)
Spirit Riding Free (Season 2) Netflix Original
The Expanse (Season 2) Netflix Original
The Investigator: A British Crime Story (Season 1)
Toast of London (Season 3)
Zig & Sharko (Season 1)
2 New Documentaries
Fire Chasers (Season 1) Netflix Original
The Confession Tapes (Season 1) Netflix Original
3 New Standup Specials
Fabrizio Copano: Solo pienso en mi (2017) Netflix Original
Joaquín Reyes: Una y no más (2017) Netflix Original
Marc Maron: Too Real (2017) Netflix Original