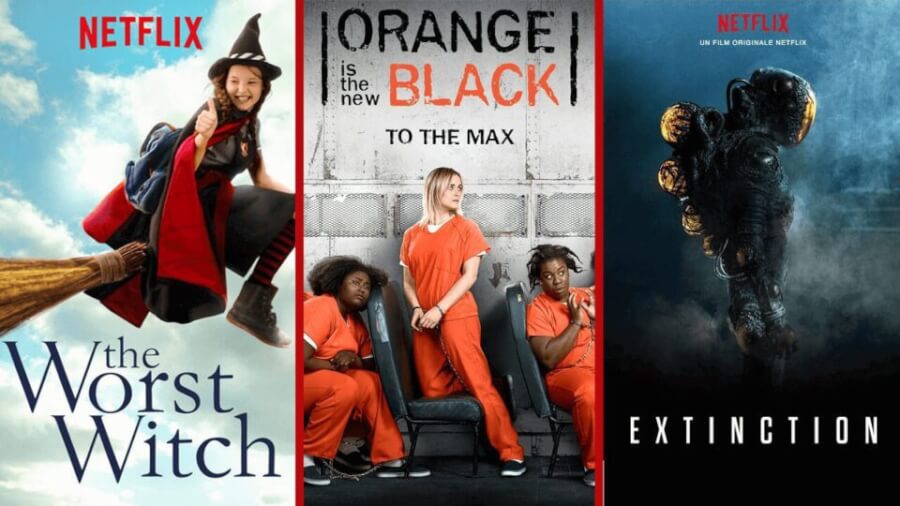 Hello and welcome to your weekly roundup of all the new titles that found their way onto Netflix in the United Kingdom this week. Given the weather, we're going to need some titles to cool us down and we think Netflix has done just that. 
Let's start off with the Friday additions and the new Netflix Originals now available. This week, we got the sixth season of the Netflix's darling Orange is the New Black. This season, we don't return to Litchfield because following the events from last season, we're heading to max. Most of your favorite cast members return and thankfully, reviews say the show is back on track after a rocky fifth season.
To keep the kids busy over the summer holiday, Netflix has released two new series, one called Floogals and the other is the second season to the popular series, The Worst Witch.
Article Continues Below...
Not much happening in the movie department this week unless you're a fan of Thai cinema in which case there's a suite of goodies. The big Netflix movie release this week is the sci-fi movie Extinction which sees Michael Pena have visions of an alien invasion before it comes to reality.
Alice will be back next week to take over your weekly additions once again.
18 New Movies Added
Bang Rajan 2 (2010)
Blow (2001)
Breathe (2017)
Extinction (2018) Netflix Original
Happy End (2017)
My True Friend (Friends Never Die) (2012)
Oh My Ghost (Hor taew tak 2) (2009)
Oh My Ghost 2 (Hor taew tak 3) (2011)
Oh My Ghost 4 (Hor taew tak 4) (2015)
Pahuyut Fighting Beat (FB: Fighting Beat) (2007)
Parmanu: The Story of Pokhran (2018)
The Bund (Shang Hai tan xu ji) (1983)
The Holy Man (2005)
The Iron Ladies (Satree lek) (2000)
The Iron Ladies 2 (Satree lek 2) (2003)
The Warning (2018) Netflix Original
Train of the Dead (Chum thaang rot fai phii) (2007)
Waterschool (2018)
8 New TV Series Added
Cupcake & Dino – General Services (Season 1) Netflix Original
El Chapo (Season 3) Netflix Original
Floogals (Season 1)
Orange is the New Black (Season 6) Netflix Original
Project Runway (Season 4)
Roman Empire (Season 2) Netflix Original
The Worst Witch (Season 2) Netflix Original
Welcome to the Family (Season 1) Netflix Original
3 New Documentaries
44 Pages (2018)
The Bleeding Edge (2018) Netflix Original
The Devil and Father Amorth (2017)
1 New Standup Special
Coco y Raulito: Carrusel de ternura (2018) Netflix Original
Iliza Shlesinger: Elder Millennial (2018) Netflix Original