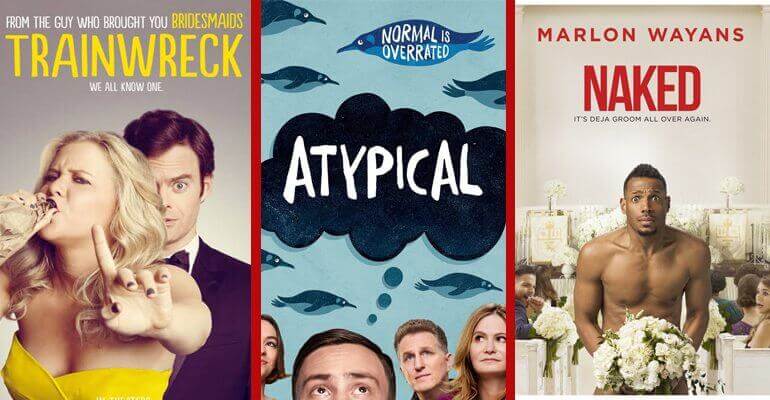 With 34 new titles added to Netflix UK this week, 11th August 2017, we're going to pick the best out of the lot so you can start watching the best shows this weekend. Amongst the 34 new titles are 22 movies, two documentaries, nine TV shows and one standup special.
There aren't too many Netflix Originals this week however, the two that we're outlining are ones you shouldn't miss. The first of those is a series called Atypical (2017) which is about a young man with autism who is on the search for love. It's his time to be more independent and find things out for himself, with a girlfriend top of his list. His family go on their own journey of self-discovery as their teenage boy grows up. All eight episodes of the first series are available on Netflix UK, so you can watch 18-year-old Sam try to get through school and secure a girlfriend.
Our second pick of the Netflix Originals is Naked (2017) which is about a man who is about to get married. There's just one problem for Rob in this series. He's naked and he's stuck in a time loop in an elevator. He's forced to relive the same hours before his wedding over and over again until he does something right. It may seem like something considerable repetitive and it is however, there's a deeper moral behind it and it's still entertaining. This comedy film will give your evening a boost so if you're after something light-hearted then this is the film for you.
Article Continues Below...
Our final pick is another movie, however this time in the romantic comedy genre. The film Trainwreck (2015) is about a woman who didn't realise that true love could be found. She's soon proven wrong when she falls for a good guy. She's not good with commitment, so this is a huge deal for her. Amy is a magazine writer who creates a profile about a successful sports doctor named Aaron Conners and it's then that she finds herself hooked. This is a great movie for those who want something easy to watch. It's fun, it's romantic and it's comedic.
Here's the full list of titles added to Netflix UK this week:
34 New Titles on Netflix UK This Week
22 New Movies
Enter the Warriors Gate (2016)
Selfless (2015)
Trainwreck (2015)
The Black Room (2016)
Mission: Destroy Love (2014)
Hostel (2005)
Baahubali: The Beginning (Hindi Version) (2015)
Baahubali 2: The Conclusion (Hindi Version) (2017)
Zero Dark Thirty (2012)
Scorpio (1973)
True Story (2015)
Black Site Delta (2017)
The Saint (2017)
Superstar (2017)
Shut In (2016)
Rama Rama Re… (2016)
Diary of an Exorcist – Zero (2016)
Chocolate (2016)
The Great Beauty (2013)
Sweet Sixteen (2002)
Naked (2017) Netflix Original
Dear Frankie (2004)
2 New Documentaries
Nat King Cole: Afraid of the Dark (2014)
I Called Him Morgan (2016)
9 New TV Shows
Atypical – Season 1 (2017) Netflix Original
Buy Herself – Season 1 (2012)
Abnormal Summit – Season 2 (2016)
Tenkai Knights – Season 1 (2013)
Chesapeake Shores – Season 2 (2016)
Daniel Tiger's Neighbourhood – Season 1 (2014)
True and the Rainbow Kingdom – Season 1 (2017)

Netflix Original

QI – Season 5 (2013)
Home – Season 3 (2016)
1 New Standup Specials
Denis Leary: No Cure For Cancer (1992)