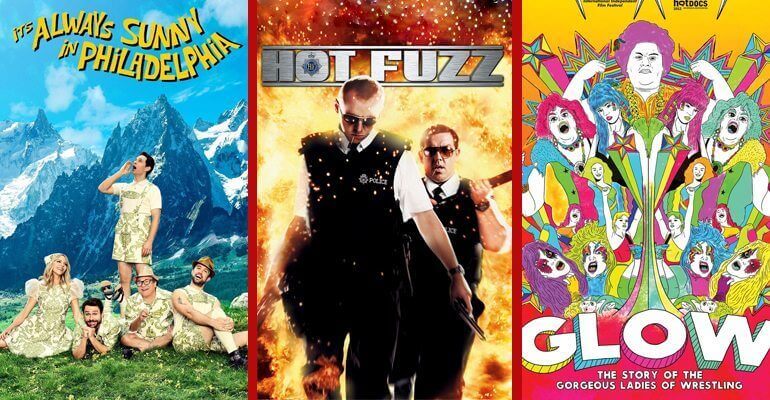 It's time to see what's new on Netflix UK for the week of May 12th 2017. Here, we'll cover every new movie, TV series and documentary added to Netflix over the past week and while it's been quieter than normal, particularly after last week's bumper lineup.
Let's start off with the movies and mention the second movie in the cornetto trilogy Hot Fuzz. Often regarded as the best of the three movies, it stars Simon Pegg and his partner in crime Nick Frost as Pegg's character gets transferred out into the sticks but finds that the town has quite a few secrets lurking. It's comical and is a blast to watch for the first time if you haven't seen it now is your chance.
In anticipation of the Netflix Original series coming next month, Netflix chose to release the 2012 documentary following the ladies of wrestling. Entitled Glow: The Story of the Gorgeous Ladies of Wrestling it documents the rise to fame the group of girls had during the 80's. The Netflix series is due out at the end of June.
Article Continues Below...
Finally, for fans of Always Sunny in Philadelphia, the twelve season of the show has now been made available in Netflix UK with all of the main characters returning.
Here's the list of 31 new titles new on Netflix UK over the past week.
18 New Movies on Netflix UK
Aiyyaa (2012)
Bald Mountain (2013)
Bbuddah Hoga Terra Baap (2011)
Closer (2004)
El apóstata (2015)
Furious 7 (2015)
Gabbar Is Back (2015)
Hot Fuzz (2007)
Hunter Gatherer (2016)
Madras Café (2013)
Michael (2011)
Norm Macdonald: Hitler's Dog, Gossip & Trickery (2017)
Pyaar Ka Punchnama 2 (2015)
Stake Land (2010)
Stake Land II: The Stakelander (2016)
The Adventure Club (2016)
Unfriended (2014)
White House Down (2013)
8 New Documentaries on Netflix UK
Burden (2016)
Can Alzheimer's Be Stopped? (2016)
GLOW: The Story of the Gorgeous Ladies of Wrestling (2012)
Iceman Reborn (2016)
LoveTrue (2016)
National Bird (2016)
NOVA: Treasures of the Earth – Season 1 (2016)
Wild Ways (2016)
5 New TV Series
All Hail King Julien: Exiled – Season 1 (2017)
Anne with an E – Season 1 (2017)
Get Me Roger Stone (2017)
It's Always Sunny in Philadelphia (Season 12)
Master of None – Season 2 (2017)
What's your favorite new addition? What would you like to see Netflix UK add next week?