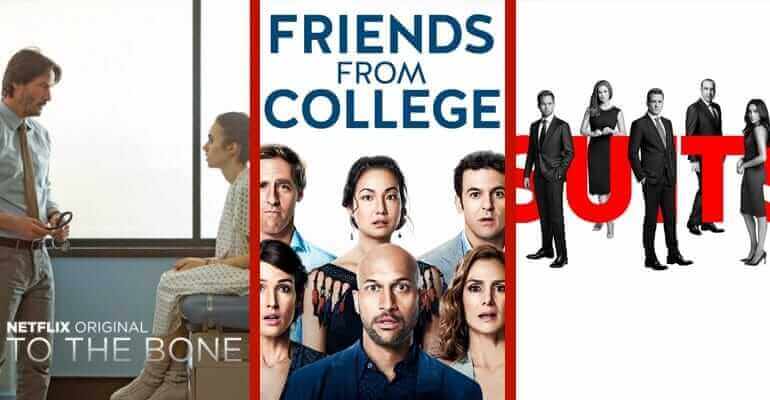 Welcome to this week's list of new releases on Netflix UK. There is a total of 37 new titles added this week, 14th July 2017, including 17 new movies, two documentaries, 13 TV shows and one new stand-up special. It may be a much shorter list than last week, but we're here to pick the best out of the lot to make your weekend more enjoyable.
First up we have the new Netflix Original movie To the Bone (2017). Causing a lot of discussion in the media, this movie revolves around a 20-year-old woman who suffers from anorexia. The main character Ellen, who is played by Lily Collins, has been through different recovery programs only to find them unsuccessful for her. It's not until she meets an unconventional doctor that her life starts to change. It's an emotional movie, which many people who are or have been in Ellen's situation can relate to. It's bound to connect with many people and is likely to be another big hit for Netflix.
Next up we have another new Netflix Original called Friends from College (2017). This week welcomes its first season with a pretty awesome cast. The six friends are on their way to their 40s, which is a big deal. The friends met at Harvard years ago and when they meet again, they realize that there's a lot from their past that has stayed with them. They learn that growing up is hard but inevitable and love hasn't gotten any easier. It definitely has a slight Friends vibe, so if you're into that kind of lifestyle show, give Friends from College a try.
Last up we have Suits (2015), which now has a total of seven seasons available on Netflix. It's about a man called Mike who has a photographic memory. He dreams of being a lawyer, and he's a good one too. However, he never actually went to law school due to criminal activity. A shame considering how well he could have excelled. However, the mighty Harvey Specter hires him anyway and the story explodes from there. They're a good pairing and all Mike wants to do is the right thing, despite what Harvey believes. The seventh season is available on Netflix, with one episode available each week. Season seven features Mike's return to Pearson Specter Litt but it's not long before problems occur without Jessica. If you enjoy business and lawyer based series, this one is definitely worth a watch. We also enjoyed the series How to Get Away with Murder and Better Call Saul, as they both have the same dodgy-businesslike vibe.
Here's the full list of titles added to Netflix UK this week:
37 New Titles on Netflix UK This Week
17 New Movies
Blair Witch (2016)
Bless the child (2000)
Buddy Thunderstruck: The Maybe Pile (2017)
Cowboy (2011)
D.L. Hughley: Clear (2014)
Fairy Tail the Movie: Phoenix Priestess (2012)
Fullmetal Alchemist: The Sacred Star of Milos (2011)
Ghost Pain (2013)
Ghost Whispers (2013)
Les Misérables (2012)
Scary Movie 2 (2001)
Scary Movie 3 (2003)
The Box (2009)
The Dark Horse (2014)
To the Bone (2017)

Netflix Original

Tom Segura: Completely Normal (2014)
Wrong No. (2015)
2 New Documentaries
Chasing Coral (2017)

Netflix Original

Sea Nomads (2012)
13 New TV Shows
Cheo-Yong – Season 2 (2015)
El Capo – El Amo del Tunel – Season 1 (2016)
Friends from College – Season 1 (2017)

Netflix Original

Fullmetal Alchemist: Brotherhood – Season 5 (2010)
Men on a Mission – Season 1 (2017)
Quiz From God – Season 4 (2014)
Samurai Champloo – Season 1 (2004)
Strawberry Shortcake: Berry Bitty Adventures – Season 3 (2015)
Suits – Season 7 (2015)
The Legend of Bruce Lee – Season 1 (2008)
The Little Prince – Season 1 (2012)
Vinnie Jones Toughest Cops – Season 1 (2008)
Z Nation – Season 2 (2014)
1 New Standup Special
Gabriel Iglesias Presents The Gentleman Jerry Rocha (2015)