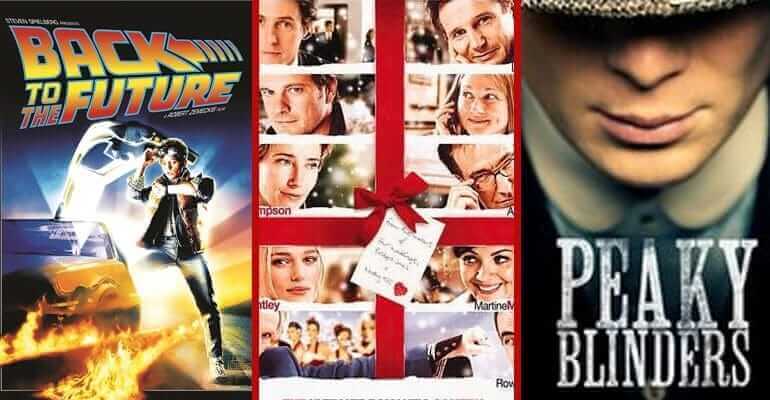 We're halfway through December now and it won't be long until we're celebrating Christmas Day and then the New Year. This week, 15th December 2017, there's a total of 16 new titles added to Netflix UK. This includes 12 new movies, four new TV series and one new stand-up special. The list may be small but we think there are a few good ones there that you'll enjoy watching this weekend. So as usual, we're going to pick our favourites out of the lot.
Our first pick is one for the sci-fi fans. That's right – Back to the Future has come to Netflix. Not just one of the movies, but three. They're classic movies that many have fallen in love with because of Doc Brown's crazy ways and Marty McFly's adventures with him. They are stories of travelling through time to see what's to come, as well as changing the past to secure the correct future. They're the perfect set of movies to watch at this time of year when you want to curl up on the sofa away from the cold weather and watch some good entertainment. Back to the Future is a must-watch.
If you're a fan of Christmas and have a list of movies you watch at this time of year, it's likely that Love Actually (2003) is on your list. It's a Christmas favourite for many, praised for its ability to make us appreciate those around us. It's a story of love, many relationships, and dreams. Bad things happen but usually, there's something good waiting for you on the other side. Love Actually has some of our favourite actors in including Hugh Grant, Bill Nighy, Colin Firth, Martin Freeman, Emma Thompson and Alan Rickman. There's so much more than that, but that's just to name a few. This spirit-lifting film has finally come to Netflix UK, so you can watch it as many times as you want.
Our final pick of the week is Peaky Blinders (2014). This show is all about gangsters in the post-war era in Birmingham. Netflix welcomed season three this week, so if you haven't watched any of the series yet then there's plenty to catch up on. This is a show that hooks you in, it's one that you may not expect to enjoy so much but end up appreciating for all its value and excitement. It's about one man who wants the world, and he'll stop at nothing to get what he wants.
Here's a full list of the titles added to Netflix this week:
16 New Titles on Netflix UK This Week
12 New Movies
Triangle (2009)
The Resident (2011)
The Collector (2009)
Nowhere Boy (2009)
Monster House (2006)
The 6th Day (2000)
Maid in Manhattan (2002)
Love Actually (2003)
Back to the Future (1985)
Back to the Future Part II (1989)
Back to the Future Part III (1990)
4 New TV Series
Peaky Blinders – Season 3 (2014)
Manhunt – Season 1 (2017)

Netflix Origina

l
Dawai Asmara – Season 1 (2016)
The Ranch (Part 4)
Upstart Crow – Season 1(2016)
1 New Stand-up Special
Judd Apatow: The Return (2017)

Netflix Original