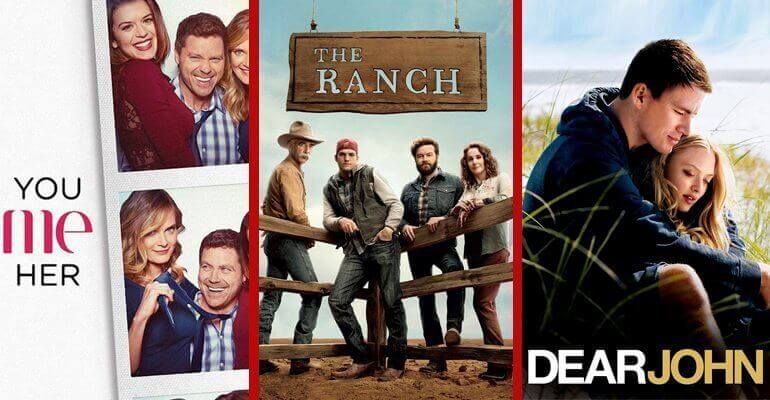 Without looking at the facts, you may not realise how many new shows, films and documentaries are added to Netflix each week. That's why we're here to give you all the details and provide our top picks. With a total of 58 new titles added to Netflix UK this week, 16th June, there's some good entertainment for us to highlight.
First up is the Netflix Original You Me Her (2016), that said hello to its second series this week. The show delves into quite a controversial matter but explores new beginnings, interesting pasts and a road to acceptance. It tells the tale of a married couple who want to spice up their sex life but things get way more complicated than they anticipate. Love comes in all shapes and sizes, but this journey is one that is completely new and holds problems for their marriage, their social life and even their jobs. Season one followed the married couple fall in love with another woman but season two shows them try to make it as a three.
Next is another Netflix Original, The Ranch (2016). The show introduced its third 'part' this week where we see Ashton Kutcher play Colt Bennett. He gave up his dream of becoming a professional football player and decided to return to his family's ranch. The family isn't what you'd expect – they're dysfunctional. That doesn't mean this series isn't funny though. It's actually a comedy. See what two brothers, their ranch father and the wife he is separated from get up to next.
Article Continues Below...
Our final top pick is one for the romantics. The film Dear John (2010) has been added to Netflix UK this week. The film follows a strong romance turn into love letters, due to John's soldier lifestyle. Featuring Channing Tatum and Amanda Seyfried, Dear John will  make you laugh and cry. It's based on the works of Nicholas Sparks, so it's bound to pull at your heart strings. The biggest question is: Are the two lovers strong enough to last through the worst?
Here's the full list of titles added to Netflix UK this week:
58 New Titles on Netflix UK This Week
36 New Movies
Sword Master (2016)
Daughters of the Dust (1991)
Black Snow (2017)
The Age of Adaline (2015)
Kidnapped (2010)
Oh, Hello On Broadway (2017)

Netflix Original

Spooks: The Greater Good (2015)
Mr. Deeds (2002)
American Violence (2017)
The Precipice Game (2016)
Monkey King: Hero Is Back (2015)
Kanavu Variyam (2017)
Gimme the Loot (2012)
Dear John (2010)
Cosmos (2015)
Bulletproof Monk (2003)
Anthropoid (2016)
The Legend of Bhagat Singh (2002)
The Full Monty (1997)
Soldier (1998)
Saare Jahaan Se Mehnga (2013)
Mr Joe B. Carvalho (2014)
Mere Baap Pehle Aap (2008)
Manorama Six Feet Under (2007)
Main Aur Mr. Riight (2014)
Luck (2009)
Life Partner (2009)
Kyaa Super Kool Hain Hum (2012)
Kidnap (2008)
Khuda Gawah (1992)
Khakee (2004)
Golmaal Returns (2008)
Dus (2005)
Deewaar (2004)
Apartment: Rent at Your Own Risk (2010
Ab Tak Chhappan 2 (2015)
5 New Documentaries
The Russian Revolution (2017)
Mr. Gaga: A True Story of Love and Dance (2015)
What the Health (2017)
The Real Miyagi (2015)
Counterpunch (2017)
15 New TV Series
Under the Black Moonlight – Season 1 (2016)
Singles Villa – Season 1 (2015)
My Little Baby – Season 1 (2016)
Magic Phone – Season 1 (2016)
28 Moons – Season 1 (2016)
The Age of Adaline – Season 5 (2016)
Terrace House: Aloha State – Season 3 (2016)

Netflix Original

Orphan Black – Season 5 (2016)
You Me Her – Season 2 (2016)

Netflix Original

Queen of the South – Season 1 (2016)
World of Winx – Season 2 (2016)
Vroomiz – Season 2 (2016)
The Ranch – Season 3 (2016)

Netflix Original

El Chapo – Season 1 (2017)
Abnormal Summit – Season 1 (2016)
1 New Standup Specials
Marco Luque: Tamo Junto (2016)

Netflix Original