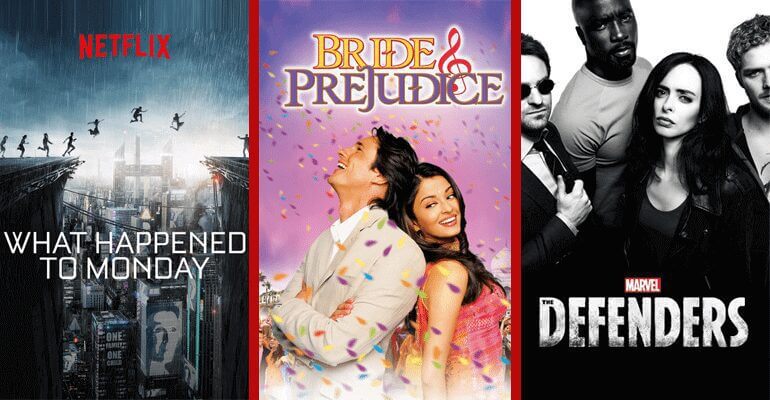 Welcome to this week's list of what's new on Netflix UK. It's a busy week with a total of 38 new titles added including 14 new movies, 18 new TV series, five new documentaries and one stand-up comedy. This week, 18th August 2017, we have lots of exciting entertainment added and we're going to pick our top three out of the lot.
First up is something Marvel fans have been waiting for. Season one of Marvel's The Defenders (2017) was added this week and it's bound to be a good one. All of our favourite vigilantes are back in one series. This mini collaboration features Jessica Jones, Daredevil, Luke Cage and Iron Fist. If you've seen their individual series available on Netflix, you're bound to enjoy The Defenders. The miniseries is set a few months after the second Daredevil series and a month after the events of the first series of Iron Fist. They team together to fight their common enemy: The Hand. This Netflix Original should not be missed by any Marvel fans!
Next up we have a Netflix Original movie called What Happened to Monday (2017) which follows a family struggling in a strict world. There's a one-child policy and the only problem is that the six septuplets need to go on a hunt for their sister. It's not easy going undiscovered, however, as they're identical it might give them a head-start in this overpopulated world. The main question is: How long can the identical sisters go undiscovered?
Our final pick of the week is the film Bride and Prejudice (2004) which isn't your average romantic comedy. This movie follows a beautiful modern Indian woman who seeks out her own husband, rather than her parents choosing for her. Lalita wants to marry for love and it's only when she meets the charming William Darcy that she realises there's something different about him. It's not all about love because lies threaten to keep them apart. Will all resolve itself or is their journey harder than they first thought?
Here's a full list of the titles added to Netflix this week:
38 New Titles on Netflix UK This Week
14 New Movies
2 Alone in Paris (2008)
An Off-Day Game (2015)
Bride and Prejudice (2004)
Chocolate City: Vegas Strip (2017)
Envy (2004)
Los Herederos (2015)
Mama (2013)
Pray For Rain (2017)
Six Feet High (2014)
The Girl Who Played with Fire (2009)
The Outcasts (2017)
The Sweet Life (2016)
We're No Animals (2015)
What Happened to Monday (2017) Netflix Original
18 New TV Series
20 Minutes (Season 1)
Age of Glory (Season 2)
Dinotrux (Season 5) Netflix Original
Exclusive Edition (Season 1)
Glitter Force Doki Doki (Season 1) Netflix Original
Glowing Embers (Season 1)
Hogie the Globehopper (Season 1)
Little Witch Academia (Season 2)

Netflix Original

Marvel's The Defenders (Season 1)

Netflix Original

Million Yen Women (Season 1) Netflix Original
Norsemen (Season 1)
Persona (Season 1)
Puffin Rock (Season 2)
Sports Adventure (Season 1)
Strawberry Shortcake: Berry Bitty Adventures (Season 1)
The Iron Lady (Season 1)
When Calls the Heart (Season 3)
Women on the Breadfruit Tree (Season 1)
5 New Documentaries
Banking on Bitcoin (2017)
Barbecue (2017)
Inside the World's Toughest Prisons (Season 1)
Mission Control: The Unsung Heroes of Apollo (2017)
The Polarman (2016)
1 New Stand-up Special
Brad Paisley's Comedy Rodeo (2017) Netflix Original