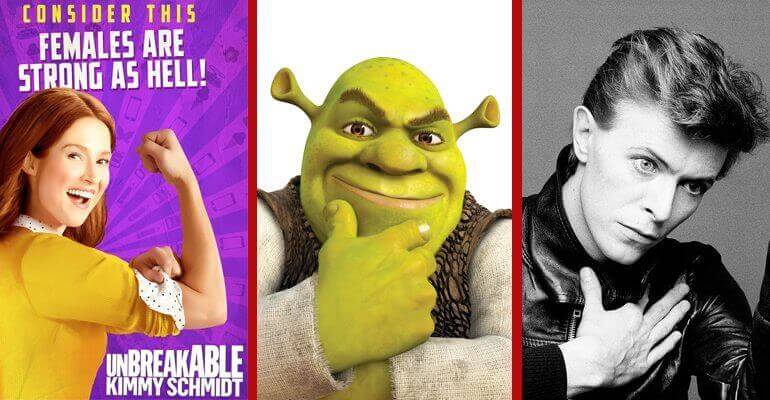 It's that time of the week again where we let you in on what's new on Netflix UK. This week has been a busy one with many new movies, documentaries and TV series to keep you entertained. So keep reading to see all that's new for the week of May 19th 2017.
Those of you who are fans of the Netflix Original Unbreakable Kimmy Schmidt have probably been counting down the days until its release of the third series. Today it became available for UK Netflix users to see Kimmy in action. For those of you who haven't seen it, it's definitely worth a watch. It follows (you guessed it!) Kimmy Schmidt, who spent much of her life trapped in a bunker but has since explored New York with her bright clothes, enthusiasm and eagerness to learn. She's weird but you'll love it.
With a total of 27 new documentary series added to Netflix UK this week, it was hard to pick a favourite. However, being so rock and roll can't have been easy. David Bowie inspired many people and the documentary entitled Bowie: The Man Who Changed the World (2016) gives us an insight into his life and the people who knew him best.
Article Continues Below...
Finally, there have been quite a few child and family movies added to Netflix this week. So for those of you who want a movie night in with the kids, you're in luck as we noticed a bunch of films including Shrek (2001), Trick or Treaters (2007), Magic Snowflake (2013) and Santa's Apprentice (2010) have been added.
Here's the list of all new titles added to Netflix UK over the past week.
66 New Titles on Netflix UK This Week
26 New Movies
30 Days in September (2017)
Ant Story (2013)
Arctic Blast (2010)
Artic Blast (2010)
Big Fat City (2017)
Born to Win (2014)
Chamatkar (1992)
Confessions of a Superhero (2007)
Harsh Times (2005)
Leo the Lion (2013)
Magic Snowflake (2013)
Pitch Perfect 2 (2015)
Ram Jaane (1995)
Santa's Apprentice (2010)
Satanic (2016)
Selma (2014)
Shaolin Soccer (2001)
Shrek (2001)
Smash: Motorized Mayhem (2017)
Television (2012)
The Devil's Mistress (2016)
The Fog (2005)
The Guvnors (2014)
The Hallow (2015)
The Intent (2016)
Trick or Treaters (2007)
27 New Documentary Series
Auction Kings (Season 1)
Bar Hunters (Season 1)
BBQ Pitmasters Collection (Season 1)
Blackboard Wars (Season 1)
Bowie: The Man Who Changed the World (2016)
Chug (Season 1)
Classic Legends (Season 1)
Command and Control (2017)
Cropsey (2009)
Deep Fried Masters (Season 1)
Driving Into the Unknown (2016)
Emmanuel Macron: Behind the Rise (2017)
FBI: Criminal Pursuit (Season 1)
HIGHLAND: Thailand's Marijuana Awakening (Season 1)
How Booze Built America (2012)
Inside West Coast Customs (Season 1)
Killer Kids (Season 1)
Killer Legends (2014)
Laerte-se (2017) Netflix Original
Louis Theroux: A Different Brain (2016)
Meet the Hitlers (2014)
My First Home (2 Seasons)
Natasha Kampusch: The Whole Story (2010)
Occult Crimes (Season 1)
Sinatra: To Be Frank (2015)
The Keepers (Season 1) Netflix Original
Untold Stories of the ER (Season 1)
12 New TV Series
Behzat C (Season 1)
Buddha (Season 1)
Grimm (Season 5)
Hidden Singer (Season 1)
Love is in the Air (Season 1)
Love, Nina (Season 1)
Monsters & Mysteries (2 Seasons)
Portal to the Unknown (Season 1)
Sensitive Skin (Season 2)
Unbreakable Kimmy Schmidt (Season 3) Netflix Original
Yanik Koza (Season 1)
Zoobabu (Season 1)
1 New Standup Special
Tracy Morgan: Staying Alive (2017) Netflix Original