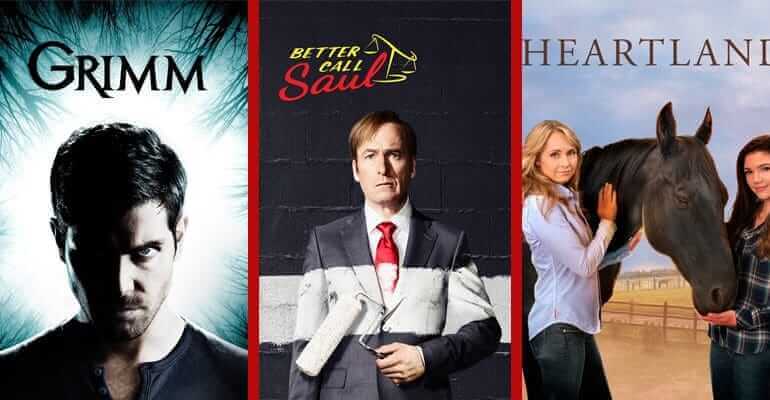 Welcome to your look as to what's come to Netflix United Kingdom over the past two weeks. There's plenty of stuff to cover and we promise we'll have the UK back on its regular weekly slot starting from next week. Without further ado, here's what's new on Netflix UK:
Let's start with the new Netflix Originals as there's been a few. For Adam Sandler fans out there (yes, all five of you) you'll be happy to hear that his third Netflix Original movie in the form of Sandy Wexler is now available to stream. The movie is more reminiscent of his work from the 90's where he plays a talent scout with a speech impediment.
Sticking with originals, a new series based on the early years of business magnate Sophia Amoruso has come in the form of Girlboss season 1 now available. War movie fans will want to check out Sand Castle starring Nicholas Hoult.
Elsewhere, two fan-favorite series just got new seasons added starting with the sci-fi supernatural epic Grimm and Canada's Heartland getting season 8.
In the movie department, the movie adaptation of Roald Dahls classic book Matilda is here from 1996. For horror fans, The Badabook is returning to Netflix.
As for weekly episodes, we've started getting new Better Call Saul episodes which land on Tuesdays as well as the continuation of new episodes of Pretty Little Liars, Designated Survivor, and RuPaul's Drag Race.
59 New Movies on Netflix UK
Almost Adults (2016)
Arctic Heart (2016)
Asamapta (2017)
Baghban (2003)
Ben-Hur
Bhoothnath (2008)
Bibi & Tina (2014)
Bibi & Tina II (2014)
Bibi & Tina: Girls Versus Boys (2016)
Bottom of the World (2017)
Breakup Buddies (2014)
Chandni Bar (2001)
Cold Harbour (2013)
Colkatay Columbus (2016)
Courage Under Fire (1996)
David vs. Goliath: Battle of Faith (2016)
Dry (2015)
Four Minutes (2006)
Frat Star (2017)
Get The Gringo (2012)
Green Is Gold (2016)
Harriet the Spy: Blog Wars (2010)
Hate Story (2012)
Heartbreakers (2001)
Home Invasion (2016)
Kevin Hart: What Now? (2016)
Kid Cannabis (2014)
Kidnapping Freddy Heineken (2015)
Koi… Mil Gaya (2003)
Little Boxes (2016)
Macho (2016)
Magic Mike (2012)
Matilda (1996)
My Girl 2 (1994)
Night at the Museum (2006)
Operações Especiais (2015)
Our Lovers (2016)
Reclaim (2014)
ROBOT (2010)
Sand Castle (2017)
Sandy Wexler (2017)
Sex Ed (2014)
Slam (2017)
Sundown (2016)
The 'Burbs (1989)
The Babadook (2014)
The Chosen (2016)
The Dead Lands (2014)
The Escorts (2016)
The Lighthouse of the Orcas (2016)
The Longest Week (2014)
The Neon Demon (2016)
The Remains of the Day (1993)
The Wedding Party (2016)
Tramps (2017)
Tyler Perry's Good Deeds (2012)
Veve (2014)
Viral (2016)
We Are Family (2016)
11 New Documentaries on Netflix UK
A Plastic Ocean (2016)
Bill Nye Saves the World (Season 1)
El fin de ETA (2017)
Hot Girls Wanted: Turned On (Season 1)
Just Like Us (2010)
Ken Burns: The War – Season 1 (2007)
Oklahoma City (2017)
Radical: the Controversial Saga of Dada Figueiredo (2013)
Tales By Light (Season 2)
The Search for Hitler's Bomb (2015)
Tickling Giants (2016)
27 New TV Series on Netflix
Better Call Saul (New Episodes)
Bluestone 42 – Season 3 (2015)
Filinta (Season 2)
Gangs of Hassepur (Season 1)
Girlboss (Season 1)
Grimm (Season 4)
Guilt – Season 1 (2016)
Heartland – Season 8 (2012)
Him & Her (3 Seasons)
Leyla and Mecnun (3 Seasons)
Lucas Brothers: On Drugs (2017)
Mad Men – Season 7 (2012)
Maharakshak Devi (Season 1)
My Secret Diary – Season 1 (2016)
Mystery Science Theater 3000: The Return – Season 1 (2017)
Nowhere Boys – Season 2 (2013)
Peppa Pig – Season 2 (2006)
Resurrection: Ertugrul (2 Seasons)
That Mitchell and Webb Look – Season 4 (2009)
The Cravings (Season 2)
The League of Gentlemen – Season 3 (2002)
The Motorbike Show (Season 1)
The Mr. Peabody and Sherman Show (Season 4)
West Coast Customs (2 Seasons)
When Louis Met… (Season 1)
Whitechapel – Season 3 (2013)
Wil Kratts (2011)
We'll see you next week for your weekly roundup of new additions and stay tuned this weekend for a comprehensive preview of what's coming to Netflix UK in May.