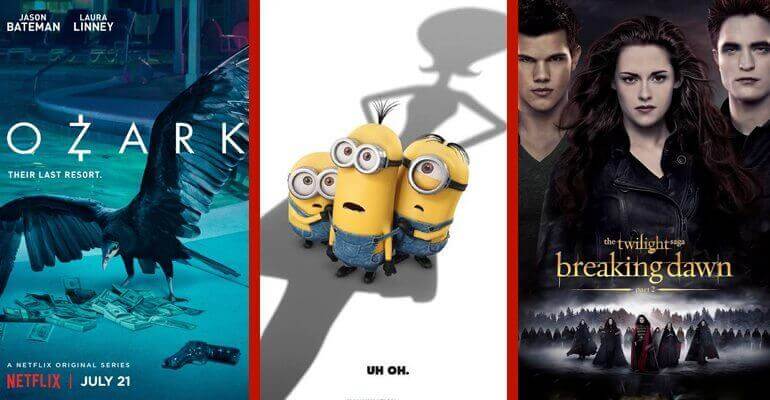 Another week and another set of titles. Alice is away this week so I'm filling in her shoes by giving you the rundown of the best titles that came to Netflix in the UK this week.
Let's start off with the movies and among the massive amounts of international movies, there are a few big budget movies worthy of note. The Twilight Saga has been coming and going on Netflix UK for a good few years and the final part of the final movie has come to Netflix where all the big characters come together for one final time.
Love them or hate them, everyone has heard of the Minions. Originally appearing in Despicable Me the sidekick characters have become a viral sensation and capitalizing on that, they got their own standalone movie in 2015.
Article Continues Below...
On the TV series side of things, Ozark is the biggest Netflix Original to come in the past week. Starring Jason Bateman, he plays the role of a financial advisor who gets mixed up in the drug game and is set the task of laundering $500 million in 5 years, easy right?
Two BBC shows got updates including a new season of Top Gear and season 2 of Gavin and Stacey.
Here's the full list of titles added to Netflix UK this week:
52 New Titles on Netflix UK This Week
28 New Movies
Vitti Dandu (2014)
The Painted House (2015)
The Illusionist (2006)
The Candidate (2016)
That Girl in Yellow Boots (2010)
Singh Saab the Great (2013)
Shavam (2015)
Ottakolam (2016)
Nicholas on Holiday (2014)
Lolita (1997)
Le Petit Nicolas (2009)
Kanyaka Talkies (2013)
Halla Bol (2008)
Gone Baby Gone (2007)
Beyond Borders (2003)
Amar (2017)
Minions (2015)
Knock Knock (2015)
All About Eve (1950)
The Twilight Saga: Breaking Dawn: Part 2 (2012)
The Longest Ride (2015)
Rent (2005)
Houston, We Have a Problem! (2016)
Handsome Devil (2016)
Demon Inside (2013)
Anne of the Thousand Days (1969)
Meadowland (2015)
Blue Exorcist: The Movie (2012)
4 New Documentaries
Innsaei (2016)
Fittest on Earth: A Decade of Fitness (2017)
Theater of Life (2016)
Imba Means Sing (2015)
18 New TV Shows
Bella and the Bulldogs – Season 2 (2011)
West Coast Customs – Season 4 (2011)
Uncle – Season 2 (2014)
Top Gear – Season 6 (2015)
Silk – Season 1 (2014)
Rake – Season 4 (2014)
Gavin & Stacey – Season 2 (2008)
Zoo – Season 2 (2015)
Kikoriki – Season 2 (2010)
Shooter – Season 2 (2016) Netflix Original
Shark Tank – Season 1 (2016)
Intelligence – Season 2 (2007)
Delhis vackraste Hander – Season 1 (2017)
Sword Art Online – Season 1 (2012)
Ozark – Season 1 (2017) Netflix Original
Last Chance U – Season 2 (2016) Netflix Original
Kibaoh Klashers – Season 1 (2017)
Blue Exorcist – Season 1 (2011)
2 New Standup Special
Aditi Mittal: Things They Wouldn't Let Me Say (2017)
Ari Shaffir: Double Negative – Season 1 (2017) Netflix Original