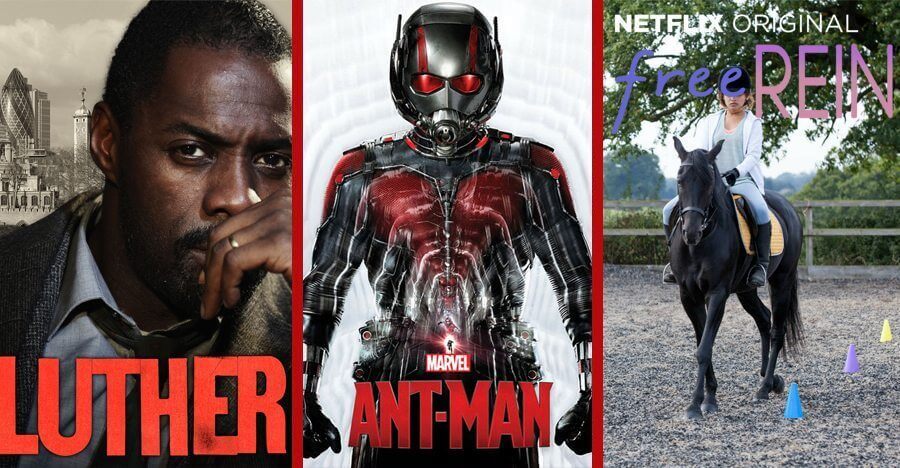 This week, 23rd June 2017, we have a total of 38 new titles added to Netflix UK. We're here to do the hard work for you and pick the best out of them all. From binge sessions to that single film that lightens up your social evening, we've got you covered. Here's our top three picks out of the lot!
First up we have a movie that was based on the Marvel Comics. Ant-Man is not just any superhero. He's a micro superhero and he's stronger than you'd think. Scott Lang, played by the wonderful Paul Rudd, was released from prison. He's not just any criminal: he's a master of theft but believes in doing things for the good. He didn't choose the ant life, the ant life chose him. This Marvel creation is witty, unusual and bold. Scott and his army of ants are set out to save the world by stopping one man from using the same technology for evil.
Next up we have a new Netflix Original, Free Rein, which introduced its first season this week. Sometimes summer isn't what you expect it to be and that's exactly what one fifteen-year-old girl finds out. The LA teen spends summer at her mum's childhood home, which is on an island off the coast of England. She befriends a mysterious horse, who helps her deal with what's going on in her life. This is a summer that Zoe won't forget.
This last one is for those BBC fans who enjoy crime drama. Netflix added season four of Luther this week, which focuses on one exceptionally good detective with a dark edge. Played by Idris Elba, this detective solves murder mysteries whilst battling his moral compass. With four seasons on Netflix UK now, you'll have plenty to watch (or re-watch, if that's your thing!) and be consumed in. If you're into drama and deep psychological mysteries, you're bound to love Luther.
Here's the full list of titles added to Netflix UK this week:
38 New Titles on Netflix UK This Week
19 New Movies
3 Days to Kill (2014)
A Touch of Spice (2003)
Amar Akbar & Tony (2015)
Ant-Man (2015)
Bokeh (2017)
Dangal (2016)
Gridiron Gang (2006)
Jurassic World (2015)
Mechanic: Resurrection (2016)
Mughal-E-Azam (1960)
Puss in Book: Trapped in an Epic Tale (2017)
RV (2006)
Schindler's List (1993)
The Lunchbox (2013)
USS Indianapolis: Men of Courage (2016)
XX (2017)
You Get Me (2017) –

Netflix Original

The Care Bears Movie (1985)
Aquarius 92016)
2 New Documentaries
American Anarchist (2016)
Nobody Speak: Trials of the Free Press (2017) –

Netflix Original
16 New TV Series
Bad Guys – Season 1 (2014)
In Need of Romance – Season 3 (2011)
Rab Se Sohna Isshq – Season 1 (2012)
Freddy Heineken – Season 1 (2013)
Mi-saenng, Incomplete Life – Season 1 (2014)
Reply 1994 – Season 1 (2014)
Free Rein – Season 1 (2017) –

Netflix Original

It's Alright, This is Love – Season 1 (2014)
Highway to Heaven – Season 5 (1988)
Luther – Season 4 (2013)
Hinterland – Season 1 (2013)
Reply 1997 – Season 1 (2012)
Let's Eat – Season 2 (2013)
Heartland – Season 9 (2012)
GLOW – Season 1 (2017) – Netflix Original
Archer – Season 8 (2015)
1 New Standup Specials
Rory Scovel Tries Stand-Up for the First Time (2017) –

Netflix Original