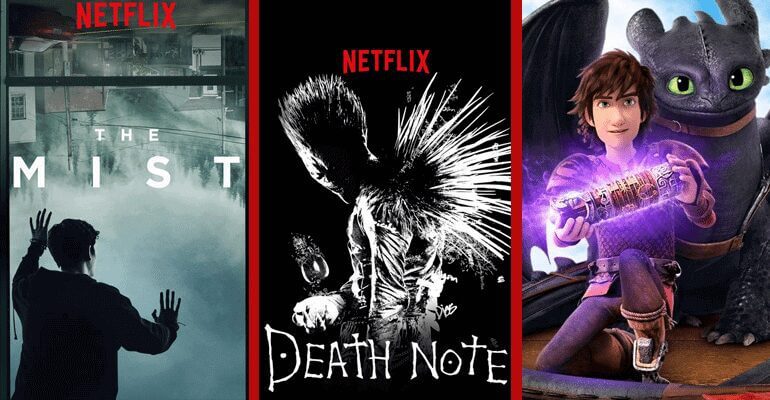 With time escaping us, we're now almost at the end of August. The good thing is though, that Netflix doesn't stop bringing you some great entertainment to watch. While the real world will fly by, Netflix will always be waiting for you. This week, 25th August 2017, we have a total of 30 new titles added to Netflix UK including 12 new movies, 10 new TV series, seven new documentaries and one new stand-up comedy. We're going to pick our top three out of the lot to give you somewhere to start.
First up is the new Netflix Original TV series The Mist (2017) which introduced its first series this week. If you're into your horror stuff, then this is one to look into as it's creepy but intriguing at the same time. It says it all in the title – the show is about a mist that lurks outside of peoples doors. Only, it's not what you'd expect. It's full of creatures and darkness beyond what the people in the town could imagine. The mist is full of their deepest, darkest secrets. This one is also for the Steven King fans as the TV show is based on his horror novella. For those who have watched series like Between and The Returned, you'll probably find The Mist a good watch.
On a more light-hearted note, next up we have another Netflix Original TV series in its fifth series. Dragons: Race to the Edge (Season 5) is one for the kids… And the big kids. If How to Train Your Dragon was a great family-friendly film for you, then you'll love the series. See what Hiccup gets up to with training his dragon, Toothless, and all the other Vikings. They seem to have a special bond with their dragons and it's together that they work best. The computer-animated series has a whole new world waiting for you and your kids to enjoy.
Article Continues Below...
Our last pick is yet another Netflix Original (we like those, can you tell?) called Death Note (2017). It is a film based on the Japanese manga written by Tsugumi Ohba and Takeshi Obata. It focuses on horror, the supernatural and demons. One supernatural book. One teenage boy with the power of death in his hands. It may sound harmless, but all he has to do is write one name whilst picturing their face and they drop dead. It's then that the young boy realises he has the control over life and death and he puts it upon himself to kill those deemed unworthy of living.
Here's a full list of the titles added to Netflix this week:
30 New Titles on Netflix UK This Week
12 New Movies
Death Note (2017) Netflix Original
I.T. (2016)
Gothika (2003)
Hide and Seek (2016)
KL Zombi (2013)
Love (2015)
Pekak (2016)
Rembat (2015)
The D Train (2015)
This is 40 (2012)
Triple Nine (2015)
Wasteland (2012)
10 New TV Series
Commandos (Season 1)
Disjointed (Season 1) Netflix Original
Bleach (3 Seasons) Re-addition
Bottersnikes & Gumbles (Season 1)
Dickensian (Season 1)
Dragons: Race to the Edge (Season 5) Netflix Original
Hati Perempuan (Season 1)
Saving Sigra: Journey into the Heart of a Lion (Season 1)
Shark Tank (Season 2)
The Mist (Season 1) Netflix Original
7 New Documentaries
Behind "The Cove": The Quiet Japanese Speak Out (2015)
Top 10 Architecture (Season 1)
Alive and Kicking (2016)
Bad Rap (2016)
Feel Rich (2017)
Pygmies: The Children of the Jungle (2011)
Unacknowledged (2017)
1 New Stand-up Special
Lynne Koplitz: Hormonal Beast (2017)

Netflix Original