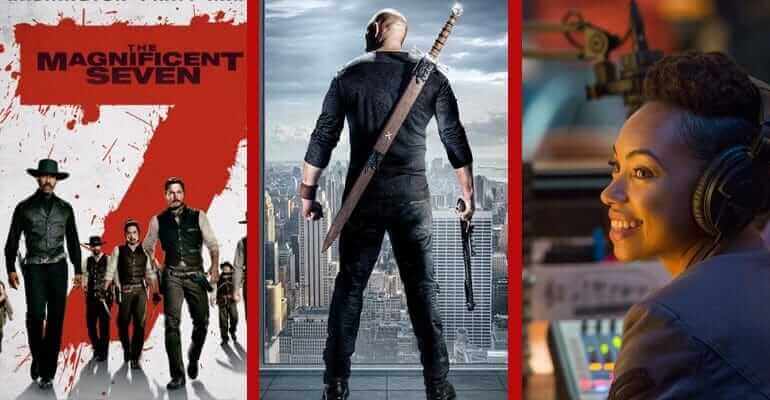 Let's look back at the new titles on Netflix for the week of April 28th. Each week, we sum up the best titles on Netflix in the United Kingdom as well as give you the complete rundown of all the titles that came over the past week. Let's start with our highlights.
This week was a good week for movie fans and particularly the latest action movies. Let's start off with 2016 Western, The Magnificent Seven which stars Chris Pratt and Denzel Washington in an adventure which sees seven men try and defend a town from being demolished. The second is the Vin Diesel film The Last Witch Hunter which sees Vin doing just that, hunting witches.
Sticking with the movies, two great re-additions came back this week after being MIA from the Netflix UK for a while. First up is the highest rated movie of all time, The Shawshank Redemption and one of Adam Sandler's best movie in his back catalog, The Longest Yard.
A quieter week for Netflix Originals with the main release being the first season of Dear White People, a controversial series that is a remake of the popular movie from 2013.
For documentary lovers, Netflix UK added a series of 'Secrets of' documentaries from PBS taking a look at various British institutions including the London Underground and Scotland Yard among others.
23 New Movies on Netflix UK
2015 Dream Concert (2015)
A Bronx Tale (1993)
Before I Wake (2016)
Dear Zindagi (2016)
Deception (2013)
Donnie Brasco (1997)
Long Nights Short Mornings (2016)
P (2006)
Phantom (2013)
Shepherds and Butchers (2016)
Small Crimes (2017) Netflix Original
Southside With You (2016)
The 101-Year-Old Man Who Skipped Out on the Bill and Disappeared (2016)
The Boys and Girl from County Clare (2005)
The Daughter (2015)
The Disappointments Room (2016)
The Forest (2016)
The Last Witch Hunter (2015)
The Longest Yard (2005)
The Magnificent Seven (2016)
The Shawshank Redemption (1994 )
Trust (2010)
VIPs (2010)
9 New TV Series on Netflix UK
12 Monkeys (2 Seasons)
Cable Girls (Season 1) Netflix Original
Dear White People (Season 1) Netflix Original
Fangbone (Season 1)
Jumping Girl (Season 1)
Mar de plástico (2 Seasons)
President (Season 1)
Saints & Strangers (Season 1)
What in the World Happened? (Season 1)
10 New Documentaries on Netflix UK
A Murder in the Park (2014)
Casting JonBenet (2017) Netflix Original
Country: Portraits of An American Sound (2015)
Country: Portraits of An American Sound (2015)
Mifune: The Last Samurai (2016)
Secrets of Althorp – The Spencers (2013)
Secrets of Scotland Yard (2013)
Secrets of Selfridges (2014)
Secrets of Underground London (2014)
Secrets of Westminster (2014)
2 New Standup Specials on Netflix UK
Rodney King (2017) Netflix Original
Vir Das: Abroad Understanding (2017) Netflix Original