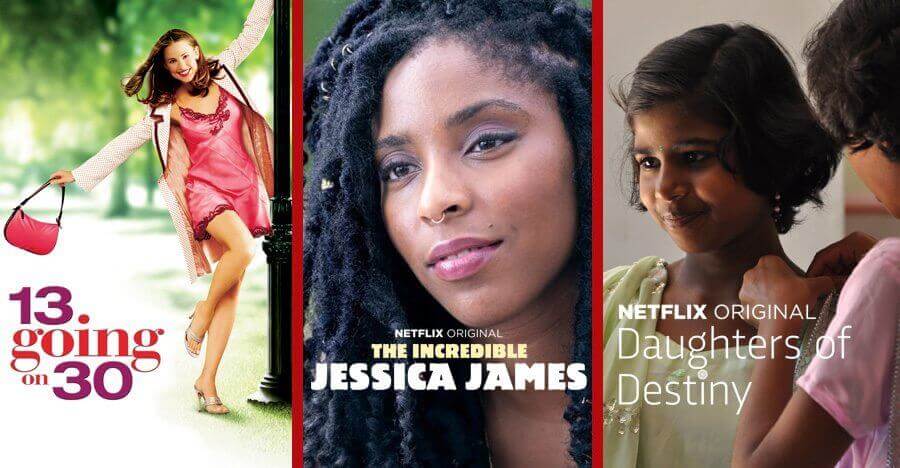 Welcome to this week's round up of everything that's been added to Netflix UK. We've got quite a small list this week, 28th July 2017, with a total of 21 new titles added including 13 movies, seven TV shows and one standup special. We're going to pick our top three out of the lot to get you started and make your Friday evening an extra special one.
First off let's start with the movies. The classic 2004 movie 13 Going on 30 starring Jennifer Garner and Mark Ruffalo will make your girls night in an awesome one. We're not stereotypical though, so guys if you like it – that's okay too! It follows a young 13-year-old girl who wants to be 'thirty, flirty and thriving' and on her birthday, by the power of magic, her wish comes true. It's then that she must work out where her life is going. It's full of surprises, laughter, happiness and realisations that just shouldn't be missed. So add 13 Going on 30  to your watch list for a cozy night in. Oh, and be careful what you wish for.
Sticking with the theme of movies, we have a new Netflix Original added to the UK this week. The Incredible Jessica James (2017) is about a heartbroken woman who is trying to find her place in life and land the ultimate job. She's an aspiring playwright from New York and it's not until she meets a recently divorced man on a blind date that things start to fall into place. Perhaps he'll be the medicine she needs at this point in her life as the pair form an unlikely relationship.
Article Continues Below...
Last up we have another Netflix Original, although this time it's a new series. Daughters of Destiny (2017) is about five girls from India who have the chance for a better education in a place where they have before been denied schooling. They attend a boarding school which aims to give them a brighter future. It shows their longing and willingness to have a purposeful life and how they continue to hope and strive for their dreams. This show is one that will touch your heart because it's about those who would not have had the opportunity to grow up with education without their school.
Here's the full list of titles added to Netflix UK this week:
21 New Titles on Netflix UK This Week
13 New Movies
Uncertain Glory (2017)
Rob Roy (1995)
Ted 2 (2015)
Spy (2015)
Deepwater Horizon (2016)
Victor (2015)
Munroe Island (2016)
13 Going on 30 (2004)
How Most Things Work (2015)
Honeymoon in Vegas (1992)
Chosen (2016)
The Incredible Jessica James (2017)

Netflix Original

Ricki and the Flash (2015)
7 New TV Shows
The Great Escape – Season 1 (2016)
Samagri, Sampatti Aur Sauda – Season 1 (2015)
Kissa Currency Ka – Season 1 (2015)
Buddha Sutra – Season 1 (2015)
Ithihas Ki Thali Se – Season 1 (2015)
The Adventures of Puss in Boots – Season 5 (2015)
Daughters of Destiny – Season 1 (2017)

Netflix Original
1 New Standup Special
Joe Mande's Award-Winning Comedy Special (2017)

Netflix Original