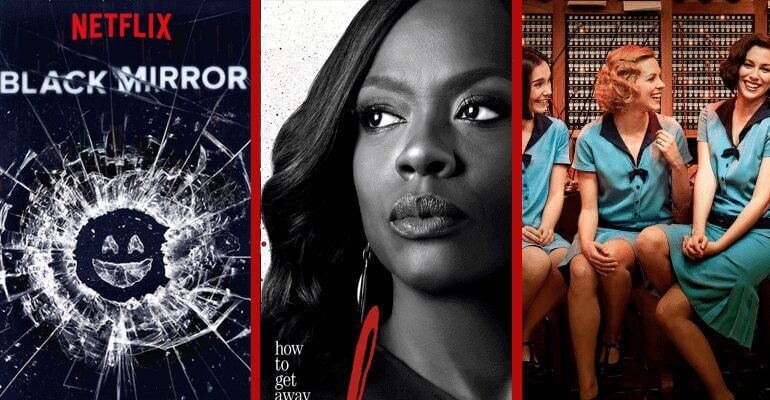 The countdown to the New Year has begun and we will all soon be making our resolutions and attempting to stick to them. 2018 may be a year of new beginnings for many, but nobody can go without some great shows. So whether you have plans for New Year's Eve and will need your fix for the day after, or are planning on a cosy night in, we've got some great new shows available for you on Netflix UK. This week, 29th December 2017, there's a total of 13 new movies, 10 new TV series, four new documentaries, one new standup special and seven New Year's Eve countdowns for the kids.
We hope that you have had a jolly Christmas week and are looking forward to watching plenty of shows in 2018. This will be the last update for Netflix UK of 2017, it's been a great year and we can't wait to see what goodies 2018 brings.
Our first pick is a must-watch. Black Mirror is a show that is loved by many and although often quite daunting, shows a world of possibility and wonder. Each show has its own characters and stories, which dig deep into the depths of despair and desire. Netflix UK welcomed series four to the mix, with a total of six episodes, all with varying episode lengths. This varies from 41 minutes to 76 minutes, so there's plenty to keep you going for a while. For anyone who has not already seen Black Mirror, you can go ahead and watch the other series first. The show may not appeal to everyone, but it sure appeals to many. It's gripping, ghostly and groundbreaking. It takes simple concepts of the modern world and turns them into something so much bigger than all of us.
It's fair to say that foreign Netflix series have really taken off in 2017, and that includes the show Cable Girls. The second series of the show was released on Christmas Day, so for those of you who are in love with this Spanish series, it would have been an extra Christmas treat. It's all about four women who work at one of the biggest telephone companies. They all have their own stories to tell, their own problems to solve and their own lives ahead of them. This series is set in the 1920s, and has an original title of Las chicas del cable. The Netflix Original series is a great place to start if you have not yet seen any foreign series, or perhaps one you'll enjoy if you loved Velvet. 
If you're into murder mysteries and shows about the law, you'll probably enjoy How to Get Away with Murder. Season three was released on Netflix UK this week and holds much promise. The show focuses on a professor and her students, who she hires to help her solve cases. However, this wouldn't be a truly intriguing story if everything went swimmingly now, would it? It involves breaking the law, and the students having to cover up the mistakes. It shows the vulnerability of a strong woman and how her students put the pieces together to save those who deserve to be saved. If you have a particular interest in the series Suits and others alike, you'll probably enjoy How to Get Away with Murder. It has many dark twists that you won't expect and will keep you hooked until the very end.
Take a look at the full list of 35 new titles on Netflix UK this week:
13 New Movies
Alone in Berlin (2016)
Bibi & Tina: Tohuwabohu Total (2017)
Bushwick (2017)
Creep 2 (2017)
Krampus (2015)
Mad Max: Fury Road (2015)
Mr. Roosevelt (2017)
Sisters (2015)
The Climb (L'ascension)

Netflix Original

The Contestant (2007)
Trespass Against Us (2016)
Ultraviolet (2006)
Victor Frankenstein (2015)
10 New TV Series
A Korean Odyssey (Season 1)

Netflix Original

Bill Nye Saves the World (Season 2)

Netflix Original

Black Mirror (Season 4)

Netflix Original

Cable Girls (Season 2)

Netflix Original

How to Get Away with Murder (Season 3)
La Mante (The Mantis) (Season 1)

Netflix Original

Merlin (Season 5)
Part-Time Idol (Season 1)
Travelers (Season 2)

Netflix Original

Wadi (Season 1)
4 New Documentaries
A Gray State (2017)
Myths and Monsters (Season 1)
The Real Football Factories (1 Season)
Towies (Season 1)
1 New Standup Special
Todd Barry: Spicy Honey (2017)

Netflix Original
7 New Year's Eve Countdowns
All Hail King Julien: New Year's Eve Countdown (2017)
Larva: New Year's Eve Countdown (2017)
Pororo the Little Penguin: New Year's Eve Countdown (2017)
Puffin Rock: New Year's Eve Countdown (2017)
Skylanders Academy: New Year's Eve Countdown (2017)
True and the Rainbow Kingdom: New Year's Eve Countdown (2017)
Word Party: New Year's Eve Countdown (2017)