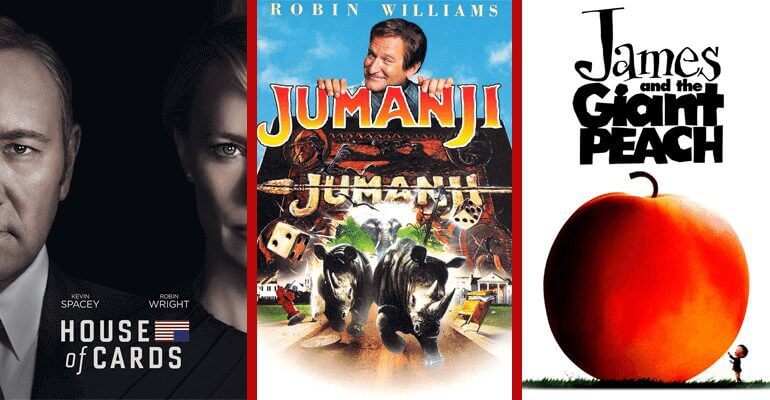 A new month, a new week and plenty of new entertainment. With a total of 74 new titles added to Netflix UK this week, 2nd June 2017, there's plenty to keep you busy. You might be overwhelmed with the amount of good shows out but don't worry, they're not going anywhere any time soon. We're here to help you along the way and pick out our top picks.
First up we're going to talk about the movies. Our first top pick is James and the Giant Peach (1996). If you watched this film as a kid, you'll probably enjoy reminiscing about James and his friends. For those of you who haven't seen this film, it is based on Roald Dahl's children's tale about a boy who is forced to live with his evil aunts. When James thinks he will be stuck there forever, everything changes when he finds a gigantic peach. He munches his way through the fruit and makes friends with talking insects and from there they head to New York City. It's full of animated goodies and no matter how old you are, it will keep you peachy keen. So what are you waiting for? See what all the fuzz is about!
Our second pick is another movie from the 90s, Jumanji (1995). Robin Williams, one of our best loved actors, may be gone but we still have his movies. Who knew that one board game could hold so much danger, adventure and story telling? Siblings Peter and Judy find an old game in the attic of a mansion and when they begin playing, they free a crazy bearded man called Alan Parrish. If they win the game, Alan is freed forever. It seems that the game is scarier than they first thought but eventually they play until the end. This movie has so much to offer and surprises lurking behind every roll of the dice.
Next up we have the popular Netflix Original series, House of Cards. Season five became available this week so whether you've been counting down the days until the next season or haven't watched any at all, there's plenty to catch up on. See how one ruthless politician rises in power in this Emmy and Golden-Globe winning political drama. Watch Kevin Spacey as Francis Underwood and Robin Wright as Claire Underwood – but how will they come out on top this time?
Here's the full list of titles added to Netflix UK this week:
74 New Titles on Netflix UK This Week
35 New Movies
1 Night (2016)
Aashik Awara (1993)
Blade II (2002)
Blue Velvet (1986)
Cruel Intentions (1999)
Devil's Bride (2016)
Dying of the Light (2015)
Fatal Beauty (1987)
James and the Giant Peach (1996)
John Q (2002)
Jumanji (1995)
Lens (2015)
Little Boxes (2016)
Love.com (2017)
Lucid Dream (2017) Netflix Original
Magnus (2016)
Manglehorn (2014)
Maya Memsaab (1992)
Mr. Mom (1983)
Oh Darling Yeh Hai India (1995)
One Night Stand (2015)
Prince (1969)
Qila (1998)
Rangoon (2017)
Salmon Fishing in the Yemen (2011)
Sleeping with the Enemy (1991)
Smoke & Mirrors (2016)
SUPERMODEL (2016)
The Captive (2014)
The Forger (2014)
The Vessel (2016)
Tracers (2014)
Two Night Stand (2014)
War on Everyone (2016)
While We're Young (2015)
17 New Documentary
After Porn Ends 2 (2017)
Betting on Zero (2017)
Burlesque: Heart of the Glitter Tribe (2017)
Gringo: The Dangerous Life of John McAfee (2016)
How to Stage a Coup (2017)
Kardashian: The Man Who Saved OJ Simpson (2016)
Made in Bangkok (2015)
Michael Lost and Found (2015)
The First Monday in May (2016)
The Girl Whose Muscles are Turning to Bone (2005)
The Real Sleeping Beauty (2007)
The Woman with 7 Personalities (2004)
Virgin School (2007)
Without Gorky (2011)
World of Compulsive Hoarders (2007)
Yarn (2016)
20 New TV Series
F is for Family – Season 2 (2015) Netflix Original
Fear Files… Har Mod Pe Darr – Season 1 (2015)
Flaked (Season 2)

Netflix Original

House of Cards – Season 5 (2016) Netflix Original
Inspector Gadget (Season 3) Netflix Original
Intersection – Season 2 (2016)
Iron Man: Armored Adventures – Season 2 (2011)
Jhansi Ki Rani – Season 1 (2009)
Mind Game – Season 1 (2015)
Mutant Busters – Season 2 (2016)
Pyaar Tune Kya Kiya – Season 1 (2014)
Rouge – Season 1 (2016)
Secrets of the Third Reich II – Season 1 (2012)
The Day Will Come – Season 1 (2016)
The Dream Job – Season 1 (2016)
The Golden Years with Javed Akhtar – Season 1 (2016)
The Retreat with Nick Knowles – Season 1 (2016)
West Coast Customs – Season 3 (2011)
When Calls the Heart – Season 1 (2016)
2 New Standup Specials
Chingo Bling: They Can't Deport Us All (2017)
Sarah Silverman: A Speck of Dust (2017) Netflix Original