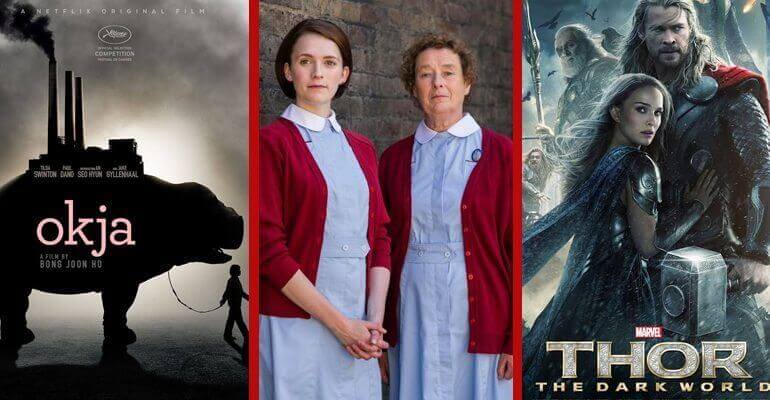 We're at the end of June now and we have a few goodies to make your evening. This week, 30th June 2017, there's a total of 15 new titles added to Netflix UK. That may not seem like a lot but we're here to pick out our top three to get you going. It'll soon be July and we'll be welcomed with a whole new bunch of shows.
First up is the new Netflix Original movie Okja (2017). This tells the story of a woman called Mija who has been a caretaker and friend to Okja for ten years. Okja is a massive creature who is taken by Mirando Corporation, who has other plans than to care and nurture her. Okja is a super pig, who was made to be fit for consumption for many people but it seems that love, friendship, and trust override the company's plans. Okja already has many good reviews and looks like it could be one of Netflix' biggest movies. Watch the film now and see what everyone is talking about.
Sticking with the movies added this week, next up we have one for the Marvel fans. Thor: The Dark World (2013) is about a God, played by Chris Hemsworth, who has to visit earth to save a woman who becomes the host of a secret weapon. In an attempt to stop an evil Dark Elf getting hold of the weapon from Jane, Thor must take her to Asgard so that the nine realms, including Earth, cannot be destroyed. Of course, not everything goes straight to plan but that's what makes this film so intriguing. You won't regret watching Thor and his golden locks save Jane Foster, who is played by Natalie Portman.
Lastly, we have season four of Call The Midwife (2013). Tackling many different subjects such as poverty, old age, death and, of course, maternity care, this series is one to watch. Season four is set in the 1960s and the midwives face new challenges. There is a total of four seasons available on Netflix, which follows a young midwife working at a nursing convent. There's plenty to get you started with this period drama.
Here's the full list of titles added to Netflix UK this week:
50 New Titles on Netflix UK This Week
31 New Movies
Be Afraid (2017)
Burning Blue (2014)
Chef (2014)
Chhota Bheem And the Curse of Damyaan (2012)
Crimenes de Lujuria (2011)
District 9 (2009)
East Side Sushi (2015)
Freeheld (2015)
Girl, Interrupted (1999)
HUNGER (2008)
I Am Michael (2015)
Kaabil (2017)
Kingsglaive: Final Fantasy XV (2016)
Liberal Arts (2012)
Miss Meadows (2014)
Mountain Men (2016)
Okja (2017) Netflix Original
Pixels (2015)
Plan Z (2016)
Stephen King's A Good Marriage (2014)
The 9th Life of Louis Drax (2016)
The Amazing Spider-Man (2012)
The Circle (2017)
The Geen Inferno (2013)
The Overnight (2015)
The Wannabe (2015)
The Weekend (2016)
Thor: The Dark World (2013)
Trumbo (2015)
Urban Hymm (2015)
Vengeance (2017)
18 New TV Series
Bad Trips Abroad – Season 2 (2014)
Call the Midwife – Season 4 (2013)
Can't Pay, We'll Take It Away! (2014)
Chef & My Fridge (Season 1)
Code 1 (Season 1)
Footprints: The Path of Your Life (2015)
Gab-Dong (Season 1)
Gypsy (Season 1) Netflix Original
Jail: Las Vegas (Season 1)
Las Vegas Jailhouse (2 Seasons)
Little Witch Academia (Season 1) Netflix Original
Oh My Ghost (Season 1)
Power – Season 4 (2015)
Pyaar Tune Kya Kiya (Season 1)
The Disguiser – Season 1 (2015)
The House on Coco Road (2016)
The Night Shift – Season 4 (2016)
Vegas Strip (Season 1)
1 New Standup Specials
Chris D'Elia: Man on Fire (2017)

Netflix Original