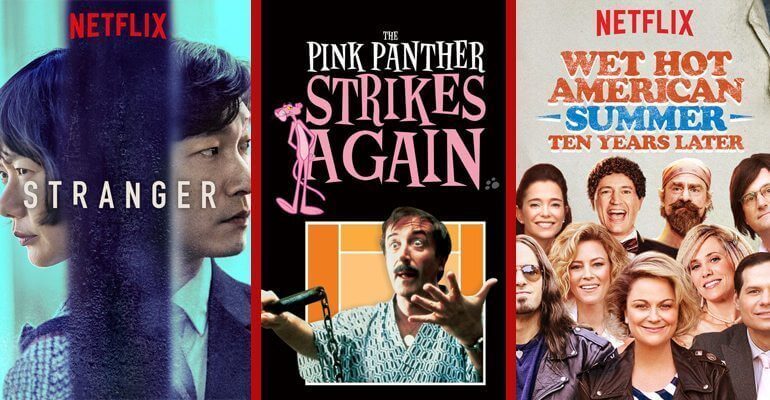 It's now the beginning of August and we have a whole new bunch of shows and movies to tell you about. This week, 4th August 2017, Netflix UK has introduced 108 new titles. That's a big difference to last weeks list which means there's more for you to watch. With 48 new movies, 10 documentaries, 46 TV shows and four standup comedy specials, we're here to give you our top picks out of the lot.
First up we have a new Netflix Original called Stranger (2017). Also known as Forest of Secrets, this Korean drama is about a man named Hwang Shi-Mok who does not have empathetic abilities due to a brain injury when he was a child. However, he is now a prosecutor who works on an unexpected case. Along with a bright and bold female police detective, Lieutenant Han Yeo-Jin, they try to get to the bottom of the case together. If you loved Doona Bae in Sense 8, you'll probably love her in this series too.
Sticking with the theme of TV series, Wet Hot American Summer Ten Years Later has been added to Netflix this week. This Netflix Original is a sequel to the classic 2001 film Wet Hot American Summer. As the title suggests, we get to see what the gang is up to one decade later. This series is a weekend reunion where they get to let their hair down and bond once more and get up to lots of new adventures. Both the film and the series is available to stream on Netflix so you can watch your favourite gang back in 2001 and now in 2017.
If you're a Pink Panther fan then we have a treat for you! This week Netflix added four of the movies to Netflix UK. This includes The Pink Panther Strikes Again (1976), Trail of the Pink Panther (1982), Curse of the Pink Panther (1983) and Son of the Pink Panther (1993). For those of you who don't know, The Pink Panther is a series of comedy-mystery films about a French detective called Inspector Jacques Clouseau. If you're after a night of classic mystery movies, these should be on your list and they're all available for you to stream.
Here's the full list of titles added to Netflix UK this week:
108 New Titles on Netflix UK This Week
48 New Movies
The Crime of Padre Amaro (2002)
It Follows (2014)
loco love (2013)
Top Cat: The Movie (2011)
Check Point (2017)
X-Men 2 (2003)
Wake Wood (2009)
Vampires (1998)
Un plus une 92015)
Trail of the Pink Panther (1982)
Tie the Knot (2016)
The Wedding Party (2016)
The Pink Panther Strikes Again (1976)
The Great Train Robbery (1978)
The Crocodile Hunter: Collision Course (2002)
The Blind Christ (2016)
The Birdcage (1996)
The Beach (2000)
Son of the Pink Panther (1993)
Seed of Innocence (1980)
Savage Dog (2017)
Robot Jox (1990)
Opening Night (2016)
Max Steel (2016)
Horrid Henry: The Movie (2011)
Dumb and Dumberer: When Harry Met Lloyd (2003)
Dallas Buyers Club (2013)
Curse of the Pink Panther (1983)
Bruno and Boots: Go Jump in the Pool (2016)
Boyka: Undisputed (2016)
Below Her Mouth (2016
Annabelle Hooper And The Ghosts Of Nantucket (2016)
Anarkali of Aarah (2017)
All Stars (2013)
Jab We Met (2007)
Godzilla (1998)
When the Bough Breaks (2016)
The Invisible Guardian (2017)
The Day of the Jackal (1973)
All Hallows' Eve (2016)
Surviving Summer (2009)
Rogue (2007)
Message from the King (2017)

Netflix Original

Love & Mercy (2014)
Dope (2015)
Bhool Bhulaiyaa (2007)
Alan Saldaña: Mi vida de pobre (2017)
A Family Man (2016)
10 New Documentaries
The Women Who Kill Lions (2016)
The Truth About Alcohol (2016)
The Bomb (2016)
Eagles of Death Metal: Nos Amis (Our Friends) (2017)
AWAKE, A Dream From Standing Rock (2017)
Secret Life of the Wombat – Season 1 (2016)
Secret Life of the Tasmanian Devil – Season 1 (2016)
Secret Life of the Koala – Season 1 (2016)
Secret Life of the Kangaroo – Season 1 (2016)
Icarus (2017)

Netflix Original
46 New TV Shows
Rick and Morty – Season 3 (2013)
Vroomiz – Season 3 (2016)
Under Arrest – Season 6 (2015)
Trivia – Season 1 (2012)
The Originals – Season 4 (2015)
The IT Crowd – Season 5 (2013)
The In-Laws – Season 1 (2011)
Stranger – Season 1 (2017)

Netflix Original

Penn & Teller – Season 2 (2015)
New Blood – Season 1 (2016)
Miraculous: Tales of Ladybug & Cat Noir – Season 1 (2016)
Love Storm – Season 1 (2016)
Locust – Season 1 (2014)
Life plan A and B – Season 1 (2016)
Inspector Gadget – Season 2 (2015)
Have You Ever Fallen in Love, Miss Jiang? – Season 1 (2016)
Fartsa – Season 1 (2015)
Entangled – Season 1 (2014)
English – Season 1 (2009)
Dark Net – Season 1 (2016)
Close Your Eyes Before It's Dark – Season 1 (2016)
Bountiful Blessings – Season 1 (2011)
Winter Sun – Season 1 (2014)
Killjoys – Season 2 (2015)
Gonul – Season 1 (2015)
Black Lagoon: Roberta's Blood Trail – Season 1 (2010)
Black Lagoon – Season 2 (2006)
When a Snail Falls in Love – Season 1 (2016)
The Hollywood Masters – Season 1 (2016)
Magi: The Labyrinth of Magic – Season 1 (2012)
What's for Sale? With a View – Season 1 (2015)
Wet Hot American Summer: Ten Years Later – Season 1 (2017)

Netflix Original

Voltron: Legendary Defender – Season 3 (2016)

Netflix Original

The Quon Dynasty – Season 1 (2011)
Taste of the Country – Season 1 (2016)
Strange Creatures – Season 1 (2015)
Reno My Reno – Season 1 (2015)
Rebel Without a Kitchen – Season 2 (2014)
Men on a Mission – Season 2 (2017)
How The World Ends – Season 1 (2017)
Endless Yard Sale Showdown – Season 1 (2015)
Dino Hunt – Season 1 (2016)
Chef & My Fridge – Season 2 (2016)
Backroad Bounty – Season 2 (2015)
Attack and Defend – Season 1 (2015)
100 Day Bach – Season 1 (2015)
4 New Standup Specials
Maz Jobrani: Brown and Friendly (2009)
Maz Jobrani: Immigrant (2017)

Netflix Original

Problem Child: Leslie Jones (2009)
Katt Williams: It's Pimpin' Pimpin' (2008)