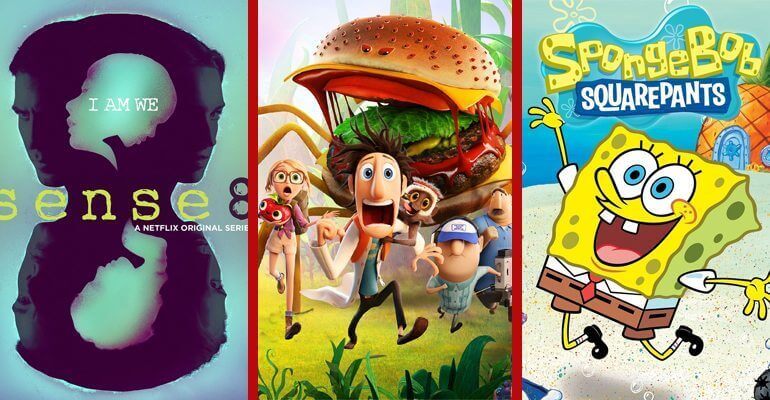 The first of May brought many new titles to Netflix UK and we're here to give you a summary of the best new titles as well as the complete list of new titles on Netflix UK.
Let's begin with some movies. Let's start with Chicken Run, the stop animated movie that is now 17 years old and produced by the same team that's behind Wallace and Gromit. Sticking with animation, a Dreamworks sequel came on May 1st in the form of the second Cloud with a Chance of Meatballs movie.
Beyond that, there are loads of movies from Bollywood that made its way onto Netflix plus two Netflix Originals one called Handsome with the tagline of A Netflix Mystery Movie starring Jeff Garlin and Natasha Lyonne. The second was a crime thriller movie called In the Shadow of Iris.
Not as many TV series were added over the past week but there's still a few highlights. Let's start off with the second series of Sense8, the sci-fi series written and directed by Lana Wachowski. We've also had many of the Nickelodeon titles renewed including Victorious, Sam & Cat and Spongebob Squarepants.
Here's the list of 129 new titles new on Netflix UK over the past week.
84 New Movies on Netflix UK
10 Years (2011)
A Guy Thing (2003)
A YELLOW BIRD (2016)
Abby Sen (2015)
Be Kind Rewind (2008)
Bittoo Boss (2012)
Bombay Talkies (2013)
Boss (2013)
Budhia Singh: Born to Run (2016)
Camp X-Ray (2014)
Chaahat (1996)
Chalk It Up (2016)
Chashme Buddoor (2013)
Chicken Run (2000)
Class (1983)
Cloudy with a Chance of Meatballs 2 (2013)
Crash (2004)
Dartmoor Killing (2015)
Drishyam (2015)
Eastern Promises (2007)
Enemy at the Gates (2001)
English Babu Desi Mem (1996)
Gollu Aur Pappu (2014)
HALO Legends (2009)
Handsome: A Netflix Mystery Movie (2017) Netflix Original
He Even Has Your Eyes (2016)
Heritage Falls (2016)
Hollywood Shuffle (1987)
Humpback Whales (2015)
In the Shadow of Iris (2016) Netflix Original
Inkaar (2013)
Into the Blue 2: The Reef (2009)
Kahaani (2012)
Kickboxer: Vengeance (2016)
Kiss & Cry (2017)
Kuffs (1992)
Loev (2015)
Loving Ibiza (2013)
Married to the Mob (1988)
Mary Kom (2014)
Michael Clayton (2007)
Moh Maya Money (2016)
Mumbai Delhi Mumbai (2014)
Neon City (1991)
Oh My God (2012)
One by Two (2014)
Philomena (2013)
Pyaar Ka Punchnama (2011)
Queen (2014)
Raja Hindustani (1996)
Rescue Dawn (2006)
Resident Evil (2002)
Screwed (2011)
Sense and Sensibility (1995)
Shaitan (2011)
Silent Hill (2006)
Slumdog Millionaire (2008)
Special 26 (2013)
Suite Française (2014)
Supremacy (2014)
Tanu Weds Manu (2011)
Taras Bulba (1962)
The Descent (2005)
The Duchess (2008)
The Favor (1994)
The Good Witch's Gift (2010)
The Good Witch's Wonder (2014)
The Hot Spot (1990)
The Incident (2014)
The Iron Lady (2011)
The Next Skin (2016)
The Night of the Wild Boar (2016)
The Secrets of Emily Blair (2016)
The Similars (2015)
The Virgin Suicides (1999)
Tomorrowland (2015)
Trance (2013)
Troll 2 (1990)
Tuscan Wedding (2014)
Verliefd op Ibiza (2013)
Volcano (1997)
What the Fish (2013)
Will to Love (2015)
Yamla Pagla Deewana 2 (2013)
21 New Documentaries on Netflix UK
American Experience: The Big Burn (2014)
American Experience: The Boys of '36 (2016)
Anvil: The Story of Anvil (2008)
Bodyguards: Secret Lives from the Watchtower (2016)
Daughter of the Lake (2015)
Decanted. (2016)
Defying the Nazis: The Sharps' War (2016)
Dharam Sankat Mein (2015)
Fire in the Blood (2012)
Gascoigne (2015)
Harry Benson: Shoot First (2016)
In Defense of Food (2015)
JFK: The Making of a President (2017)
Jim: The James Foley Story (2016)
Losing Sight of Shore (2017)
Mostly Sunny (2016)
Richard Pryor: Icon (2014)
Saeed Mirza: The Leftist Sufi (2016)
The Black Panthers: Vanguard of the Revolution (2015)
The Mars Generation (2017) Netflix Original
When the Bough Breaks (2017)
24 New TV Series on Netflix UK
Bitten (Season 2)
Bubble Guppies (Season 1)
Dominion Creek (Season 2)
Dora the Explorer(Season 1)
Japanese Style Originator (Season 1)
Manu NNa Speciale (2017)
Maria Bamford: Old Baby (2017) Netflix Original
Mother Goose Club (Season 1)
Moving Art (Season 2) Netflix Original
Ramayan (Season 1)
Sam & Cat (2 Seasons)
Schitt's Creek (3 Seasons)
Sense8 (Season 2) Netflix Original
Servant of the People (Season 1)
Slasher (Season 1)
Sniffer (2 Seasons)
Spirit Riding Free (Season 1)
SpongeBob SquarePants (Season 1)
Team Umizoomi (Season 1)
The Kennedys (Season 1)
Trigun (Season 1)
Under Arrest (Season 5)
Victorious (3 Seasons)
What Happens to My Family (Season 1)