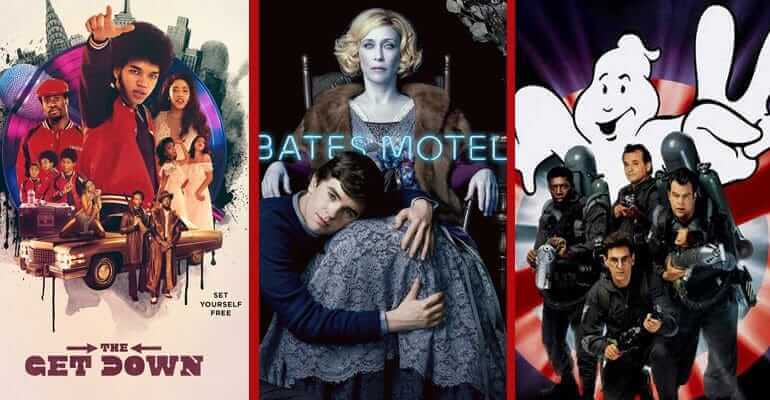 There's a lot cover in this week's new additions on Netflix in the United Kingdom with well over a few hundred new titles so naturally, there's a lot to cover. Netflix Originals make up the majority of the note-worthy content but there's plenty of other content too. Let's dive right in!
UK New Release Highlights
Let's start off with the new Netflix Originals. Last week, 13 Reasons Why released to a great response from fans across the world. Based on the popular book series, the series takes on issues usually left out of many TV shows. Our second Netflix Original highlight is the second half of the extravagant series The Get Down. After a great first half, the musically driven show is starting to find its feet on the service.
Plenty of movies but quite hard to pick just one or two so let's doing some quickfire highlights. Starting off with our banner, we've picked out Ghostbusters 2 which improves upon the original and brings back the classic Ghostbusters cast members. Marvel fans will be excited to see that the second Avengers movie is now available on Netflix.  Other big blockbuster movies include Will Smith's Hancock, romantic hit PS I Love You and finally check out the 2013 remake of Bonnie and Clyde.
The new contract bringing Rupaul's Drag Race season 9 kicked off last week with new episodes on Saturdays plus this week we got another episode of Designated Survivor, Once Upon a Time and Riverdale. In anticipation for the weekly episode drop of iZombie starting next week, Netflix added season 2 of iZombie.
Note: This post covers two weeks worth of additions.
List of New Titles on Netflix UK
(March 24th – April 7th)
128 New Movies
21 (2008)
8MM (1999)
A Christmas Horror Story (2015)
A Perfect Ending (2012)
A Walk in the Woods (2015)
A Weekend with the Family (2016)
Aarakshan (2011)
All About Them (2015)
Are We Done Yet? (2007)
Avengers: Age of Ultron (2015)
Azhar (2016)
Baabul (2006)
Basic (2003)
Beverly Hills Ninja (1997)
Blood Money (2012)
Blue Lagoon: The Awakening (2012)
Bodyguards and Assassins (2009)
Bonnie & Clyde (2013)
Boy Bye (2016)
Bridget Christie: Stand Up for Her (2016)
Brotherhood (2016)
Buddymoon (2016)
Catch and Release (2006)
Cold Water Cowboys – Season 1 (2015)
Courageous (2011)
Dan in Real Life (2007)
Dancing Quietly (2016)
Deadly Target (2015)
Deuces (2016)
Devil's Playground (2010)
Did You Hear About the Morgans? (2009)
Drunken Master (1978)
Elaan (1971)
Elena Undone (2010)
Enough (2002)
Everly (2014)
First Sunday (2008)
FirstBorn (2016)
Five Nights in Maine (2015)
Ghostbusters 2 (1989)
Grown Ups 2 (2013)
Hancock (2008)
Harold and Kumar Get the Munchies (2004)
Hook (1991)
Horror Story (2013)
How to Beat the High Cost of Living (1980)
How to Plan an Orgy in a Small Town (2015)
I Origins (2014)
Insidious: Chapter 2 (2013)
Jo Koy: Live from Seattle (2017)
Jobs (2013)
Joe and Caspar Hit the Road USA (2016)
Jonah Lives (2015)
Kaho Naa Pyaar Hai (2000)
Krrish (2006)
La Sangre Del Gallo (2015)
Lady Chatterley's Lover (2015)
Lakeview Terrace (2008)
Lazy Eye (2016)
Legends of the Fall (1994)
Let Me In (2010)
Look Who's Talking (1989)
Look Who's Talking Now (1993)
Look Who's Talking Too (1990)
Louis C.K. 2017 (2017)
Made of Honour (2008)
Margarita with a Straw (2014)
Match Point (2006)
Miss You Already (2015)
Mother's Day (2016)
Mr. Holmes (2015)
Mujhse Shaadi Karogi (2004)
Mummy, I'm a Zombie (2014)
Nayok Jamai (2015)
Nerve (2016)
Never Let Go (2015)
Nick and Norah's Infinite Playlist (2008)
Nine Lives (2016)
O Amor no DIvã (2016)
Obsessed (2009)
Only for One Night (2016)
P.S. I Love You (2007)
Pájaros volando (2010)
Pandorum (2009)
Paul Blart: Mall Cop (2009)
Pieles (2017)
Pineapple Express (2008)
Postman Pat (2014)
Prom Night (2008)
Quarantine (2008)
Rangrezz (2013)
Return to Sender (2015)
Riding in Cars with Boys (2001)
Salaakhen (1975)
Set Up (2011)
Seven Pounds (2008)
Seventh Son (2014)
Sleepless in Seattle (1993)
Starting Over (2007)
Stomp the Yard (2007)
Take Down (2016)
The Bounty Hunter (2010)
The Devil's Double (2011)
The Devil's Own (1997)
The Discovery (2017)
The First Time (2012)
The Flight of the Phoenix (1965)
The Guest House (2012)
The Joneses (2009)
The Love Punch (2013)
The Man from Nowhere (2010)
The Ninth Legion (2005)
The Rise and Fall of a White Collar Hooligan (2012)
The Stepfather (2009)
The Swan Princess: The Mystery of the Enchanted Treasure (1998)
The Violators (2015)
The Wailing (2016)
The Wee Man (2013)
Time Sweep (2016)
Top Five (2016)
Trauma (2016)
Tucker and Dale vs. Evil (2010)
Under the Mountain (2009)
Unfinished Business (2015)
Win It All (2017)
Yamla Pagla Deewana (2011)
You Don't Mess with the Zohan (2008)
Zathura (2005)
47 New Documentaries
Among the Believers (2015)
Attenborough's Paradise Birds (2015)
Beyond All Boundaries (2013)
Boca (2015)
Burden (2016)
Captive for 18 Years: The Jaycee Lee Story (2009)
Celluloid Man (2012)
Don't Look Down (2016)
Five Came Back – Season 1 (2017)
Humano (2013)
Jane & Payne (2016)
Know Your Enemy – Japan (1945)
Let There Be Light (1946)
LIFE 2.0 (2010)
Lucha Mexico (2016)
Mostly Sunny (2016)
Nazi Concentration Camps (1945)
Now More Than Ever: The History of Chicago (2016)
Osama Bin Laden: Up Close and Personal (2016)
Peninsula Mitre (2016)
Pet Fooled (2017)
Prelude to War (1942)
Rooney: The Man Behind The Goals (2015)
San Pietro (1945)
Silicon Cowboys (2016)
Springsteen & I (2013)
Strike a Pose (2016)
The Bad Kids (2016)
The Battle of Midway (1942)
The Human Factor: The Untold Story of the Bombay Film Orchestras (2013)
The Hunt – Season 1 (2015)
The Killing$ of Tony Blair (2016)
The Memphis Belle: A Story of a Flying Fortress (1944)
The Negro Soldier (1944)
The Pearl of Africa (2016)
Thunderbolt (1947)
Tower (2016)
Tunisian Victory (1944)
Undercover: How to Operate Behind Enemy Lines (1943)
Why We Fight: The Battle of Russia (1943)
Wild Alaska – Season 1 (2015)
Wild Arabia – Season 1 (2013)
Wild China – Season 1 (2008)
Wild Japan – Season 1 (2015)
Wild Patagonia – Season 1 (2015)
Wild West – Season 1 (2016)
WWII: Report from the Aleutians (1943)
69 New TV Series
13 Reasons Why – Season 1 (2017)
2057: The World in 50 Years – Season 1 (2007)
Atlantic: The Wildest Ocean on Earth – Season 1 (2015)
Badalte Rishton Ki Dalstaan – Season 1 (2013)
Bates Motel – Season 4 (2015)
Big School – Season 1 (2014)
Bordertown – Season 1 (2016)
Chesapeake Shores – Season 1 (2016)
Colony (Season 1)
Coupling – Season 4 (2004)
Da Jammies – Season 1 (2015)
Dawn of the Croods (Season 3)
Departures – Season 3 (2010)
Dinotrux – Season 4 (2016)
Doctor Foster (Season 1)
Elite Brigade (Season 2)
EN – Season 2 (2014)
Foo Fighters: Sonic Highways – Season 1 (2015)
Fried – Season 1 (2015)
Gambler – Season 1 (2012)
Gavin & Stacey – Season 1 (2008)
Getting On – Season 3 (2012)
Hatfields & McCoys – Season 1 (2012)
Highway Thru Hell – Season 4 (2012)
House of Fools – Season 1 (2014)
Inside No.9 – Season 2 (2015)
iZombie – Season 3 (2015)
Khelti Hai Zindagi Aankh Micholi – Season 1 (2013)
Last Tango in Halifax – Season 3 (2015)
Lead Balloon – Season 4 (2011)
Line of Duty – Season 2 (2014)
Live at the Apollo – Season 3 (2014)
Mad Men – Season 5 (2012)
Maggie & Bianca: Fashion Friends – Season 1 (2016)
Mega Builders – Season 1 (2010)
Miranda – Season 2 (2010)
My Family Doctor – Season 1 (2014)
MythBusters – Season 2 (2011)
Party of Five – Season 9 (1999)
Peppa Pig – Season 1 (2006)
Pokémon the Series: XYZ – Season 1 (2016)
Psychoville – Season 2 (2010)
Razia Sultan – Season 1 (2015)
RuPaul's Drag Race – Season 8 (2014)
Saints & Strangers – Season 1 (2015)
Satrangi – Season 1 (2014)
Small Island – Season 1 (2009)
Small Shots – Season 1 (2013)
Suits – Season 5 (2015)
Terrace House: Aloha State – Season 2 (2016)
The Get Down (Season 1 – Part 2)
The Haunted Hathaways (Season 1)
The House That Made Me – Season 3 (2015)
The League of Gentlemen – Season 2 (2002)
The Lizzie Borden Chronicles – Season 1 (2015)
The Moodys – Season 1 (2014)
The Musketeers – Season 3 (2015)
The Neighborhood (Season 1)
The Night Shift (2016)
The Real Ghostbusters – Season 5 (1990)
The Red Tent – Season 1 (2014)
Trailer Park Boys – Season 11 (2016)
Uncle – Season 1 (2014)
Urban Legends – Season 1 (2010)
W1A – Season 1 (2014)
War & Peace – Season 1 (2016)
Wild France – Season 1 (2013)
Yes, Minister – Season 3 (1986)
Yes, Prime Minister – Season 2 (1987)