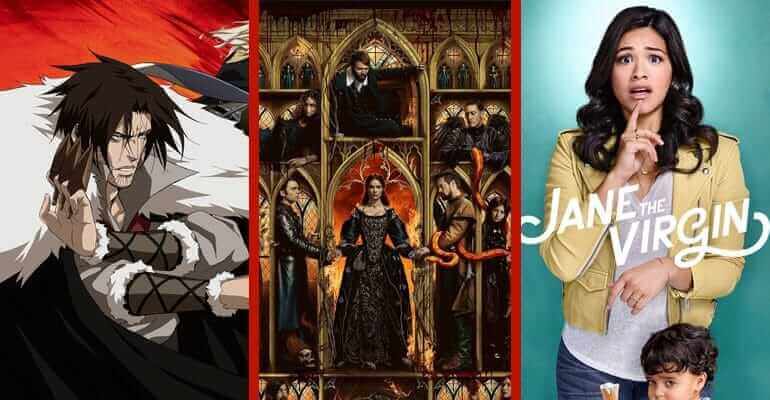 This week, 7th July 2017, we have a busy one with a total of 132 new titles added on Netflix UK. We're one week into July and I know what you're thinking: There's too many shows to watch! Well, you'll have a pretty hefty list for the summer – that's for sure. We're here to pick the top three out of the lot to get you started.
First up we have a TV series that'll have you rattling in your seat. If you're into horror films and movies, you're bound to love Salem. This week Netflix UK welcomed the third series of Salem, so you're able to watch the other two if you haven't seen this show already. It uncovers the dark truths of the witch trials of the 17th century and is darker than your average supernatural show. The main character Mary Sibley, who is played by Janet Montgomery, has her own plans but it's not until her long lost lover comes back to Salem that her plans are compromised. Have a watch if you like the horror genre mixed with a bit of gothic romance.
Sticking with the theme of both horror and TV series, next up we have the four-part anime Netflix Original series Castlevania (2017). Inspired by the infamously difficult video games, one vampire fights to save a city from the evil Dracula. Netflix has already ordered a second series for this show and increased the number of episodes from four to eight. So if two hours of this show isn't enough, it looks like we'll have more to come soon. The Netflix Original series is based on the video game Castlevania III: Dracula's Curse by Konami.
Article Continues Below...
Last up we have Jane the Virgin (2015), where season three has become available on Netflix UK. The show is everything you'd imagine. It's about a woman called Jane who is still a virgin. Jane doesn't want to make the same mistakes her mother did and wants to remain a virgin until marriage. Things aren't quite easy for Jane though, as she becomes pregnant by mistake (yes, really) and struggles to decide between two men. Not only that, but she's also trying to become a professional teacher and writer, which has not proven easy. There's a total of three series to watch so it'll keep you entertained for a while.
Here's the full list of titles added to Netflix UK this week:
132 New Titles on Netflix UK This Week
68 New Movies
1 Chance 2 Dance (2014)
1 Mile to You (2017)
10 jours en or (2012)
A 2nd Chance (2011)
Aankhen (2002)
Agent Cody Banks (2003)
Ajab Prem Ki Ghazab Kahani (2009)
Albion: The Enchanted Stallion (2016)
Alibaba (2002)
Amrapali (1966)
Ankhon Dekhi (2013)
Apt Pupil (1998)
Baby's Day Out (1994)
Before I Fall (2017)

Netflix Original

Bernie (2011)
Bheja Fry 2 (2011)
Big Brother (2007)
Birdman of Alcatraz (1962)
Blackball (2003)
Contratiempo (2016)
Dashavatar: Every Era Has a Hero (2008)
Dedh Ishqiya (2014)
Diamond Cartel (2017)
Don't Knock Twice (2016)
Emperor (2012)
Freddy vs. Jason (2003)
Hans Teeuwen: Real Rancour (2016)
Here Alone (2016)
Hitler: The Rise of Evil (2003)
Ho Mann Jahan (2015)
Hunterrr (2015)
Ishq Vishk (2003)
Ishqiya (2009)
Lal Patthar (1971)
LE WEEK-END (2013)
Liar's Dice (2013)
Little Man (2006)
Masti (2004)
Mission: Impossible 5 (2015)
Motu Patlu: King of Kings (2016)
Nerdland (2016)
Players (2012)
Professor (1962)
Sarkar (2005)
Shortkut: The Con Is On (2009)
Son of Alladin (2003)
Southside with You (2016)
Speech & Debate (2017)
Stasis (2017)
Take Me (2017)
The Big Wedding (2013)
The Black Stallion Returns (1983)
The Breakfast Club (1985)
The Dirty Picture (2011)
The Great Beauty (2013)
The Pope of Greenwich Village (1984)
The Preppie Connection (2015)
The Rage: Carrie 2 (1999)
The Tenth Man (2016)
These Final Hours (2013)
Tik Tok (2016)
Toy Maker (2015)
Waar (2013)
Widows (2011)
Women vs. Men (2002)
xXx² – The Next Level (2005)
Yaar Gaddar (1994)
Zipi & Zape y la Isla del Capitan (2016)
17 New Documentaries
Cocaine Cowboys (2006)
Cocaine Cowboys 2 (2008)
Cries from Syria (2017)
Europe: A Natural History – Season 1 (2005)
extraordinary: the stan romanek story (2017)
Given (2016)
Keep Quiet (2016)
The Truth Is in the Stars (2017)
Vegas Baby (2016)
Wild Africa – Season 1 (2001)
Wild Australasia – Season 1 (2003)
Wild Caribbean – Season 1 (2007)
Wild France – Season 2 (2013)
Wild India – Season 1 (1997)
Wild Indonesia – Season 1 (1999)
Wild Mallorca (2007)
Wild South America – Season 1 (2000)
46 New TV Shows
46 – Season 1 (2016)
Against The tides – Season 1 (2014)
Asian Provocateur – Season 1 (2015)
Barbie Life in the Dreamhouse – Season 1 (2012)
Big School – Season 2 (2014)
Breakout – Season 1 (2010)
Castlevania – Season 1 (2017)

Netflix Original

Danny Dyers Deadliest Men – Season 2 (2009)
Dawn of the Croods – Season 4 (2015)
Degrassi: Next Class – Season 4 (2017)

Netflix Original

Diamond Lover – Season 1 (2015)
El Chema – Season 1 (2016)
Eureka Seven – Season 2 (2005)
Good Witch – Season 3 (2015)
Hannibal – Season 2 (2013)
Him & Her – Season 3 (2013)
Hostages – Season 2 (2016)
Inside the Mind of a Serial Killer – Season 1 (2015)
Intersection – Season 3 (2016)
Jane the Virgin – Season 3 (2015)
King's War – Season 1 (2012)
La Doña – Season 1 (2016)
Learning Songs by Little Baby Bum: Nursery Rhyme Friends – Season 1 (2015)
Little Baby Bum: Nursery Rhyme Friends – Season 1 (2016)
Luna Petunia – Season 2 (2016)
Momo Salon – Season 1 (2014)
Mystic Whispers – Season 1 (2014)
Nine: Nine Time Travels – Season 1 (2013)
Offspring – Season 6 (2014)
Qin Empire: Alliance – Season 1 (2012)
Reggie Yates' Extreme – Season 1 (2017)
Salem – Season 3 (2016)
Sonic Boom – Season 1 (2014)
Spice Up – Season 1 (2014)
The Oath – Season 1 (2011)
The Standups – Season 1 (2017)

Netflix Original

The Truth Seekers – Season 1 (2016)
The Ultimatum – Season 1 (2009)
Unriddle – Season 2 (2012)
Wallander – Season 3 (2012)
Watson & Oliver – Season 2 (2013)
World At Your Feet – Season 1 (2014)
Yes We Can! – Season 1 (2014)
Yo-Kai Watch – Season 1 (2015)
Zipi & Zape y la Isla del Capitan – Season 1 (2012)
Смешарики (2010)
1 New Standup Special
Mike Epps: Under Rated & Never Faded (2009)