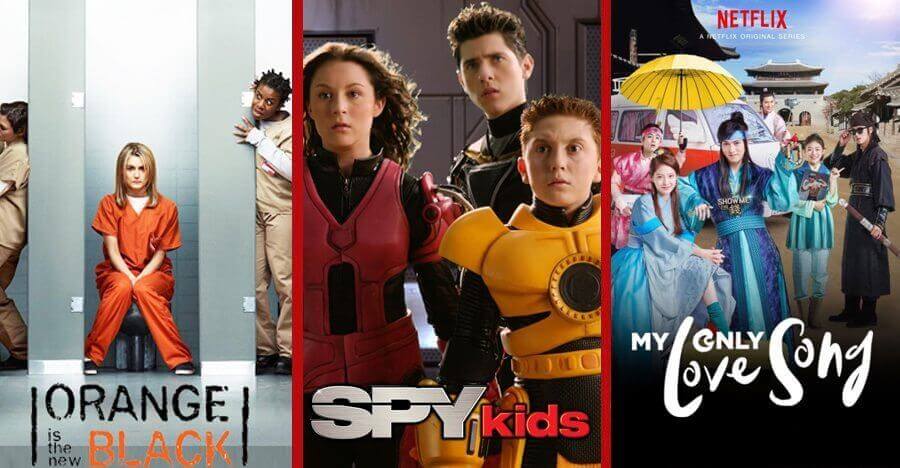 There's a total of 38 new titles added to Netflix UK this week, 9th June, and we're here to recommend you our top picks out of the lot.
First up is one of the most popular series on Netflix, Orange Is the New Black (2015), which is currently on its fifth season. This is Netflix' second longest running show and has continued to please fans with the fantastic characters and story lines. Season five is full of intensity, drama and riot and is definitely one to watch. No doubt many people headed to Netflix to binge watch, but for those who haven't seen this show at all: You'll be hooked. Season five started off the same as season four ended – right in the action.
Next up we have another Netflix Original, My Only Love Song (2017), which is on its first season. This South Korean show follows a well-known actress on a journey through time. When something doesn't go her way on set, she runs away in a van that guides her into the past where she meets a man. They both love money but how will they feel about each other?
Article Continues Below...
Finally we have the Spy Kids movies. Released on Netflix UK this week is Spy Kids (2001), Spy Kids 2: The Island of Lost Dreams (2002) and Spy Kids 3: Game Over (2003). Written and directed by Robert Rodriguez, this action comedy series follows the adventures of two children, Carmen and Juni, who have no idea about their parents' previous career. However, they soon find out and a whole new world opens up for them. With only the fourth Spy Kids film missing from Netflix, these are perfect for the kids or the whole family.
Here's the full list of titles added to Netflix UK this week:
38 New Titles on Netflix UK This Week
28 New Movies
Acapulco La vida va (2016)
An Unfinished Life (2005)
Austin Powers in Goldmember (2002)
Catfight (2016)
Elysium (2013)
Gun (2010)
Headshot (2016)
HELL DRIVER (2011)
Hello, My Name Is Doris (2015)
Hypersomnia (2016)
Jules and Dolores (2016)
Kevin & Perry Go Large (2000)
Los Últimos de Filipinas (2016)
Lucid Dream (2017)

Netflix Original

Molly Moon and the Incredible Book of Hypnotism (2015)
Paid in Full (2002)
Pulp Fiction (1994)
Seven Years in Tibet (1997)
Shimmer Lake (2017)

Netflix Original

Side Effects (2013)
Spy Kids (2001)
Spy Kids 2: The Island of Lost Dreams (2002)
Spy Kids 3: Game Over (2003)
Terminator Genisys (2015)
The Boy in the Striped Pyjamas (2008)
The Firefly (2013)
The Wishing Tree (2017)
What Maisie Knew (2012)
2 New Documentaries
Disturbing the Peace (2016)
Saving Banksy (2017)
7 New TV Series
All Quiet in Peking – Season 1 (2014)
My Only Love Song – Season 1 (2017)

Netflix Original

Orange Is the New Black – Season 5 (2015)

Netflix Original

Miniforce – Season 1 (2016)
Power Battle Watch Car – Season 1 (2016)
Lost & Found Music Studios – Season 1 (2016)
The Homecoming – Season 1 (2015)
1 New Standup Specials
Gabriel Iglesias Presents Rick Gutierrez: I'm Not Mad, I'm Just a Parent (2014)