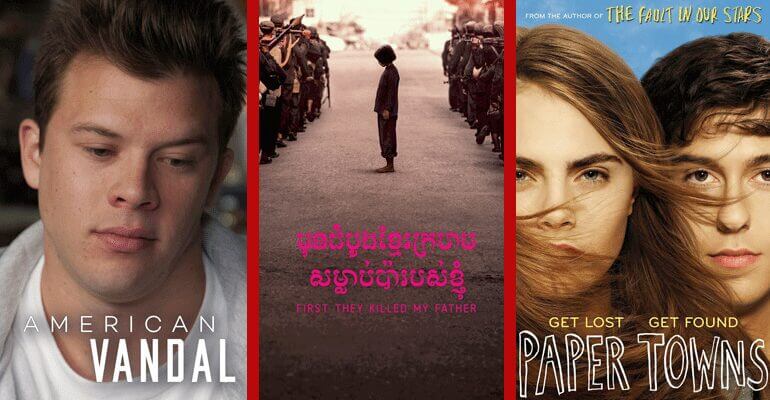 With another week gone, we're rolling into mid-September and there's a lot of new entertainment ready for you on Netflix. This week, 15th September 2017, there's a total of 51 new titles added to Netflix UK. We're here to pick our top three out of the lot and this week you're in for a treat because there's a real mix of entertainment available.
First up is the new Netflix Original series American Vandal which follows one main question: Who drew the phallic images on the cars? A parody of crime documentary, this series is not your average entertainment. It'll provide you with constant humour as one student filmmaker is on a quest to find out who committed the crime. If you want to watch something light-hearted, that you don't have to take too seriously and uses the word 'dick' a lot, then this should be on your watch list.
Next up is the 2015 movie Paper Towns which is one for the book fans! This film is based on John Green's book, the same author who wrote A Fault In Our Stars. One teenage boy, Quentin, who was infatuated with his female neighbour, Margo, as he has grown up. He never really thought she knew, until she recruited him for her personal road trip. It's not until Margo disappears that Quentin and his friends go on their own road trip in search of her. Paper Towns is slightly mysterious, intriguing and an easy watch.
Our final pick this week is another Netflix Original called First They Killed My Father (2017)  which is based on a true story. It's a film from the perspective of a Cambodian girl who suffered under the ruling of Khmer Rouge. It's full of heartbreaking choices that a family must make and has a lot of good reviews since release. Many have said that it's Angelina Jolie's best work so far as a director as it shows the emotional rollercoaster that a young girl went on. If you're looking to watch something real and accomplished, take a look at First They Killed My Father.
Take a look at the full list of 51 new titles:
29 New Movies on Netflix UK
30 Days in Atlanta (2014)
A Soldier's Story (2015)
Aroni Takhon (2017)
Bean: The Move (1997)
Couple of Days (2016)
Falling (2015)
First They Killed My Father (2017) Netflix Original
Head Gone (2014)
Hotel Transylvania 2 (2015)
Identity Thief (2013)
Janaan (2016)
Jawbone (2017)
Last Action Hero (1993)
Mr. Bean's Holiday (2007)
Mum, Dad, Meet Sam (2014)
Mummy Dearest (2014)
Open Water 2: Adrift (2006)
Operation Mekon (2016)
Paper Towns (2015)
Rumble (2016)
Straight Outta Compton (2015)
Strange Magic (2015)
Taxi Driver (2015)
The Bad Education Movie (2015)
The Department (2015)
The Divergent Series: Allegiant – Part 1 (2016)
The Fits (2015)
The Visit (2015)
When Love Comes Around (2014)
11 New TV Series on Netflix UK
American Vandal (Season 1) Netflix Original
Happy Valley (Season 2)
Listen to Love (Season 1)
Offspring (Season 7)
Project Mc2 (Season 5)
Romance of our Parents (Season 1)
Silver Spoon (Season 2)
Stag (Season 1)
Still Open All Hours (2 Seasons)
Strong Girl Bong-Soon (Season 1)
VeggieTales in the City (Season 1)
9 New Documentaries on Netflix UK
Foo Fighters: Back and Forth (2011)
George Harrison: Living in the Material World (2011)
Heroin e (2017) Netflix Original
Mala Mala (2014)
Panama Canal: Prized Possession (Season 1)
Secrets of Ancient Rome (Season 1)
SHOT! The Psycho-Spiritual Mantra of Rock (2016)
Strong Island (2017) Netflix Original
Time: The Kalief Browder Story (Season 1) Netflix Original
2 New Stand-up Specials on Netflix UK
Foresti Party (2012)
Jeff Dunham: Relative Disaster (2017)