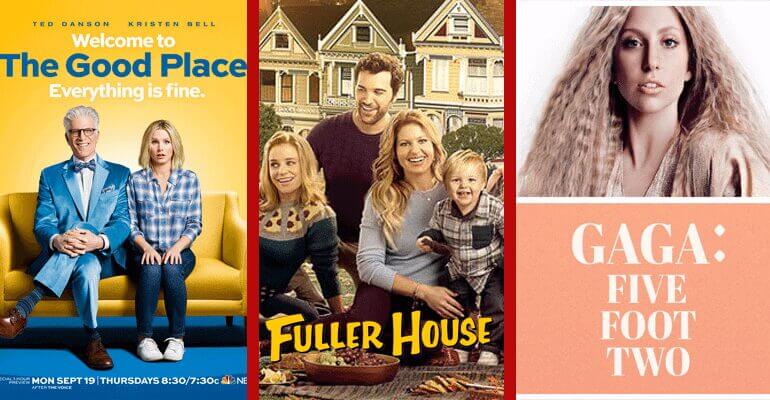 With only a week to go until the end of September, we have a few goodies for you this week. On Netflix UK this week, September 22nd 2017, there's a total of 19 new titles for you to enjoy. This includes six new movies, two new documentaries, 10 new TV series and one new stand-up comedy. Although this doesn't seem like a lot, we're here to give you our top three picks out of them all.
Our first pick is the Netflix Original The Good Place (2017) which is on its second series. The series focuses on a woman who dies and is sent to a heaven-like utopia as a reward by mistake. The main problem is that she wasn't a good person in her life and now she must make others believe that she is worthy of being there. Season two has a new episode available weekly so for those of you who tend to binge on shows too much and then feel disappointed about there not being any left to watch, this won't give you that problem. Season one is, of course, still available so for anyone who hasn't seen it yet so you'll have plenty to catch up on.
The second pick of today is the popular family show Fuller House which was first released in 2016 and is now on its third series. The show follows on from the 1987 television series Full House. D.J. Fuller, who is a recent widow, has to learn how to cope with her three children. However, she's not alone as her sister, her sister's best friend and her daughter all move in to help out. Fuller House is an all-time favourite and has had a lot of good reviews since release.
For those of you who are Gaga fans, you'll be pleased to know that the documentary Gaga: Five Foot Two (2017) has come to Netflix UK. This Netflix Original gives you an insight into the singer-songwriter's life. Fans get to see Gaga's personal highs and lows as she makes her new album. It goes beyond the lives that we all think pop stars have and into the real stuff. Have a watch of this documentary if you're into Gaga, music or just seeing what life is like on their side.
Take a look at the full list of 19 new titles:
6 New Movies on Netflix UK
The Visit (2015)
Everest (2015)
Hitman: Agent 47 (2015)
Hate Story 2 (2014)
The Bad Batch (2016)

Netflix Original

I Am Happiness On Earth (2014)
2 New Documentaries on Netflix UK
Love, Sweat and Tears (2016)
Gaga: Five Foot Two (2017) Netflix Original
10 New TV Series on Netflix UK
The Furchester Hotel – Season 2 (2014)
American Horror Story – Season 6 (2014)
Timeless Season – Season 1 (2009)
The Adjusters – Season 2 (2010)
Forget Me Not – Season 1 (2011)
The Good Place – Season 2 (2017)

Netflix Original

Limitless – Season 1 (2016)
Neo Yokio – Season 1 (2017)
Jack Whitehall: Travels with My Father – Season 1 (2017)
Fuller House – Season 3 (2016)

Netflix Original
1 New Stand-up Specials on Netflix UK
Jerry Before Seinfeld (2017)

Netflix Original