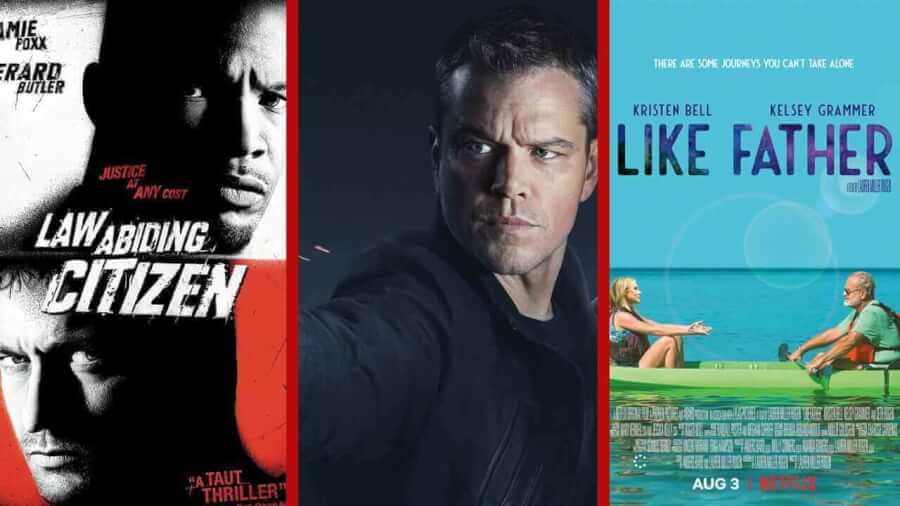 It's the beginning of the month again and, as many of you know, that usually means a big list of titles that have been added! This week on Netflix UK, there are a total of 101 new titles which includes 81 new movies, 14 new TV series, five new documentaries/docuseries and one new stand up special. As we do every week, we'll tell you all you need to know about our top three favourites out of the whole list. We hope that you're all enjoying the warm weather and making the most out of any holidays you may have this Summer.
Law Abiding Citizen (2009) is a movie that keeps you guessing right up until the very end. It is one of those psychological thriller movies that has been written so well, that you only realise that it's been pieced together so succinctly that you want to watch it a second time to notice the clues that you might have missed or not appreciated the first time around. It focuses on Clyde Shelton who has his wife and daughter taken from him in a home invasion. Justice is hard to find and years later, things can always come back to cause more problems. This film is cleverly written and is worth a watch… and a rewatch (trust me, my Mother says so and she's a tough one to please).
If you're a fan of Kristen Bell from The Good Place, you'll want to take a look at Like Father (2018). This Netflix Original features Bell as a workaholic who gets left at the alter (nobody wants to be her, right?) and from then on takes her honeymoon as planned. Just as she's pleading with her fiance to stay and marry her, she sees a man who she hasn't seen in a long time. That man just so happens to be her Dad. After so long, it's time to make up for all the years lost and get to know the man that helped bring her into this world. After getting insanely drunk together, they end up going on the honeymoon by mistake.
Article Continues Below...
Matt Damon is back in the latest instalment of the Jason Bourne movie franchise. Serving as a sequel 2007's The Bourne Ultimatum and not being related to 2012's The Bourne Legacy this movie focuses on Matt Damon's character – the titular Jason Bourne. Jason is an ex-CIA agent with amnesia, he spends the majority of the original Bourne Trilogy looking to rediscover his past and faces consequences from his previous actions, all whilst avoiding being recaptured by the CIA. This new flick pits Matt Damon against Tommy Lee Jones' Character Bob Dewey – the new Director of the CIA. Will Jason be able to outrun his past? You'll have to watch and find out!
Take a look at the full list of 101 new titles below:
81 New Movies Now Available
7 Khoon Maaf (2011)
A Few Less Men (2017)
A Fish Called Wanda (1988)
All I See Is You (2016)
Brij Mohan Amar Rahe (2018) Netflix Original
Casino Tycoon (Do sing dai hang san goh chuen kei) (1992)
Chillar Party (2011)
Chinese Odyssey (Part I), A (A Chinese Odyssey Part One: Pandora's Box) (1995)
Chinese Odyssey (Part II), A (A Chinese Odyssey Part Two: Cinderella) (1995)
Chitty Chitty Bang Bang (1968)
Da Kath & Kim Code (2005)
Doubles Cause Troubles (Shen yong shuang mei mai) (1989)
Edge of Fear (2018)
Fashion (2008)
Fitoor (2016)
Fiza (2000)
Flying Guillotine 2 (Palace Carnage) (1978)
Gorky Park (1983)
Guzaarish (2010)
Haider (2014)
Hero (1997)
Highway (2014)
History of Joy (2017)
Holy Man 2 (Luang phii theng 2) (2008)
Holy Man 3 (Luang phii theng III) (2010)
I Hate Luv Storys (2010)
Infernal Affairs (Mou gaan dou) (2004)
Infernal Affairs II (Mou gaan dou II) (2003)
Infernal Affairs III (Mou gaan dou III: Jung gik mou gaan) (2003)
Initial D (2005)
Invisible (2017)
Jason Bourne (2016)
Joker (2012)
Justice, My Foot! (1992)
Kaaliyan (2017)
Kaattu (2017)
Kath & Kimderella (2012)
Khosla Ka Ghosla (2006)
Kuppivala (2017)
Law Abiding Citizen (2009)
Lechmi (2017)
Legend of The Fist : The Return of Chen Zhen (2010)
Like Father (2018) Netflix Original
Little Dragon Maiden (Yang guo yu xiao long nu) (1983)
Love In The Buff (2012)
Mahabharat (2013)
Main aurr Mrs. Khanna (2009)
Mater (2017)
Meet the Blacks (2016)
Melle (2017)
Minnaminugu the FireFly (2017)
Mississippi Burning (1998)
Mohenjo Daro (2016)
Monster-in-Law (2005)
Mythily Veendum Varunnu (2017)
On the Wrong Track (1983)
Oru Vishsheshapetta Biryani Kissa (2017)
P Se PM Tak (2015)
PK (2014)
Raajneeti (2010)
Rang De Basanti (2006)
Rangreza (2017)
Rowdy Rathore (2012)
Spy Game (2001)
Sudani from Nigeria (2018)
Tamasha (2015)
Tees Maar Khan (2010)
Tere Naal Love Ho Gaya (2012)
Thank You (2011)
The 36th Chamber Of Shaolin (1978)
The Blue Umbrella (2005)
The Boy (2016)
The Five Venoms (1978)
The Flying Guillotine (1975)
The Glass Castle (2017)
The Mansion (Le Manoir) (2017)
The Stolen Years (2013)
The Unborn Child (Sop Dek 2002) (2011)
Tikli and Laxmi Bomb (2017)
Touch of Evil (19858)
Zack and Miri Make a Porno (2008)
14 New TV Series Now Available
A Very Secret Service (Season 2) Netflix Original
Age of Rebellion (Season 1)
Cocaine Coast (Season 1) Netflix Original
Danger Mouse (Season 2)
Dinotrux Supercharged (Season 3) Netflix Original
Discovery of Love (Season 1)
Kath and Kim (6 Seasons)
Reality of Dream (Season 1)
Regal Academy (Season 1)
Switched (Season 1) Netflix Original
SWORDGAI The Animation (Season 2) Netflix Original
Terrace House: Opening New Doors (Season 3) Netflix Original
The Could've-Gone-All-the-Way Committee (Yareta kamo Iinkai) (Season 1)
Trot Lovers (Season 1)
5 New Documentaries/Docuseries
Becoming Champions (Season 1)
Being Napoleon (2018)
Forever Chape (2018)
Marching Orders (Season 1) Netflix Original
QB1: Beyond the Lights (Season 1)
1 New Standup Special
Lavell Crawford: Can a Brother Get Some Love? (2011)