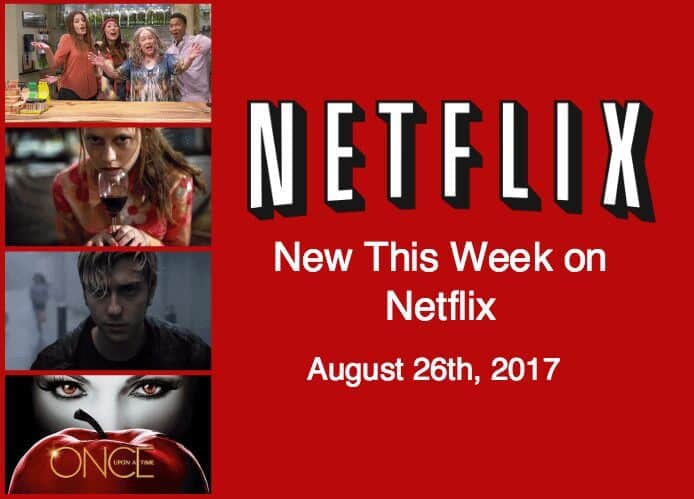 New week, new titles. It's almost September! Leaves falling, pumpkins, a legitimate excuse to spend more time indoors. You know. All the things you love about Autumn. Put on your comfy socks and forget about the week you just had. Here are some titles worthy of your queue.
Death Note 
Netflix Original
Based on the manga of the same name, this thriller revolves around a young student who is handed the gift of changing humanity. He is given a notebook in which the names of those written will not only be killed, but terminated by the method of the writer's choosing. If you're in the market for gore this weekend, this will get you started.
---
Disjointed 
Netflix Original
Do you like stoner humor and situational comedies filmed in front of a live studio audience? Look no further.  This workplace comedy comes to us from sitcom king Chuck Lorre (Two and a Half Men). Kathy Bates stars as Ruth Whitefeather Feldman, owner of Ruth's Alternative Caring, a legal pot dispensary in Southern California. Finally realizing her dream, she opens a dispensary with her son as her partner. Throw in a few wacky characters and you have quite the multi-camera sitcom. If you're in the mood to just turn your brain off and watch something funny, this is for you.
---
Once Upon A Time: Season 6
This ABC series takes place in the fictional seaside town of Storybrooke, Maine. All the residents are actually characters from various fairy tales and other stories that were transported to the "real world" and robbed of their original memories by the Evil Queen Regina who used a powerful curse obtained from Rumpelstiltskin. This is the perfect series to sink into the couch with and get lost binging.
---
Buster's Mal Heart
If you like quirky, coen brothers-like fare then you will enjoy this dark thriller. Rami Malek stars as a man lost. In his former life he was Jonah, a hard-working husband and father whose job as the night-shift concierge at a hotel took its toll on his psyche and, consequently, his marriage.  A chance encounter with a conspiracy-obsessed drifter changes the course his life and he is now an eccentric mountain man. On the run from the authorities, he is surviving the winter by breaking into empty vacation homes in a remote community. He regularly calls into radio talk shows to rant and is haunted by visions and memories of his former life as a family man.
---
Berlin Syndrome
This psychological thriller stars Teresa Palmer as an Australian photographer holidaying in Berlin. After a night of romance she discovers her suitor has no intention of letting her go. Ever. It's a taught and strongly acted film. If you liked Room, give this one a chance.
---
Did I miss anything? Let me know in the comments. Happy weekend and happy streaming!