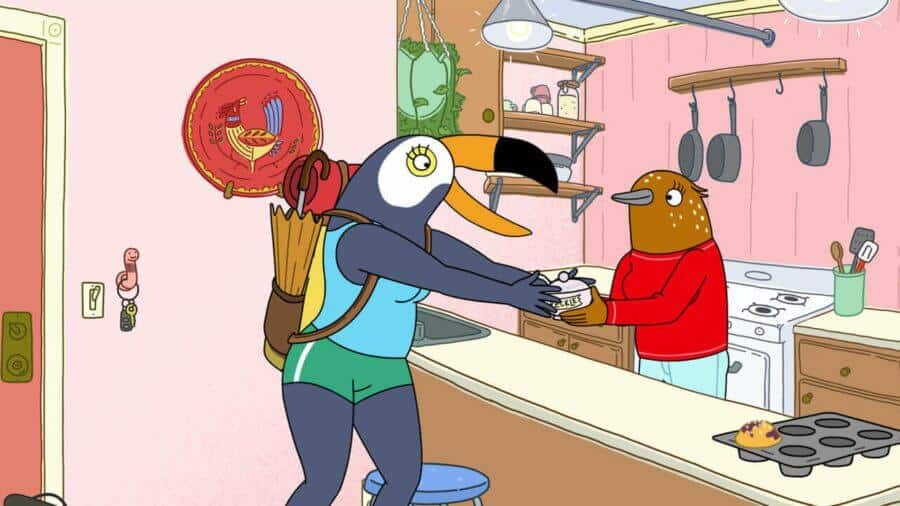 Tuca & Bertie won't be returning to Netflix for a second season. It officially was canceled on July 24th, 2019. Here's a look at why Tuca & Bertie won't be returning to Netflix for season 2. 
Tuca & Bertie is a Netflix Original adult-animated series created by Lisa Hanawalt. The company responsible for Bojack Horseman also helped produce Netflix's latest adult animated title. Anthropomorphic animation has become a niche for studio ShadowMachine which has fast become incredibly beloved by subscribers.
Winging it through life together BFFs Tuca & Bertie live in the same apartment building. Even though they are friends they couldn't be any more different if they tried. Tuca the toucan is cocky and carefree while Bertie is an anxious, daydreaming songbird.
Article Continues Below...
---
Tuca & Bertie Season 2 Netflix Renewal Status
Official Renewal Status: Canceled (Last Updated: 07/24/2019)
Tuca & Bertie has been a smash hit with critics since releasing on May 3rd, with a 100% fresh rating on Rotten Tomatoes. This shouldn't come as too much of a surprise considering how well the writing of Bojack Horseman has been in recent years.
Despite these good reviews, Netflix likely didn't get the viewing figures it needed to renew the show. The show was canceled on the same day that Netflix announced that Designated Survivor wouldn't be returning for a fourth season but in different circumstances.
In a statement to Deadline Netflix said:
"We're grateful to Lisa, and her fellow executive producers Raphael Bob-Waksberg, Noel Bright, Steven A. Cohen, and EPs/stars Tiffany Haddish and Ali Wong, along with all of the writers and animators for sharing the funny and dynamic female bird duo of Tuca and Bertie with the world. While Tuca & Bertie won't have a second season, we're proud to feature this story on Netflix for years to come."
---
Reaction to cancelation from show's creator
The show's creator has taken to Twitter to talk about the cancelation beginning with "Netflix is not ordering a second season of Tuca & Bertie."
Lisa Hanawalt also semi-confirms the show failed to find an audience by talking about the dedication the crew put into the show and how many people reach out to say they loved it.
https://twitter.com/lisadraws/status/1154151359706349568
---
Why was Tuca & Bertie canceled?
Unlike Designated Survivor which was canceled due to complex contracts, it's likely Tuca & Bertie failed to get the audience it needs to continue.
Netflix judges its shows on several factors. One is how many people start the show and another important factor is how many finish.
Bojack Horseman managed to get a global audience but it appears that Tuca & Bertie was too niche to find a solid audience that justified the cost of producing more seasons.
---
Would you like to see another season of Tuca & Bertie? Let us know in the comments below!