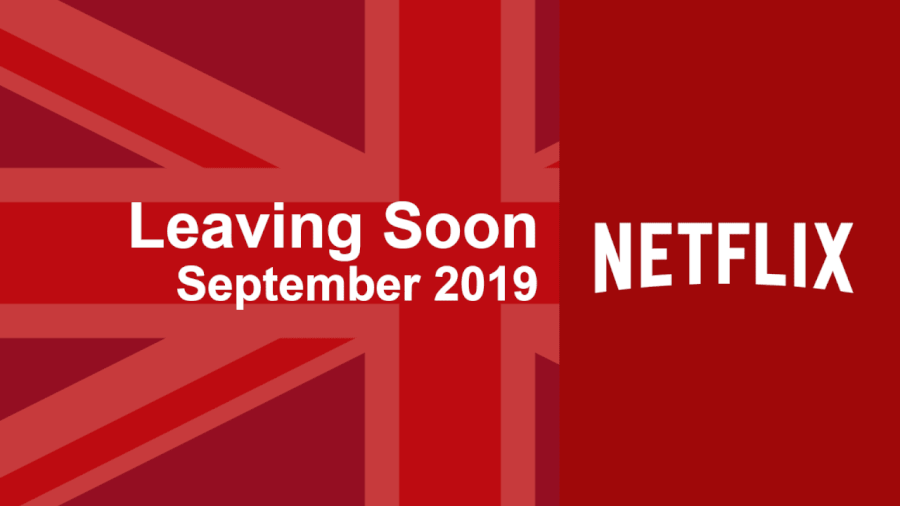 It's time to take a look at what's scheduled to leave Netflix in the United Kingdom throughout September 2019. Here, we'll list and update the list of movies, series, and documentaries scheduled to depart throughout the month. 
The biggest removal we're currently expecting from Netflix UK in September looks to be the remaining Mythbuster series from Discovery Channel. Only two seasons remain on Netflix but that no longer looks to be the case with seasons 4 & 5 being removed on September 1st.
If you're residing in the United States, we have a separate list of what's leaving Netflix US here and also don't forget to take a look at what's leaving Netflix UK in August 2019 too.
Article Continues Below...
---
Leaving Netflix UK on September 1st
Don't Be a Menace to South Central While Drinking Your Juice in the Hood (1996)
Father's Chair (2012)
The Girl with the Dragon Tattoo (2009)
---
Leaving Netflix UK on September 4th
---
Leaving Netflix UK on September 5th
Footloose (2011)
In-Lawfully Yours (2016)
The Deadly Game (2013)
---
Leaving Netflix UK on September 7th
Mighty Raju Rio Calling (2014)
Monster Trucks (2016)
---
Leaving Netflix UK on September 8th
Hardliners: Season 1
Testing the Menu: Season 1
True Crime: Season 1
---
Leaving Netflix UK on September 9th
Home Made Simple: Season 1
---
Leaving Netflix UK on September 14th
Drug Wars: Season 1
Emergency: Season 1
Great Wild North: Season 1
Listen to Love (My Wife's Having an Affair This Week): Season 1
The Making of the Mob: 2 Seasons
Mischievous Kiss 1: Season 1
Mischievous Kiss 2: Season 1
Strong Girl Bong-soon: Season 1
Tornado Hunters: Season 1
---
Leaving Netflix UK on September 24th
Blue is the Warmest Color
The Limehouse Golem (2016)
---
Leaving Netflix UK on September 25th
American Pie Presents: Band Camp (2005)
Back to the Future (1985)
Back to the Future Part 2 (1989)
Back to the Future Part 3 (1990)
Honey 2 (2011)
Mr. Bean's Holiday (2007)
Night School (2016)
The Thing (1982)
---
Leaving Netflix UK on September 26th
Paranormal Activity 3 (2011)
---
Leaving Netflix UK on September 27th
I Love You, Man (2009)
Lowriders (2016)
Mad Hot Ballroom (2005)
Nymphomaniac: Volume 1 (2013)
Nymphomaniac: Volume 2 (2013)
Phase IV (1974)
Sleight (2016)
The Zookeeper's Wife (2017)
---
Leaving Netflix UK on September 28th
Rings (2017)
Sydney White (2007)
xXx: The Return of Xander Cage (2017)
---
Leaving Netflix UK on September 29th
Approaching the Unknown (2016)
Ashby (2015)
Blaze and the Monster Machines: Season 1
Crossing Point (2016)
Dora the Explorer: Season 1
Family Weekend (2013)
February (2014)
Fences (2016)
Froning: The Fittest Man in History (2016)
Ghost Team One (2013)
Luck-Key (2016)
Manhattan Undying (2016)
Mission Impossible – Ghost Protocol (2011)
PAW Patrol: 2 Seasons
Religulous (2008)
Sam & Cat: 2 Seasons
Small Town Crime (2017)
Spongebob Squarepants: Season 1
Team Umizoomi: Season 1
The Book of Henry (2017)
The Good Night (2007)
The Grand Budapest Hotel (2014)
The Haunted Hathaways: Season 1
The Hoax (2006)
Tunnel (2016)
Vanishing Time: A Boy Who Returned (2016)
Victorious: Season 3
Leaving Netflix UK on September 30th
Bare Knuckle Fight Club: Season 1
Bharya Athra Pora (2013)
Bhoopadathil Illatha Oridam (2012)
Billa (2007)
Boys in the Trees (2016)
Cart (2014)
Clash of the Collectables: Season 1
Cloud Atlas (2012)
Code Geass: Lelouch of the Rebellion: Season 1
Corazon Valiente: 1 Season
Don't Kill It (2017)
Double Trouble (1992)
Extremities (1986)
Fantastic: Season 1
Forever the Moment (2008)
Forks Over Knives (2011)
Ghost Town Gold: Season 1
Good Will Hunting (1997)
Harley Davidson and the Marlboro Man (1991)
Hearts Beat Loud (2018)
How to Steal a Dog (2014)
I Spit on Your Grave (2010)
Joint Security Area (2000)
La casa de al lado: Season 1
La Dona: Season 1
La Sangre Del Gallo (2015)
License to Drill: Louisiana: Season 1
Life as We Know It (2010)
Lights Out (2016)
Like Water for Chocolate (1992)
Maari (2016)
Mallu Singh (2012)
Mike Birbiglia: What I Should Have Said Was Nothing: Tales from My Secret Public Journal (2008)
My Horrible Boss: Season 1
Office (2015)
Office Christmas Party (2016)
Paisa Paisa (2013)
Paris Can Wait (2016)
Pasion de Gavilanes: Season 1
Paul, Apostle of Christ (2018)
Philips and the Monkey Pen (2013)
Proprietors Kammath & Kammath (2013)
Puthiya Theerangal (2012)
Return to Me (2000)
Rush Hour 3 (2007)
Salaam Kashmir (2014)
Salt Mango (2015)
Sammy & Bella's Kitchen Rescue: 1 Season
Sniper: Ultimate Kill (2017)
Space Dealers: Season 1
Tenkai Knights: Season 1
The Barley Marathons: The Race That Eats Its Young (2014)
The Lovers (2017)
The Muppets Take Manhattan (1984)
The Notebook (2004)
The Return of the Living Dead (1985)
The Secrets of Emily Blair (2016)
The Witches (1990)
The Woman with No Face (2015)
Tierra de Maria: Mary's Land (2013)
To Noora with Love (2014)
Tracker (2010)
Unakkenna Venum Sollu (2015)
Urumbukal Urangarilla (2015)
xXx (2002)
Zachariayude Garbhinikal (2013)
With thanks to newonnetflix.info for information regarding some of the titles featured on this list.