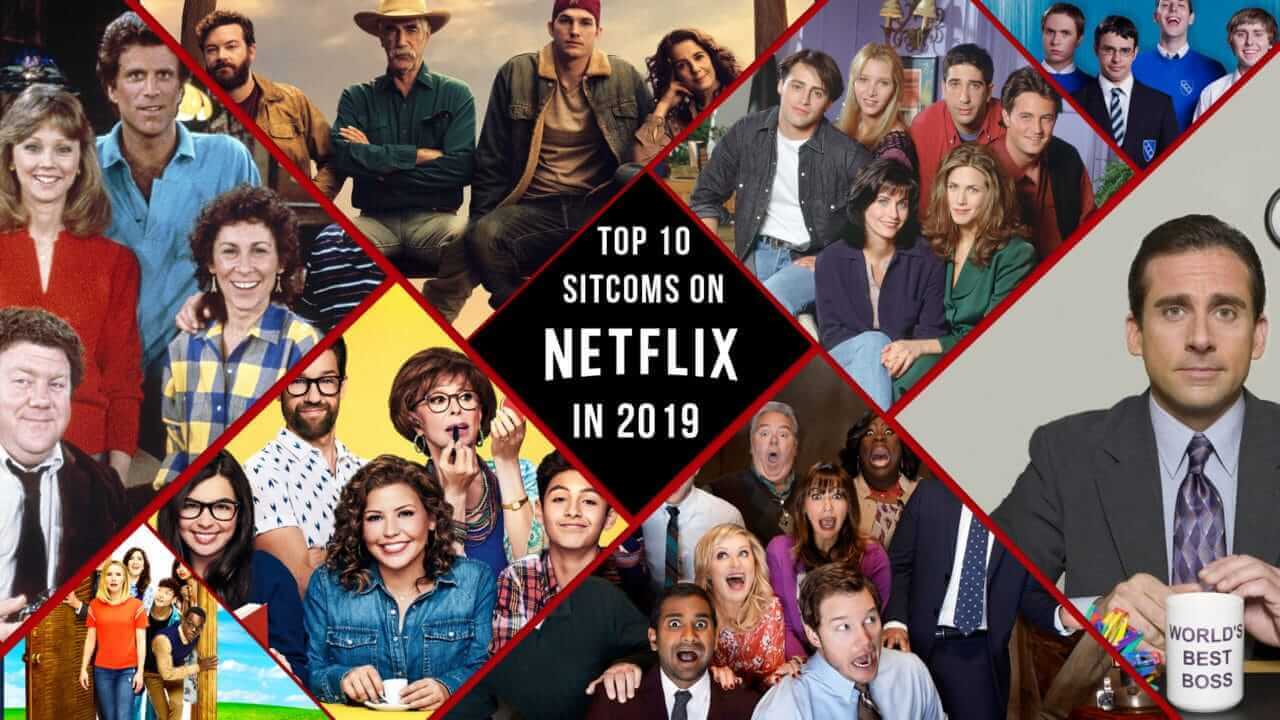 The situation comedy has been one of the most beloved genres in television history. If we were to recite the amount of Sit-Coms produced we'd probably be here for hours, except we're only here to talk about the best of the bunch on Netflix. There are some phenomenal titles in our list below (some may just surprise you!), and all are available to binge on Netflix right now! Here is What's on Netflix' top 10 Sitcoms on Netflix in 2019.
We understand some of your favorite titles may have been left out of the list below, but let us know what your favorite sitcom is in the comments below.
---
10. The Ranch
Netflix Original
Seasons: 6 | Episodes: 60
Cast: Ashton Kutcher, Elisha Cuthbert, Kelli Goss, Sam Elliot, Danny Masterson
IMDB Score: 7.6
Article Continues Below...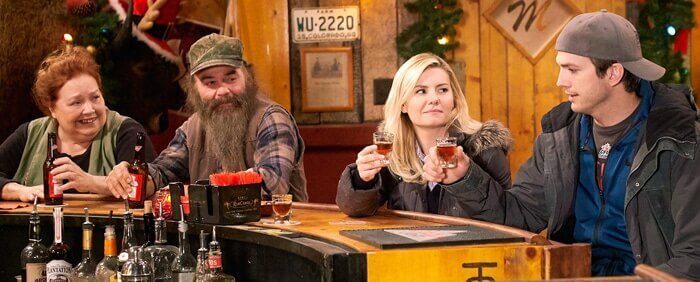 It's incredible to think that since 2016 we've already had 60 episodes of The Ranch?! Out of the many Original comedies to watch on Netflix, The Ranch has certainly become a fan favorite. Lead actor Ashton Kutcher is no stranger to sitcoms having had previous roles in titles such as That '70s Show and Two and a Half Men. The controversy of the casting issues aside The Ranch is a fantastic sitcom to binge and you'll find yourself laughing out loud.
Colt Bennet returns to his father's Colorado ranch after his underwhelming career as a professional athlete comes to an end. Colt is the butt of his families jokes thanks to his disappointing career and lack of skills as a farmhand, but there's no denying he has a heart of gold.
---
9. The Inbetweeners
Seasons: 3 | Episodes: 18
Cast: James Buckley, Greg Davies, Joe Thomas, Martin Trenaman, Simon Bird, Blake Harrison
IMDB Score: 8.3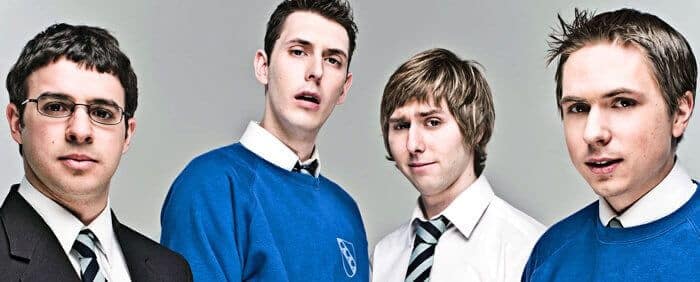 Cringe-inducing awkward humor and juvenile teenagers, oh it definitely has to be The Inbetweeners. Amongst British audiences, The Inbetweeners became a smash hit, was easily one of the most refreshing and hilarious comedy series in years. While there was an American adaptation we don't tend to talk about that mess so instead stick with the ever hilarious cast of British misfits.
Four suburban teenage friends Jay, Simon, Will and Neil attend the Rudge Park Comprehensive. The awesome foursome struggles to navigate their way through the life of adolescence hilariously failing to woo women, make friends and generally fit in.
---
8. That '70s Show
Seasons: 8 | Episodes 200
Cast: Topher Grace, Ashton Kutcher, Mila Kunis, Danny Masterson, Laura Prepon
IMDB Score: 8.1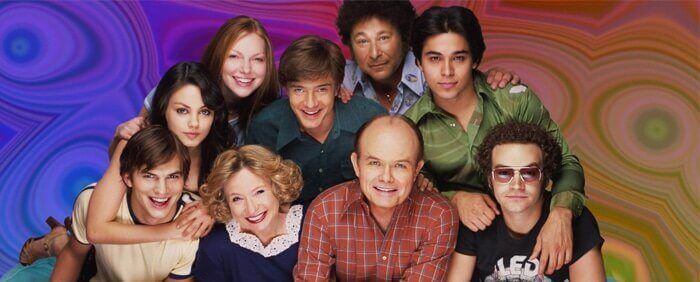 A classic sitcom of the late 90s, That '70s Show paved the way for aspiring actors such as Ashton Kutcher and Mila Kunis to become the stars they are today. The series is a hilarious take and often parodied the era of which it is set. It takes something special for a sitcom to stand out amongst the sea of titles out there, and That '70s Show stands out like a giant Discoball on the dancefloor.
On the verge of adulthood, a group of teenage friends must come to terms with the issues and mishaps of growing up in 1970s Wisconsin.
---
7. One Day at a Time
Netflix Original
Seasons: 3 | Episodes: 39
Cast: Justina Machado, Todd Grinnell, Isabelle Gomez, Marcel Ruiz, Stephen Tobolowsky
IMDB Score: 8.2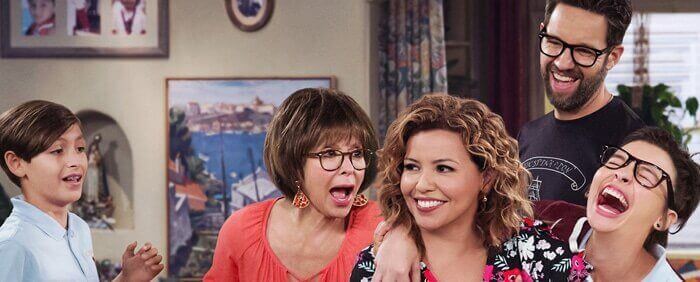 One Day at a Time is one of the best Netflix Originals to date and such an under-appreciated title. While the show is also full of laughs it isn't afraid to focus its storylines on some very hard-hitting topics of today such as LGBT, Racism, and Alcoholism. It works itself in such a charming even when it doesn't pull its punches. If you want a sitcom that offers you something different then look no further.
The matriarch of the family Penelope Alvarez has separated from her husband due to his alcoholism and has moved away with both her children. With the help of her mother Lydia, she raises her two children Elena and Alex as a single mother. When she isn't busy raising her kids or working as a nurse she tries her hand at dating again. Along the way, we see the ups and downs of life as a whole and the important issues that Hispanic families deal with in day to day life.
---
6. Cheers
Seasons: 11 | Episodes: 271
Cast: Ted Danson, Rhea Pearlman, John Ratzenberger, George Wendt, Kelsey Grammer, Woody Harrelson
IMDB Score: 7.9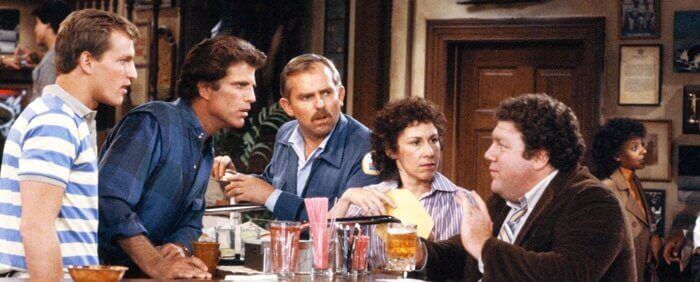 Sometimes you wanna go where everybody knows your naaaaaaaame. The first sitcom but certainly not last in the list to feature Ted Danson, Cheers is one of the era-defining sitcoms of the '80s. The shows 11-year run is a testament to its popularity, not to mention spawning a spin-off of a beloved character that lasted a further 11 years. The legacy of Cheers can be defined by future sitcoms that came thereafter and its influence in pop culture. From coffee in Central Perk to a beer in MacLaren's we'd take a pint in Cheers any day of the week.
Ex-baseball player Sam Malone runs a local watering hole in the city of Boston named Cheers. Between Sam's womanizing antics and the patrons that share the ongoings in their lives, there's always a story to tell in the bar where everyone knows your name.
---
5. Frasier
Seasons: 11 | Episodes: 263
Cast: Kelsey Grammer, Janes Leeves, David Hyde Pierce, Peri Gilpin, John Mahoney, Moose
IMDB Score: 8.1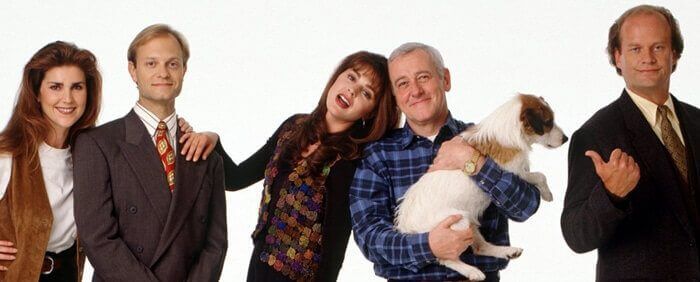 It's not very often a spin-off for a sitcom is popular let alone better than the original show and yet Kelsey Grammer's Frasier did just that. Having played the character for 20 years (1984-2004), the role of Dr. Frasier Crane has arguably been a career-defining role for the veteran actor. The show ran for 11 brilliant seasons and left fans heartbroken when Frasier said his goodbyes and Goodnight to the people of Seattle.
Dr. Frasier Crane moves back home to the city of Seattle, Washington to live with his father and becomes a radio psychiatrist.
---
4. Parks and Recreation
Seasons: 7 | Episodes: 125
Cast: Amy Poehler, Nick Offerman, Aubrey Plaza, Chris Pratt, Aziz Ansari
IMDB Score: 8.6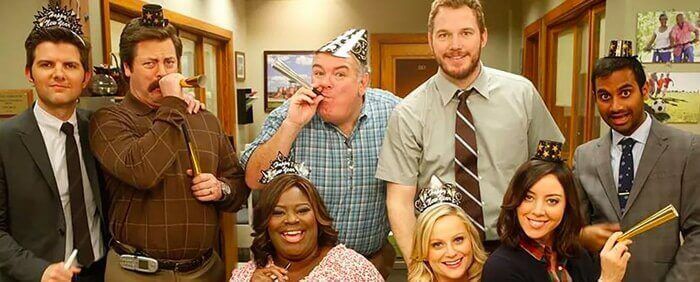 Greg Daniels absolutely smashed it out of the park (pun fully intended) with the creation of Parks and Recreation. One of the few overwhelmingly positive shows to date Parks and Rec will never fail to make you smile. With an ensemble cast of hilarious characters and actors, it's easy to see why Parks and Recs is loved so much. We know what we're about son, and you should binge this show immediately.. or again for the third time.
In the pursuit to make their city a better place, Leslie Knope of the Parks and Recreation Department must handle the bureaucracy, antics, and idiocies of the other town officials.
https://www.youtube.com/watch?v=9djCOPHOvOw
---
3. Friends
Seasons: 10 | Episodes: 236
Cast: Jennifer Aniston, Courteney Cox, Lisa Kudrow, Matt LeBlanc, Matthew Perry, David Schwimmer
IMDB Score: 8.9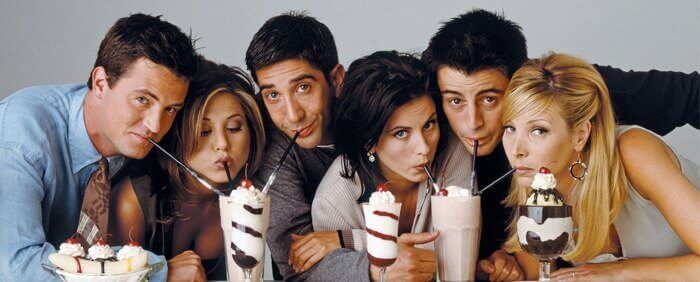 Come at me comments section that Friends isn't ranked #1 on this list… Friends is arguably the most popular title on this list. The series ran for 10 seasons and has been engraved into our pop culture. It wouldn't be surprising if you are to quote a line from Friends in a conversation and someone immediately picks up on it. An NBC mainstay Friends didn't outstay its welcome and left fans wanting more. Sadly we may never see a reunion but we have 236 of pure gold to enjoy.
Following the lives and misadventures of a group of 20 something friends, while they try their best to find their way through love and life in New York City.
---
2. The Good Place
Seasons: 2 | Episodes: 25 
Cast: Ted Danson, Kristen Bell, Jameela Jamil, D'Arcy Carden, Manny Jacinto, William Jackson Harper
IMDB Score: 8.2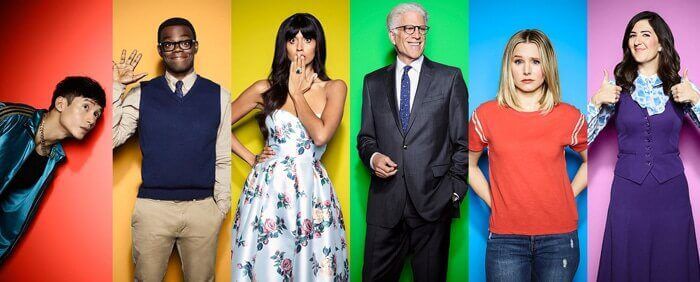 The Good Place has blown up in popularity since its release in 2017 and is redefining the sitcom genre as we know it. This brand new take on sitcoms has been overwhelmingly fresh and with a brilliant and charming cast, it only amplifies the show's quality further. While there are only 3 seasons so far, by the time it ends The Good Place could easily be marked as one of the best sitcoms of all time. Not to mention we get to see a swarve as hell Ted Danson.
When Elanor Shelstrop dies and arrives in the Good Place it looks like she has it made in the afterlife. Except they have the wrong Elanor Shelstrop and she definitely shouldn't have made it in the Good Place! With the help of her philosopher 'soulmate' Chidi and friends she makes in the Good Place, Elanor must keep up the ruse she's the real one and become a good person she can keep her place.
https://www.youtube.com/watch?v=RfBgT5djaQw
---
1. The Office
Seasons: 9 | Episodes: 188
Cast: Steve Carell, Rainn Wilson, John Krasinski, Jenna Fischer, Leslie David Baker
IMDB Score: 8.8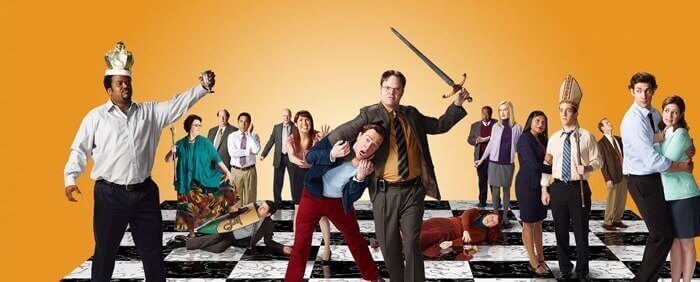 While Friends holds the trophy for popularity it can be argued that The Office has taken the mantle for most iconic. It's the charm and hilarity told through the eyes of a mockumentary with a whole heap of the loveable and often baffling bunch of characters that have made this show so beloved. Just like the sitcom counterparts above The Office is one of the most bingeable tv shows to date with many fans have watched the series over and over and over again.
The US adaptation of the classic British mockumentary takes place in the city of Scranton, Pensylvania at the local paper company Dunder-Mifflin. Following everyday life in the Office, we see the hijinks, hilarity and often downright stupidity of the staff.
https://www.youtube.com/watch?v=jz1omRneAGg
---
What are your favorite sitcoms on Netflix? Let us know in the comments below!