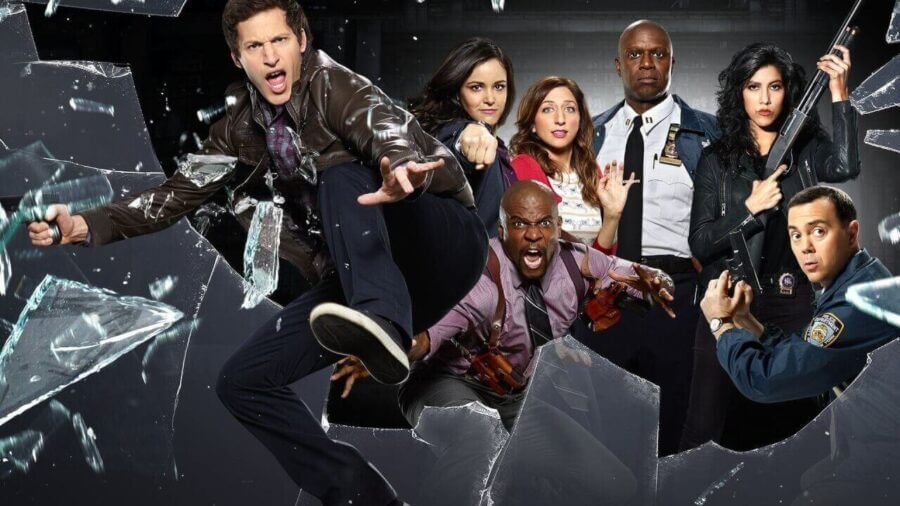 "I've never been happier." and neither have we! Rejoice fans of the Nine-Nine, season 5 of Brooklyn Nine-Nine will be coming to the UK in March 2019!
Brooklyn Nine-Nine is an American police-sitcom that first premiered on FOX back in September 2013. The series has gone on to become one of the most popular sitcoms to date. Originally airing in the UK on E4, the series found its way over to Netflix and fans haven't looked back since. With the inevitable arrival of the 5th season, fans will be able to binge to their heart's content.
The series follows the escapades and exploits of the 99th Precinct in Brooklyn, New York. With the arrival of overly serious Captain Raymond Holt, the Precinct is soon whipped into shape. Some he detectives under his watch are the carefree Jake Peralta, who despite having a laid back and care-free attitude is the top detective for arrests. Amy Santiago the by-the-book detective that sees herself as Jake's rival. The loveable but pitiful Charles Boyle, Stoic and hard ass Rosa Diaz. The gentle giant and family man Sergeant Terry Jeffords whom the detectives report directly.
Article Continues Below...
---
When is Season 5 of Brooklyn Nine-Nine coming to Netflix UK?
Brooklyn Nine-Nine is coming to Netflix UK on the 8th of March!
me, exactly one month from today pic.twitter.com/oI81zhxWfS

— Netflix UK & Ireland (@NetflixUK) February 8, 2019
---
What about Netflix US?
Sadly Brooklyn Nine-Nine isn't coming to Netflix US anytime soon. You can, however, catch the show if you have a subscription to Hulu.
---
Any News on Season 6?
As stated above, Season 6 is set to premiere on Brooklyn Nine-Nine's new home on NBC. NBC had saved the show after it was canceled by Fox. The premiere date for the latest season is January 10th.
VIDEO | Terry Crews just announced on instagram live that Brooklyn Nine-Nine will be back with season 6 in January!! pic.twitter.com/85C2lj8Znm

— Brooklyn 99 Updates (@UPDATESB99) October 22, 2018

In the UK season, 6 will be premiering on E4. An exact date is yet to be given but considering the popularity of the show, we could expect to see the series air soon after the US. To stream season 6 you'll be able to use Channel 4's streaming service 4od.
As for when it'll arrive on Netflix UK, expect to see a similar release to season 5 so most likely not until January-March 2020.
Are you excited for Season 5 of Brooklyn Nine-Nine? Let us know in the comments below!