A super popular  K-dramas, Something in the Rain, is scheduled to leave the US library in May 2023. We're hopeful the K-drama will make a return, but for now, it looks like another Netflix exclusive series will be leaving the streaming service.
Something in the Rain is an internationally licensed South Korean Netflix Original drama series from the Korean production Content K and Drama House. The series was broadcast in South Korea on the cable television network jTBC. The series features popular Korean actors such as Son Ye Jin, Jung Hae In, Jang So Yeon, and Jung Eugene.
When a single career woman reunites with her best friend's younger brother after he returns from three years of working abroad, their efforts to reconnect grow into romance.
Article Continues Below...
---
When is Something in the Rain leaving Netflix?
At the time of writing, Something in the Rain is currently scheduled to leave Netflix US on May 25th, 2023.
On your Netflix app, you'll currently find the K-drama with the warning that your last day to watch is May 24th.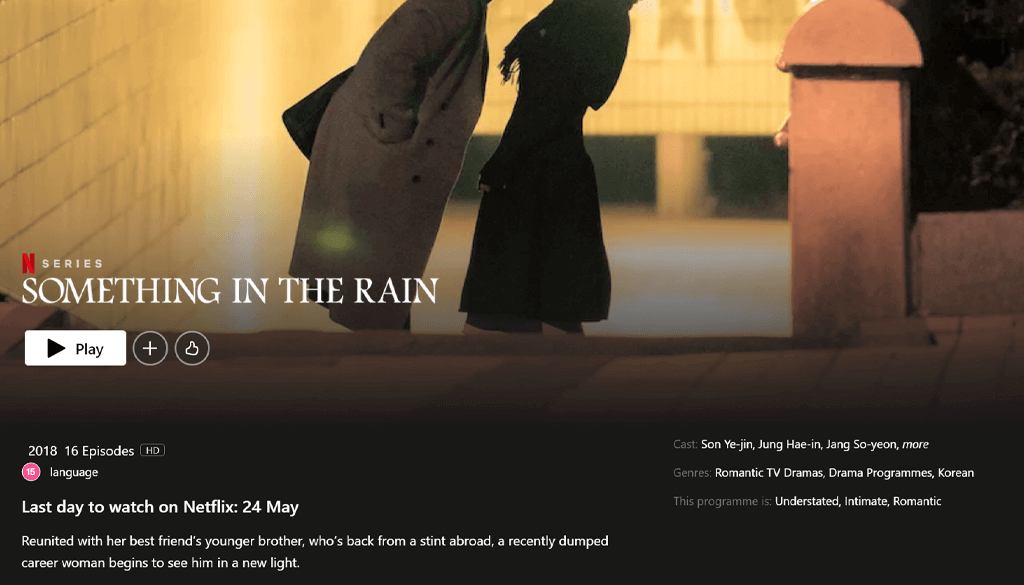 ---
Why is Something in the Rain leaving Netflix when it's an Original series?
Unlike series such as Squid Game, All of Us Are Dead, and The Glory, Something in the Rain is not a "full" Netflix Original. By this we mean Netflix has not produced the show and instead licensed it exclusively for international distribution. As a licensed K-drama, this means it would only be available to stream for a limited amount of time, or in the case of Something in the Rain, five years.
---
Where will Something in the Rain be able to stream next?
Netflix is not the exclusive home for K-drama content outside of South Korea. There are a handful of competitors in the USA, and across the world, where Something in the Rain could stream next such as Viki, Kocowa, Asian Crush, and Tubi.
However unlikely, the series could always wind up on Amazon Prime, or Disney+.
---
Will Something in the Rain be re-licensed by Netflix?
There's always a chance that Something in the Rain could be re-licensed before it departs Netflix. We've seen a handful of licensed Netflix K-dramas leave only to return weeks later.
It is highly likely that Netflix will renew the license for the K-drama, and will return to the library within several weeks of leaving.
---
Will you be sad to see Something in the Rain leave Netflix? Let us know in the comments below!