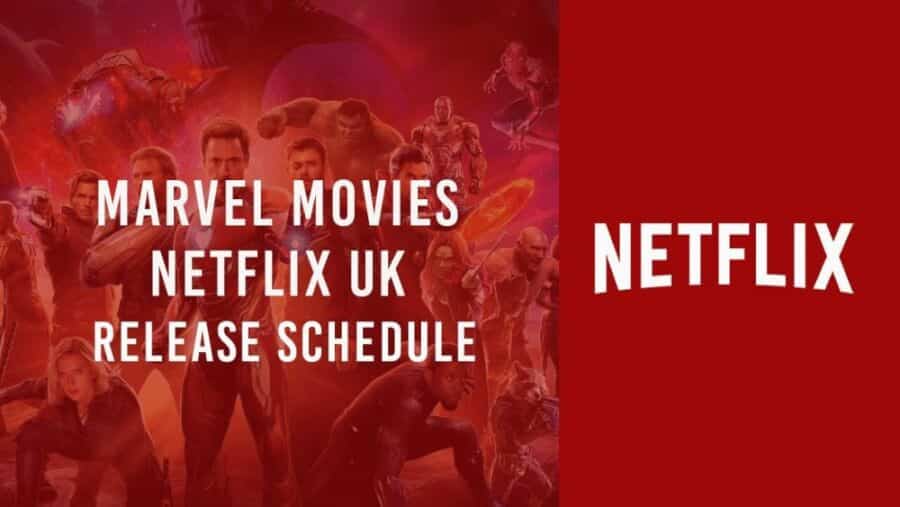 The Marvel Cinematic Universe has dominated the box office for the past 11 years, culminating in an epic grand finale for the Infinity Saga. To date, Marvel has released 22 films and has a whole heap more on the way. The hottest films around on release, many Netflix subscribers in the UK have been wanting to know when the next load of Marvel movies will be arriving. Well hopefully we have the answers you're looking for. Here's your Marvel Movie release schedule for Netflix UK.
22 Films and over $21 billion at the box office later and you have the largest and most ambitious film franchise ever created. The entire saga has been closely followed by both fans old and new, with many adults today spent their childhoods growing up watching these films. Some may disagree but in terms of influence on children and pop culture, the MCU is today's generation equivalent of what Star Wars was in the 70s and 80s.
Naturally, after the films have finished their cinematic runs at the box office, the next question fans have in mind is "when and where will I be able to stream X?" Hopefully, in this article, we'll be answering those questions. Keep in mind Marvel titles take an incredibly long time to arrive on Netflix UK but it's better to be late than never right?
Article Continues Below...
---
Marvel Movies Netflix UK Release Schedule
After doing some investigation work into Marvel films and Now TV, we think we may have found the pattern, cracked the code and can finally anticipate the future releases of Marvel films on Netflix UK!
We discovered that like clockwork, NOW TV and Sky receive the latest Marvel releases, around 8 months after their cinematic debut in the UK. Each title would stay on NOW TV and Sky for a limited period of time lasting roughly 15 months. Once the title is scheduled to leave, the Marvel film arrives on Netflix the next day after it leaves Sky and NOW TV.
Here's your Marvel Movie release schedule for Netflix UK:
| Title | UK Cinematic Release Date | SKY/NOW TV Release Date | Netflix UK Release Date |
| --- | --- | --- | --- |
| Spider-Man: Homecoming | 05/07/2017 | 30/03/2018 | 03/06/2019 |
| Thor: Ragnarok | 24/10/2017 | 20/07/2018 | 19/09/2019 |
| Black Panther | 12/02/2018 | 12/10/2018 | 11/01/2020 |
| Avengers: Infinity War | 26/04/2018 | 25/12/2018 | 20/03/2020 |
| Ant-Man and the Wasp | 02/08/2018 | 19/04/2019 | 26/06/2020 |
| Captain Marvel | 08/03/2019 | November 2019 | February 2021 |
| Avengers: End Game | 25/04/2019 | 25/12/2019 | March 2021 |
| Spider-Man: Far From Home | 02/07/2019 | March 2020 | June 2021 |
Please Note: The following release dates above are speculative, therefore, don't expect all of them to be 100% accurate.
What about the FOX films?
An excellent question, but one we definitely can't give an accurate answer just yet. Disney's recent acquisition of FOX's entertainment division has understandably brought an immense amount of excitement due to the fact we could soon see the X-Men and Fantastic Four join the Marvel Cinematic Universe.
The obvious film that springs to mind is X-Men: Dark Phoenix. For now, though we aren't expecting the X-Men films produced by FOX to arrive on the same schedule as the MCU. The likelihood is X-Men: Dark Phoenix will come to Sky/Now TV first. Whether or not Disney release Disney+ to the UK in that time will dictate if the X-Men title will come to Netflix or not. Not to mention Netflix UK may not have a contract in place to license the X-Men films the same way they do for the MCU.
---
Will Disney+ have an impact on the Marvel Movie releases in the UK?
At the time of writing that is a big fat no. This is because Disney+ is only scheduled to release in the United States when it launches in November 2019. There's no word on when Disney+ will spread to other regions.
A massive factor to consider is Disney already has a streaming service available in the UK. For those unaware such a service existed will be surprised to learn that Disney's streaming service DisneyLife has been available in the UK since 2015. Since the release of DisneyLife, we have seen no impact on the Marvel titles release schedule for both Netflix and NowTV.
What if Disney+ launches in the UK?
Another excellent question, and probably a question of when and not if for when Disney+ launches in the UK. While we have no evidence for this, Disney+ would likely be the replacement of DisneyLife.
Disney likely has long term contracts in place with Sky. This means the broadcaster has the license to broadcast and stream Disney films on their services for a limited period of time.
Disney would still likely launch Disney+ while this contract is in place as subscribers would have access to huge library available, not to mention the Originals Disney have planned for the streaming service. Once Disney's contract with Sky is over, it's more than likely the latest cinematic releases will be available to stream on Disney+.
So what does this means for Netflix? Again we're unsure at this time but for the foreseeable future, Marvel movies will be coming to Netflix UK.
---
Which Marvel movie are you most excited to see arrive on Netflix UK? Let us know in the comments below!