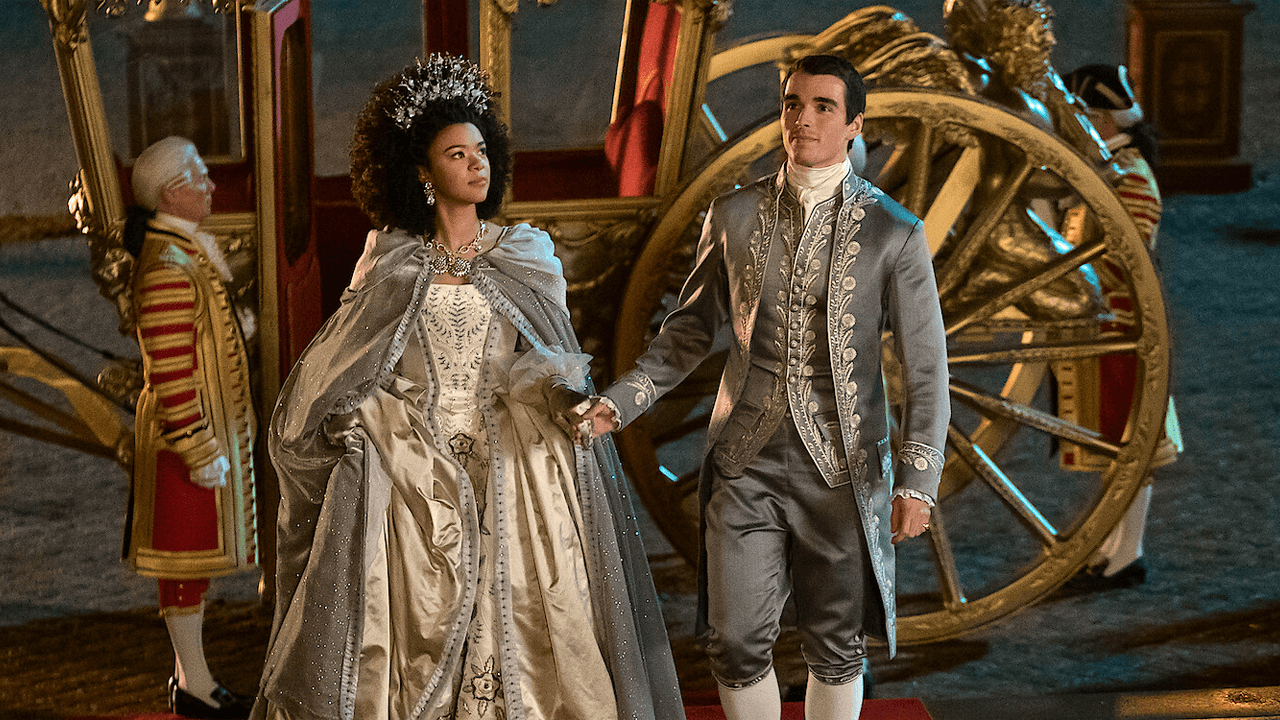 Wrapping up everything in a neat bow after six episodes, Queen Charlotte: A Bridgerton Story was a royal treat for anyone who is a fan of Bridgerton. Below we've gone into detail to explain the ending to the prequel spin-off, and how it impacts Bridgerton season 3.
Queen Charlotte: A Bridgerton Story is a Netflix Original historical fiction drama and the prequel spin-off of the extremely popular Bridgerton television show, created by Shonda Rhimes, and produced by her production studio Shondaland.
The series is set a few decades before the events of Bridgerton and focuses on the early years of the marriage between King George III, and Queen Charlotte, and her rise to prominence and power.
Article Continues Below...
Queen Charlotte: A Bridgerton Story Ending Explained
The issue of succession
One of the biggest subplots of the season was the flash-forwards to the present day where Queen Charlotte was dealing with the stress of her thirteen misbehaving children, and the worry that her husband, King George III, would die soon. The stress caused by all of her grown children was the issue of succession, as the only heir to the throne, Princess Charlotte the daughter of Queen Charlotte's eldest son Prince George, had died in childbirth. Meanwhile, all of the remaining sons and daughters were either in loveless marriages, siring illegitimate children, or struggling to conceive.
The pressure Queen Charlotte was issuing on her children began to cause a rift, especially when one of the Princesses made her aware that on multiple occasions babies had been lost to miscarriage, which the Queen had no knowledge of.
While the Princes continued to drag their heels, eventually, Prince Edward, the fourth-in-line to the throne, announced that he and his wife would be having a baby. His wife's intuition that the baby would be a girl is correct, as she would give birth to one of the most powerful monarchs in British history, Victoria I.
Did King George III die?
Throughout the season Queen Charlotte became increasingly paranoid that every time a message arrived for her that it would be the news that her husband had passed away. However, by the end of the series the King was still alive, but his health is deteriorating.
Lady Danbury x Lord Ledger
Lady Danbury did not love her husband and hated how often he would seek her out for their marital duties. Her loveless marriage would lead to her having a disinterest in sex, that is until after the death of her husband, and when she began going for walks with Lord Ledger.
It wasn't clear if Lord Ledger was not in love with his wife but there were certainly a number of differing opinions between them, especially on opinions to do with the great experiment.
Eventually, Lady Danbury and Lord Ledger would fall into each other's arms, and many occasions found excuses to bed each other. However, Lady Danbury would have to put a stop to their affair or risk a giant scandal within the ton, which could have impacted the issue surrounding her son's inheritance.
Despite Lady Danbury unable to act upon her feelings for Lord Ledger, she would keep the birthday crown he made for her as a memento of their time together.
Does Violet know about Lady Danbury and her father?
Viscountess Violet was struggling to deal with her own needs as she greatly missed her husband and how often her "garden" used to be attended to.
Lady Danbury became a confidant over the issue for Violet, however, after listening to her a great deal, and finding one of her father's birthday crowns in the possession of Lady Danbury, she came to the realization that at some point her father and Lady Danbury had had an affair.
Once Lady Danbury realized Violet knew about the affair, she attempted to explain herself, however, Violet would stop her with little being said in words, but a lot more said in silence.
---
What does this mean for Bridgerton season 3?
The Bridgerton series does mess with the timeline of events that take place in the books, with several characters far younger in the series than their book counterparts. With the first season taking place in 1813, and the second season in 1814, we can assume that the third season will take place in 1815 at the earliest.
This means we won't be seeing the death of the king anytime soon, who died in January 1820. We also won't be seeing the death of Queen Charlotte just yet either, who died in November 1818.
We may see the subplot surrounding Violet Brodgerton's need to tend her "garden" continue in season 3. Not to mention we'll likely see more of Lady Danbury and Viscountess Bridgerton interacting throughout the season.
It's unclear if we'll see more of the Queen's children, but we suspect the birth of Victoria I won't be overlooked.
---
Will Queen Charlotte: A Bridgerton Story return for season 2?
The Bridgerton spin-off was only ever meant to be a limited series. This means there are currently no plans for any further seasons.
However, in future seasons of Bridgerton, there's no reason why we can't see some flashbacks, with actors from the series returning to reprise their roles.
---
Did you enjoy Queen Charlotte: A Bridgerton Story? Let us know in the comments below!