As our name and tagline imply, we're not the official Netflix so if you have technical issues or content recommendations please visit the official Netflix help center.
What's on Netflix was set up in 2013 to help streamers from all around the world find the best and latest content on Netflix. The site aims to provide users with information on the latest titles, what's coming soon and what's leaving. We also write feature articles on entertainment as a whole but with a particular Netflix flavor.
---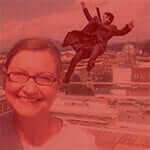 Cheryl Greenway
Cheryl every week picks a different country that has Netflix and showcases its best titles.
Jasmin Pease
Jasmin delivers a daily update letting you know what's just landed on Netflix in the US.