Dolly Parton's Heartstrings is releasing in November 2019 on Netflix globally and if you're looking for the latest on the upcoming drama series, here's everything you need to know about Heartstrings season 1 whether that's who's starring, when it'll be releasing and who's behind the series. 
The series was first announced in 2018 but wasn't given its full reveal until later in the year. Filming started for the show in November 2018. In the original press release, it spoke a little bit about the series saying: "Netflix has greenlighted an eight-episode Dolly Parton anthology series, with each episode based on a song by her. In addition to serving as singer/songwriter, Parton will executive produce and will also appear in the series."
.@DollyParton and her music are headed to Netflix! The living legend will serve as singer/songwriter, co-star, and executive producer on a new anthology series where every episode is based on an iconic Dolly Parton song. pic.twitter.com/8AdZFFTjcd

— Queue (@netflixqueue) June 4, 2018
Article Continues Below...
Parton's Dixie Pixie Productions, Sam Haskell's Magnolia Hill Entertainment in association with Warner Bros Television is behind the series.
The first trailer for the series was released on November 5th, 2019 as we've included below:
https://www.youtube.com/watch?v=Rk0dfTAH7ME
---
Who is the series for?
Naturally, Dolly Parton fans have already made this series a must-watch later this year.
Netflix in their official tags for the show includes "Family" in its tags which tells us this series is going to be made for all ages meaning you can expect clean language.
---
Dolly Parton's Heartstrings Episode Names & Cast
Each episode of the anthology series covers a different Dolly Parton track specifically showcasing Dolly's stories and anecdotes behind each of her most beloved shows.
Dolly Parton is set to appear as well as act as a narrator for the series. She'll start each episode by introducing the episode name but will also act in some too.
As of the time of publishing 133 cast members have been pegged for the first season of the show.
Note: there is some confusion surrounding the episode order and we've defaulted to the IMDb list but may change on release. Descriptions provided by THR.  
Here are the eight episodes and the eight songs that will be featured:
Episode 1 – These Old Bones – Directed by Joe Lazarov
"In the 1940s, a determined young lawyer returns to her Smoky Mountain hometown to prove herself professionally when a mysterious mountain woman (Kathleen Turner), believed by some locals to be a fortune teller, threatens a lumber company's business."
Ginnifer Goodwin (Once Upon a Time) and Katheleen Turner (Romancing the Stone, Peggy Sue Got Married) headline the episode with Kyle Bornheimer also signed on for the episode.
Kathleen Turner & Ginnifer Goodwin will star in a "These Old Bones" episode of "Dolly Parton's Heartstrings," her Netflix anthology series. pic.twitter.com/CHP6QJzXCY

— Queue (@netflixqueue) November 7, 2018
Episode 2 – If I Had Wings – Directed by Timothy Busfield
"After receiving invitations to their long-estranged father's 70th birthday, three siblings converge on a Mississippi farm, where they test the bonds of blood and issues of faith, all to confront the sins of their father."
Gerald McRaney (The A-Team, House of Cards), Delta Burke (Designing Women), Ben Lawson (Designated Survivor, No Strings Attached) and Tim Reid (WKRP in Cincinnati) feature in this episode.
Episode 3 – J.J. Sneed – Directed by Terry McDonough
"In the 1880s, a feisty young woman trapped in a mundane existence dream of more, until a seductive outlaw pulls her into the adventure of a lifetime."
Willa Fitzgerald (Scream: The TV Series), Colin O'Donoghue (The Rite) are both scheduled to headline this episode.
Episode 4 – Jolene
"The title character (Julianne Hough), a flirtatious free spirit, wants to escape her hometown of Coventry, Georgia, and become a singer-songwriter."
This episode features a star-studded lineup with Julianne Hough being the main draw but also featuring Kimberly Williams-Paisley (Father of the Bride), Dallas Roberts (3:10 to Yuma) and Wynn Everett (Charlie Wilson's War).
"Jolene" will be the first song adapted for an episode of "Dolly Parton's Heartstrings" anthology series. It will star @juliannehough as Jolene & Dolly Parton as Babe, a sparkly force of nature and Jolene's surrogate mother. pic.twitter.com/Uy8dlkKRzc

— Queue (@netflixqueue) November 1, 2018
Episode 5 – Cracker Jack – Directed by Liesl Tommy
"Two stories — one past, one present — about the power of unconditional love between a girl and her dog. That same girl, now grown, questions what her life means and who she can truly count on when faced with her greatest fear."
Sarah Shahi (Bullet to the Head) will play the role of Lucy Jane bu Rochelle Aytes (Trick 'r Treat) playing Scarlett.
Episode 6 – Sugar Hill – Directed by Lev L. Spiro
"A married couple in their twilight embark on a road trip back to the place where they first fell in love, revisiting the history of their love story along the way."
This episode perhaps features the cast who will be unknown to most. Timothy Busfield from The West Wing will play the role of Logan Cantrell.
In November 2019, it was announced Tom Brittney (Outlander and Grantchester) would appear as Young Logan in the episode.
Tom Brittney (@tombrittney) as seen in Outlander has been cast in the upcoming Heartstring series by @DollyParton! pic.twitter.com/9vQLY5ojH6

— What's on Netflix (@whatonnetflix) November 5, 2019
Episode 7 – Down From Dover – Directed by Erica Dunton
"After being shunned by her pious widowed father, a pregnant teenager finds support at a home for unwed mothers, where she hopes for the safe return of the young man she loves from the Vietnam War."
Robert Taylor (Longmire) will play the role of Reverend Covern. Bellamy Young (Scandal), Holly Taylor (The Americans), Camryn Manheim (The Practice) and Shane Paul McGhie (After) also feature.
Episode 8 – Two Doors Down
"A family's lifetime of secrets come bursting out during a chaotic and comedic New Year's Eve wedding weekend. Will they make it to witness the "I do"s without killing one another?"
Melissa Leo (The Fighter), Ray McKinnon (Rectify), Catherine Dyer (The Blind Side) and Katie Stevens (Faking It) feature.
Here are some first look screens at the upcoming series which gives us a first look at what we can expect.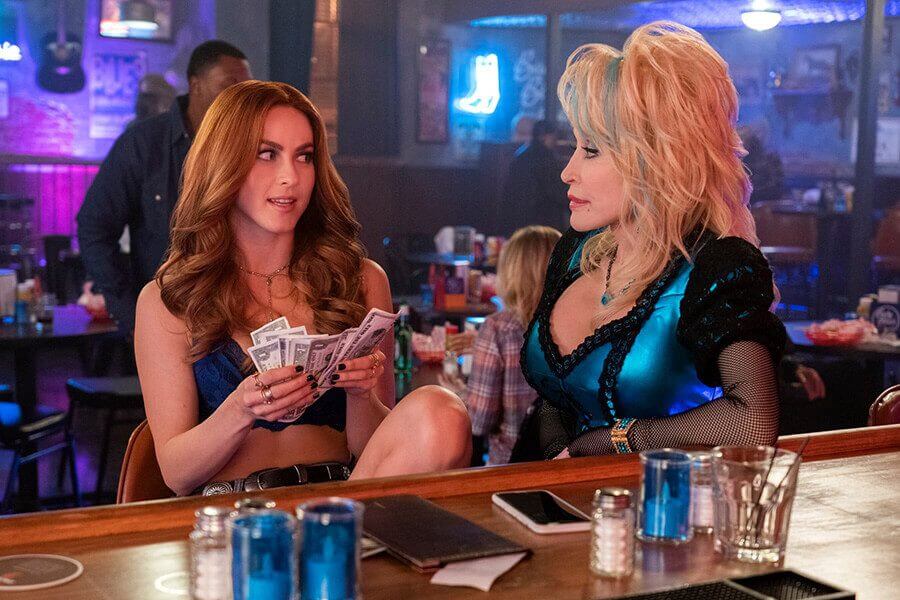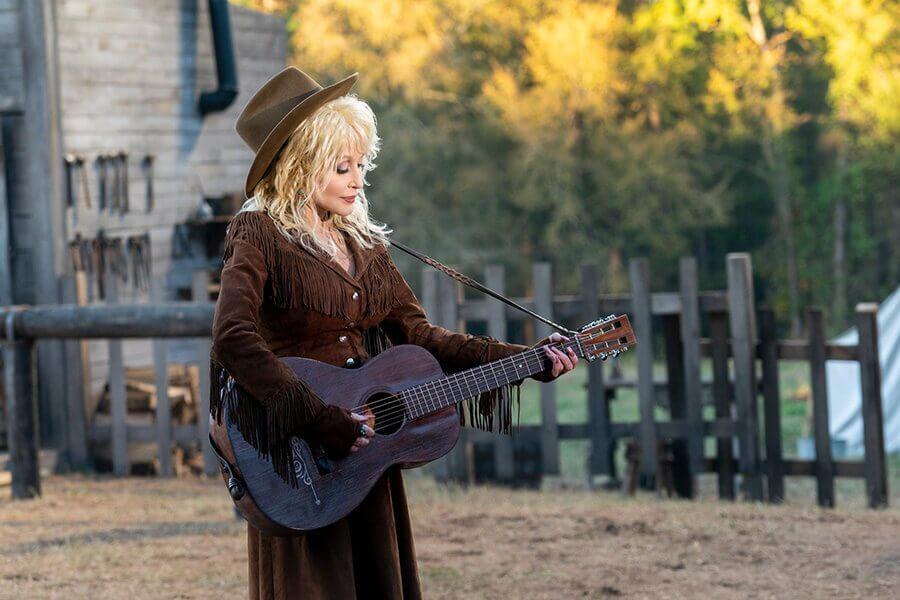 ---
When will Dolly Parton's Heartstrings be on Netflix?
Season 1 of Dolly Parton's Heart Strings is releasing on Netflix on November 22nd, 2019. It'll be releasing alongside the new Dragon Prince season and the Spanish series High Seas.
If you wanted to get notified about when the series hits, you can add the series to your list from the official Netflix site to your list. There's a couple of benefits of doing this namely getting a notification as soon as it releases.
---
Other Dolly Parton News Pertaining to Heartstrings or Netflix
Dolly Parton is also appearing in a Hallmark Christmas movie this year entitled Christmas at Dollywood.
It's still being speculated that Dolly Parton could appear on Grace and Frankie at some point which will soon be headed into its sixth season.
The show was shot in Georgia which is currently embroiled in controversy given the anti-abortion laws.
---
Scope for season 2 of Heartstrings on Netflix?
Of course. The series could quite easily continue for a second season given Dolly Parton's vast music library.
---
What to watch on Netflix while waiting for Heartstrings
With the series still not yet released, you're probably looking for some similar titles on Netflix you can enjoy right now.
Insatiable is a comedy series that arrived on Netflix last year and features some music from Dolly Parton.
Grace and Frankie (mentioned above) is a must-watch for any fans of Dolly in her old appearances in sitcoms.
Coat of Many Colors isn't on Netflix in any region but we thought we'd mention it as the show is very similar in premise.
We'll keep updating this post as we get closer to the release of Heartstrings on Netflix. Are you excited for Dolly Parton's new series? Let us know in the comments.