Fans rejoice! An anime adaptation of the 2010 cult classic Scott Pilgrim vs. the World is in development at Netflix. All of the original cast members from the movie are set to return and will be animated by the same studio behind DEVILMAN crybaby. 
Scott Pilgrim began life as a comic, which began its serialization in 2004 in the publisher Oni Press. Written and illustrated by creator Bryan Lee O'Malley, the comic came to an end in 2010, the same year it was adapted into a live-action film, and has since become a cult classic.
Bryan Lee O'Malley will return to the franchise as an executive producer, writer, and co-showrunner alongside Ben David Grabinski. They had the following to say about the exciting announcement:
Article Continues Below...
"We're getting the band back together! Cera and Winstead, Bhabha, Culkin, Evans, Kendrick, Larson, Pill, Plaza, Routh, Schwartzman, Simmons, Webber, Whitman, and Wong. A stellar cast, perfectly assembled by Edgar Wright. And, with Science SARU leading the phenomenal animation, we couldn't ask for a better team for this adventure. We can't wait for fans and newcomers alike to see what we and our partners at Science SARU have been cooking up. It's going to be a wild ride."
The series will be directed by Abel Gongora, and animated by Science SARU.
Edgar Wright, who previously directed the film adaptation returns as executive producer and has the following to say about the upcoming anime:
"One of the proudest and most enjoyable achievements of my career was assembling and working with the dynamite cast of Scott Pilgrim. Since the film's release in 2010 we've done Q&A's, remembrances and charity read throughs, but there was never the occasion to reunite the whole gang on an actual project. Until now… Original creator Bryan Lee O'Malley, along with writer BenDavid Grabinski have conjured up an anime series of Scott Pilgrim that doesn't just expand the universe, but also…well, just watch it. I'm more than happy to announce that I have helped coax the entire original cast back to voice their characters on this epic new adventure. You are in for a treat."
Fellow executive producer Eunyoung Choi also showcased their excitement for the upcoming anime:
"It's official: we've been obsessed with Scott Pilgrim! This series has been a wild ride, full of fresh and thrilling experiences for everyone at Science SARU. Working with such amazing artists and animators under the visionary leadership of director Abel Gongora has been an absolute dream come true. Our team is over the moon about bringing the Scott Pilgrim world to life. We can hardly contain our excitement – this is going to be epic!"
Who are the cast members of the Scott Pilgrim anime?
Fans will be incredibly excited to learn that the cast from the movie has agreed to return and reprise their roles!
If you don't have time to watch the video, you can find the graphic below of the full cast list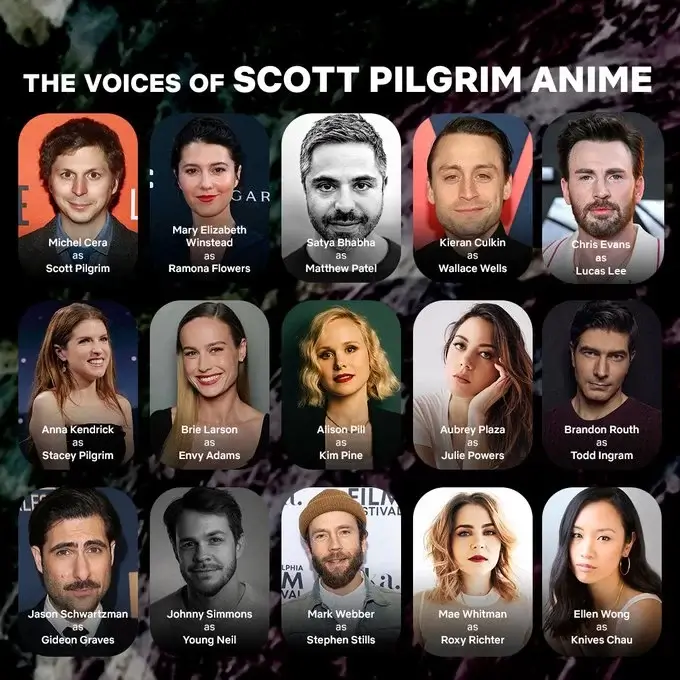 ---
Are you excited about the upcoming Scott Pilgrim anime adaptation on Netflix? Let us know in the comments below!