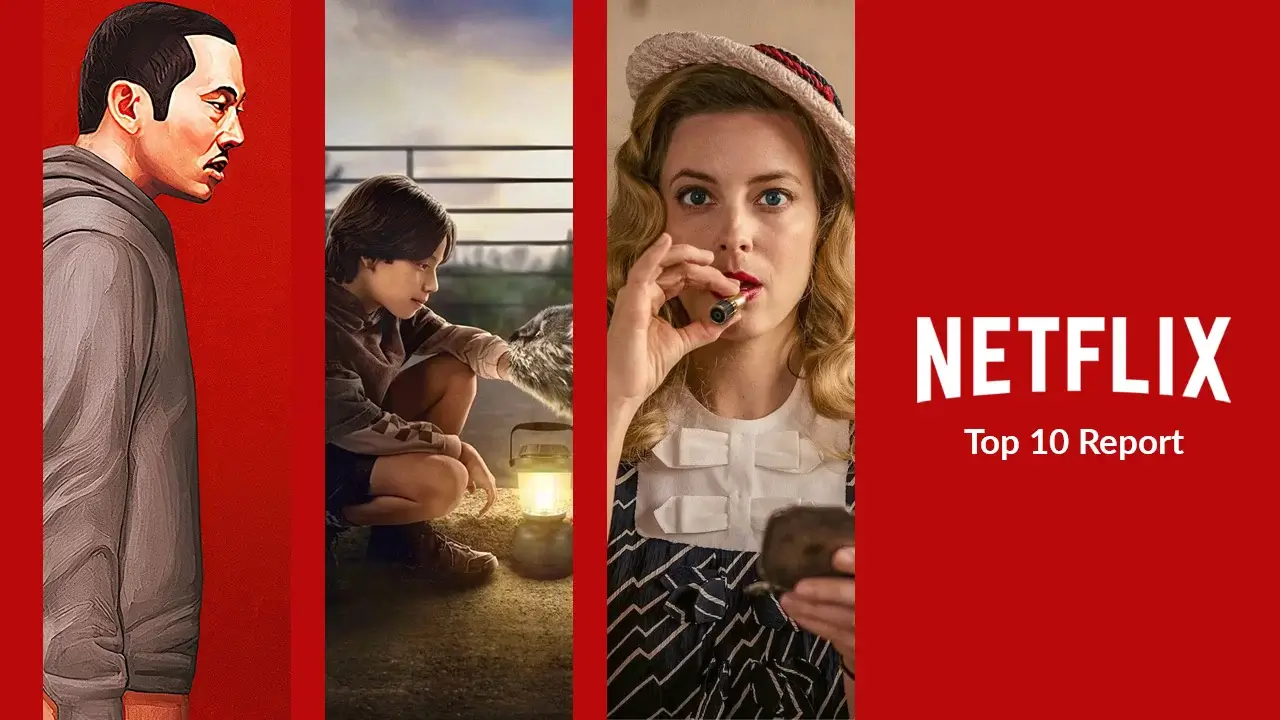 Welcome to your weekly rundown of the biggest stories from Netflix's top 10 hourly figures drop for the week ending April 9th, 2023. This week, we'll discuss BEEF, Chupa, Transatlantic, The Night Agent, The Glory, and Murder Mystery 2.
Every Tuesday, Netflix updates its top 10 stats page with 40 new hourly figures of the top movies and shows of the past seven days. If you want to browse the top 10 hourly data easily, visit our tool.
Note: In this report of Netflix's hours viewed from April 3rd, 2023 to April 9th, 2023, we'll use "Complete Viewings Equivalent," or CVE, expressed in millions. That means we divide the hours viewed announced by Netflix by the runtime of films or series. It allows for better comparisons between films and series, but it's not an audience metric. It is the minimum number of viewings if they were all complete from the first second to the last of the film or season.
Article Continues Below...
---
1. Murder Mystery 2 keeps going strong.
After its big debut last week, it was going to be interesting to see how Murder Mystery 2 would hold up and it did good, losing only 7% of hours viewed. After ten days, the film is sitting at 82.8M CVEs, the seventh biggest tally among Netflix original films released on a Friday since mid-2021.
The first Murder Mystery logged 104.9M CVEs over its first 28 days back in 2019 and the sequel looks to be on course to do better than the first. A third movie appears like a sure thing if it's not already in development.
---
2. Chupa does an OK start.
Since the beginning of the year, Netflix has done some interesting programming choices regarding its English-speaking original films, pairing a big title with a more minor one.
Big titles do huge numbers (65-90M CVEs after 28 days) whilst minor ones do less (30-45M CVEs). So far, we had You People and The Pale Blue Eye in January, Your Place or Mine and We Have a Ghost in February, Luther: The Fallen Sun and The Magician's Elephant in March.
For April, Murder Mystery 2 is the big title, and the family-friendly film Chupa appears to be the minor one. It did an ok start last week with 15.5M CVEs, on track for 35M CVEs for its 28 days run.
---
3. BEEF does a mediocre start but its importance lies elsewhere.
I had doubts BEEF would do a huge launch on Netflix as it is as indie as it gets: a drama series produced by A24 with aruably no real big names attached to it and no "hook" in its premise. It launched with 5.9M CVEs, in the lower end of launches of new US series released on a Thursday.
Now, let's look on the bright side: it at least managed to chart in the global Top 10, which is already better than what Mo did (another show produced by A24), and that remarkably got renewed for a second season and final season.
The critical acclaim for BEEF is extraordinary, though, with 99% on Rotten Tomatoes, 8.4/10 average on IMDB, and 86/10 on Metacritic, and it's already one of the best new series coming from Netflix in quite some time.
It also might get some recognition in the next Emmy Awards, where it will compete as a limited series. Now, the creator claims to have three seasons in mind, and that launch might be a bit low to hope for three seasons, but Netflix might also consider the series as a prestige play, something that's been sorely lacking as of late.
---
4. Transatlantic bombs hard.
This series had it all: World War II, the scenery of Southern France, the creator of acclaimed series Unorthodox and Gillian Jacobs, but Transatlantic bombed hard in its opening weekend with a lackluster 2.1M CVEs, good enough to be the worst opening weekend of a European English-speaking series, just below Half-Bad: The Bastard Son & the Devil Himself.
Since it's a limited series, it runs no risk of being canceled by Netflix (after being apparently canceled by the public).
---
5. The Glory and The Night Agent achieve new milestones.
Two series made the all-time charts that week and let's start with The Glory which ended its first 28 days run. Per Netflix's methodology for series released in two parts, it counts the viewing hours of the first 28 days of part 1 and adds the viewing hours of the first 28 days for part 2. With nearly 437 million hours viewed for both parts during their respective first 28 days, The Glory stands now at the 5th place of the all-time top 10 for non-English series. This number means we can also now take a look at the CVEs for the same period and here's what we find.
With 30.9M CVEs, The Glory is the third most watched new South Korean series in its launch period, behind All of Us Are Dead and far behind Squid Game. Will it be renewed? Hard to say, as it never was labeled as a limited series, but its story wraps up convincingly.
Over to the English series' all-time Top 10, The Night Agent entered 9th place with 515M hours viewed after a third week in the charts with a fantastic hold of -40% from week 2. This great hold gives it a better curve than The Watcher.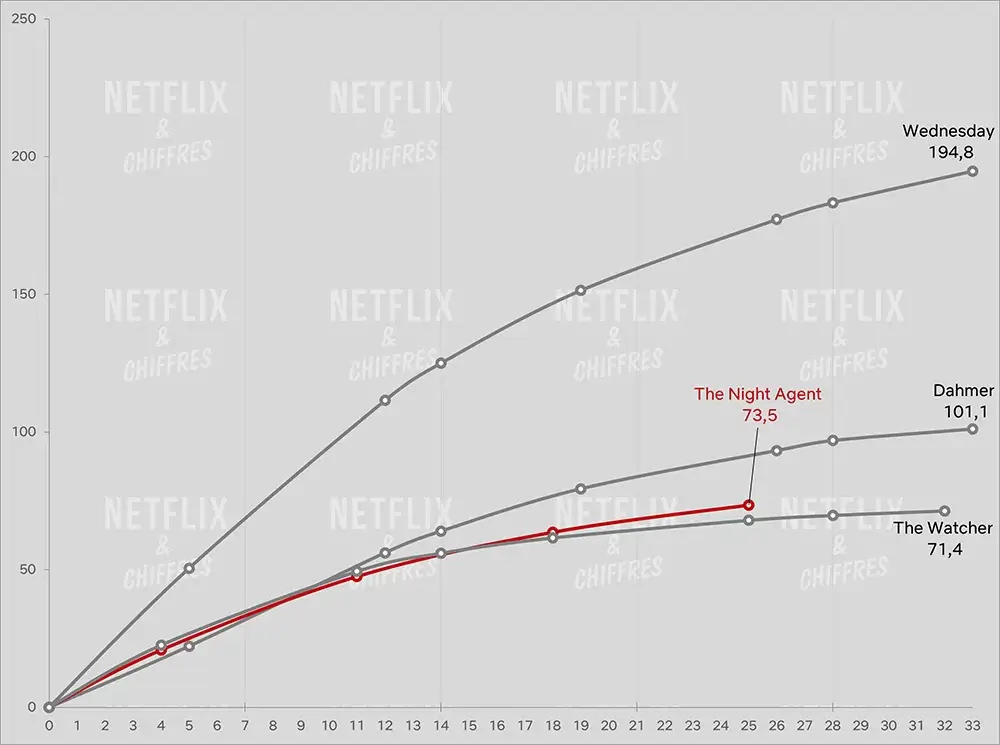 It still has ten days left to move up the charts, and my money is on the 600M hours viewed mark after 28 days, good enough for the 6th place.