Netflix's Noah Centineo spy thriller series The Recruit will return for a second season at Netflix in 2024. Here's everything we know so far about the upcoming second season including some exclusive information about when the new season will start filming.
Starring Noah Centineo, the new series sees him play the role of Owen Hendricks, a lawyer who is thrust into a conspiracy plot involving the CIA.
All eight episodes touched down on Netflix on December 16th, 2022.
Article Continues Below...
The show has some excellent pedigree, with Alexi Hawley serving as the show's creator. Hawley is best known for creating hits for network television, including Castle, The Rookie, The Following, and Body of Proof.
---
Has Netflix Renewed The Recruit for a Season 2?
Official Renewal Status: Renewed
Ahead of the official renewal, we heard positive rumblings from Canada production sources that they plan on moving forward with a season 2 a month after launch; Netflix officially confirmed season 2 on January 26th, 2023.
The Recruit has been renewed for Season 2! pic.twitter.com/VSLYVfFiqt

— Netflix (@netflix) January 26, 2023
In a statement on the renewal, Alexi Hawley said:
"I'm thrilled to dive back into the fun, funny, action-packed world of The Recruit. Seeing how invested our audience became in the show's adventurous take on the spy world and Noah's turn as Owen has been incredibly rewarding, and I can't wait to turn it all up to "11" in Season Two."
Centineo will return as Executive Producer and reprise his role as Owen Hendricks.
Hawley will return as Showrunner with Hypnotic's Doug Liman, Gene Klein, and David Bartis; Adam Ciralsky (P3 Media) and Charlie Ebersol are also returning as Executive Producers.
Ahead of the renewal, Alexi Crawley implied that conversations had taken place or that a blueprint for the future was in place.
In a Collider interview, Hawley talked about his attitude going into season 1 about future iterations, saying:
"I know things about where I would want to take it, and where I'd want to go with it. I mean obviously, you hope for success, but as you could see with that ending, I didn't plan for failure because I feel like in this day and age you just have to be bold, you have to be dramatic, to the expense of everything else. And you can't worry about Season 2's, or Season 3's, or beyond. You have to go, "What's the best version of this story right now?" And trust that people will come to it. And then you'll get another shot at it."
We want to note that since the launch of The Recruit, Noah Centineo has launched a production company called Arkhum Productions.
How well was The Recruit received?
Let's break down the review scores for the show thus far (correct as of January 20th, 2023):
IMDb User Score: 7.5
RottenTomatoes Critics Score: 67% (was 75% at launch)
RottenTomatoes Audience Score: 86%
Metacritic: 59/100
---
How well did The Recruit perform on Netflix?
Now a month on, we've got a pretty good picture of how well The Recruit is performing on Netflix.
Let's first look at the hourly data released by Netflix's top 10 site so far.
So far, the show has been featured in all five weeks since its launch. In total, the show has picked up 228.26 million hours watched globally.
| Week Period | Hours Viewed(M) | Rank | Week in Top 10 |
| --- | --- | --- | --- |
| December 11th, 2022 to December 18th, 2022 | 52,300,000 | 3 | 1 |
| December 18th, 2022 to December 25th, 2022 | 95,590,000 (+83%) | 3 | 2 |
| December 25th, 2022 to January 1st, 2023 | 43,360,000 (-55%) | 5 | 3 |
| January 1st, 2023 to January 8th, 2023 | 23,580,000 (-46%) | 6 | 4 |
| January 8th, 2023 to January 15th, 2023 | 13,430,000 (-43%) | 10 | 5 |
Weeks 2-3 will be critical, so, despite an 83% rise, we'll be keeping an eye on week 3.
As we've spoken about before, one possible flaw of the show is that in week 3, it dropped 55%. We've observed shows with a drop of over 50% sometimes have difficulty getting renewed.
So, in terms of CVE hours (completed viewing equivalent – raw hour figure from Netflix divided by the show's runtime), how does it compare to competitors?
According to our top 10 reports for 2022 (with some estimates at play) we can see The Recruit firmly on the cutoff point for cancelations. In the renewal chart below only Mo had fewer hours and has been publicly renewed.
How well was the opening launch in terms of CVE? The show slightly outperformed The Lincoln Lawyer initially but was just behind The Sandman and Vikings: Valhalla.
Next is Nielsen data which tracks viewing minutes in the United States, albeit they release their data a month after the fact.
Here's how viewing hours breakdown thus far:
Week 1 – Dec. 12 – 18 – #5 that week – 15.42M hours
Week 2 – Dec 19 – 25 – #4 that week – 28.25M hours
FlixPatrol data, which looks at the daily raw Netflix Top 10s, suggests the show peaked in its first fourth and fifth days in the top 10s globally but has held nicely since over the festive period. The show remained in numerous top 10s worldwide until one month after its release.
Data shows that the show performs best in the United States, South Africa, Eastern Europe, the Nordics, Canada, and Australia.
According to TelevisionStats.com, the show had a huge rise after its addition to Netflix, coming from nowhere after its release. Thus far, the show has peaked as the fourth biggest show in the world, according to their data.
They pull data from external sources (also known as demand sources) such as Twitter, Wikipedia, Google, and Reddit.
The only show more popular than The Recruit during the show's first week on Netflix was The White Lotus at HBO, Wednesday at Netflix, 1923 at Paramount+, and Yellowstone at Paramount Networks.
Data as of January 19th suggests the show peaked at #4 but has since dipped to below the top 100 shows.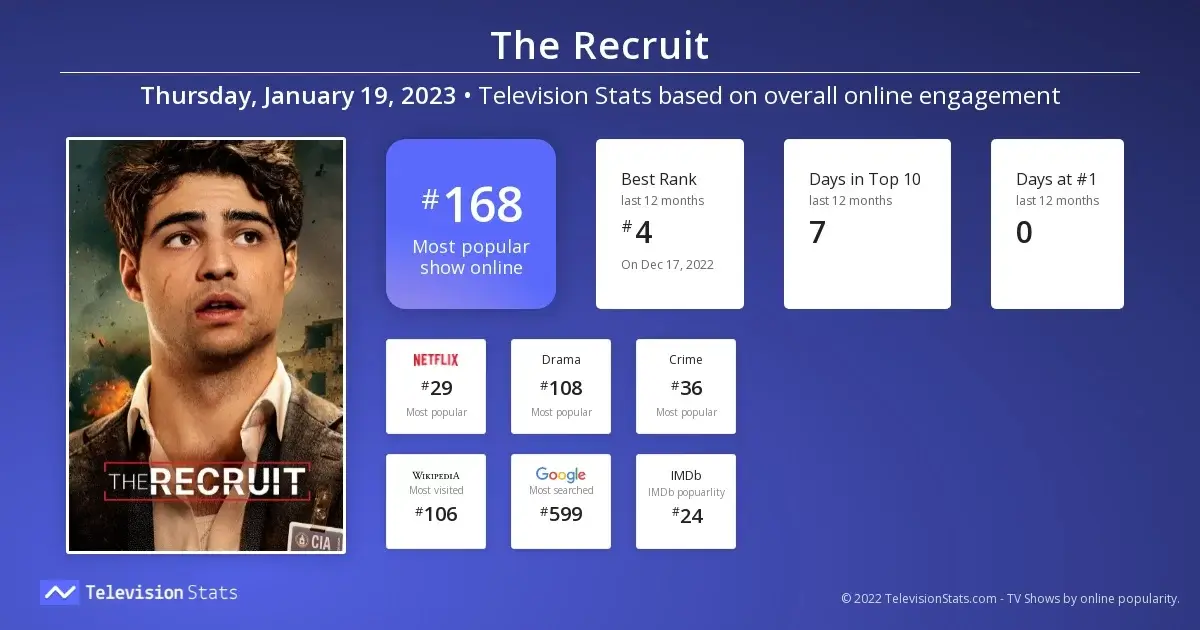 ---
When will The Recruit season 2 be released on Netflix?
As part of the renewal, Netflix did confirm the series would be returning at some point in 2024, although they provided no further specifics.
What's on Netflix can exclusively reveal that the show is due to return to filming in Vancouver, BC, in June 2023. More details to come but if it follows the schedule of season 1, that'd place the end of production sometime in November.
---
What to Expect from The Recruit Season 2
Let's quickly recap the events of season 1.
In episode 8, titled W.T.F.I.O.H. (it stands for Who the F*ck Is Owen Hendricks?), the mission to get Max home to Russia continues and just as things seem to be coming to a close, complications arise. It also saw the clashing of Owen's personal and professional life.
Season 1 concludes with a big twist; Karolina shoots Max but is she dead? That will undoubtedly be the cornerstone question that gets answered in season 2.
The ending then sees Owen reaching out to Hannah to meet up abroad, which concludes the series.
Per Netflix, the second season will pick up from last season's cliffhanger ending that found Owen and Max captured with their lives endangered.
The RadioTimes speculates that we'll see the return of Noah Centineo in a second season as well as Aarti Mann, Colton Dunn, and Fivel Stewart. They also predict the same as us in the sense that "Owen Hendricks would be thrown into another high-stakes mission, although this time he could be somewhat more prepared for the experience."
---
We'll update you on all things The Recruit as and when we learn more. Until then, let us know in the comments if you want to see season 2 of The Recruit on Netflix in the comments below.