After a romantic rollercoaster in South Korea, Kitty is on her way back to America, or is she? That's what XO, Kitty fans, or hoping to learn from a second season. Netflix has yet to renew the series for a second season, but we'll be keeping fans up to date on everything related to a second season of XO, Kitty.
XO, Kitty is a Netflix Orignal romantic comedy series created, written, and produced by Jenny Han, and the spin-off series of the popular To All the Boys film franchise.
Teen matchmaker Kitty Song Covey thinks she knows everything there is to know about love. But when she moves halfway across the world to reunite with her long-distance boyfriend, she'll soon realize that relationships are a lot more complicated when it's your own heart on the line.
Article Continues Below...
---
XO, Kitty Season 2 Netflix Renewal Status
Official Renewal Status: Pending (Last Updated: 19/05/2023)
At the time of writing XO, Kitty has yet to be renewed for a second season on Netflix. This isn't surprising considering Netflix has only just released the teen-drama series.
As the first spin-off show of one of its popular film franchises, it will be interesting to see how XO, Kitty performs over the next several weeks. Netflix will measure all of the analytics related to the series, such as weekly hourly viewing data, the percentage of subscribers starting and finishing the show, and more.
By the title of the series alone, you could be mistaken if you didn't realize XO, Kitty was a part of the To All the Boys franchise. We're intrigued to see if omitting To All the Boys in the title of the series has an impact on the show's performance.
Judging the performance of the show's first four days and XO, Kitty has gotten off to a strong start on Netflix with 72,080,000 hours viewed. If it wasn't for the success of Queen Charlotte: A Bridgerton Series, then XO, Kitty would be top.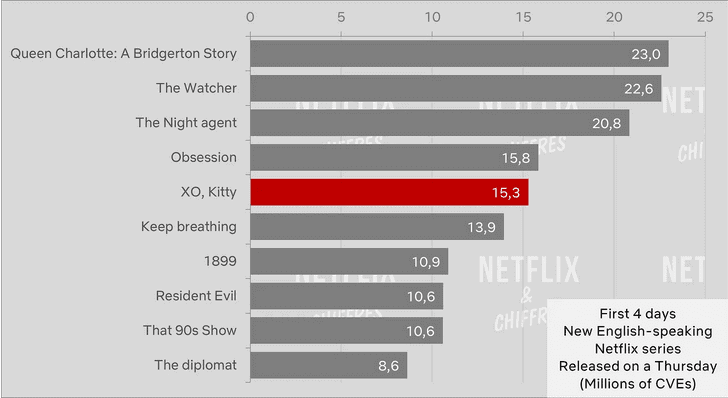 ---
What to expect from XO, Kitty season 2?
Kitty has a lot on her plate heading into a second season.
Kitty x Yuri
After going to Korea in order to be closer to her long-distance boyfriend Dae, by the end of the season, Kitty found herself with feelings for somebody else, Yuri.
However, before Kitty had the opportunity to reveal her feelings for Yuri, she was interrupted by the appearance of Juliana, the girl Yuri is in love with. Rather than confessing her feelings, Kitty decided to board her plane back to the US.
With her expulsion from KISS, Kitty is under the impression she will never see Yuri again, but, little does she know that Yuri is trying to convince her mother, Jina, to reinstate her. If Kitty is allowed to reattend KISS then she'll be reunited with Yuri.
Min Ho x Kitty
When Kitty boarded her plane, she was surprised to find she was on the same plane as Min Ho. Learning from Kitty that she and Dae were no longer together, and that Kitty was returning to America, the young man had nothing to lose and confessed his own feelings for her.
Kitty has feelings for Yuri, and she just broke up with Dae, so even if she returns to KISS it's unlikely she'll reciprocate Min Ho's feelings.
Who is Simon?
Jina gave the letter that Kitty's mom, Eve, had written for her to Kitty. After reading the letter, Kitty discovered the name of the mysterious Simon, her mother's potential first love.
Expect Kitty to go back to Jina and question her all about "Simon" and Jina's friendship with her mother.
Will Dae lose his place at KISS?
Dae's scholarship relies heavily on his performance at school, and he is expected to be the top-performing student. However, thanks to Florian cheating on his exams, Dae loses the top rank. Unless Florian is caught, or Dae can improve his grades to perfect levels, Dae's scholarship at KISS is under serious threat.
---
When could we expect to see a second season of XO, Kitty on Netflix?
Filming for the first season took place between March 28th, 2022, and June 7th, 2022. That means between the start of filming, and the show being released was a period of fourteen months.
Assuming the show is renewed, it could take at least fourteen months between filming, and release. That means even if filming was to begin in June 2023, at the earliest we'd be waiting until August 2024.
At the earliest, a realistic release date could be in late 2024.
---
Would you like to see a second season of XO, Kitty on Netflix? Let us know in the comments below!