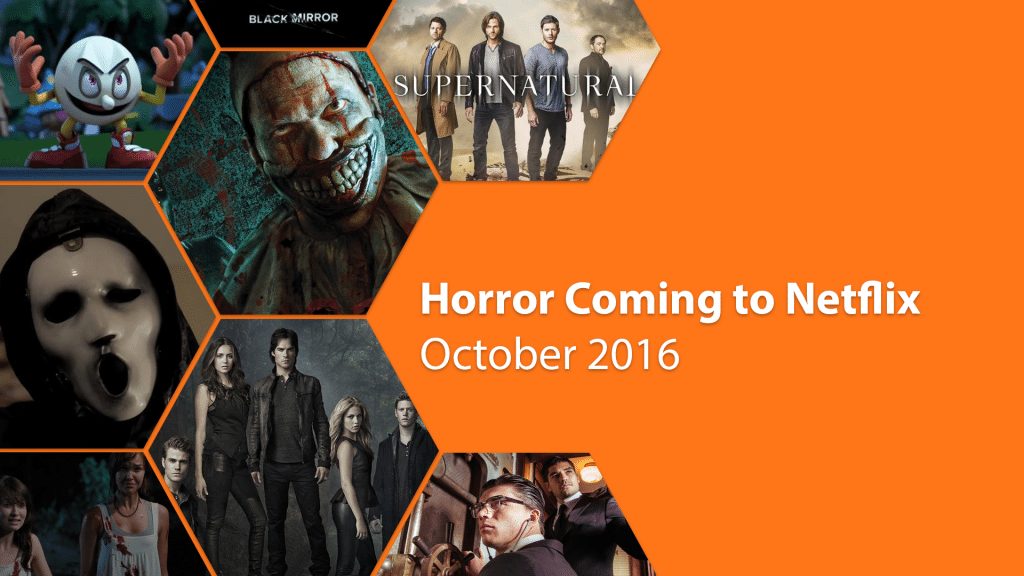 October is the month of horror and Netflix has plenty of it to keep you entertained over the Halloween season. Today, we're taking a look at the previously announced titles to be releasing on Netflix throughout the month of October 2016. It only includes the new titles you should expect to see on Netflix US and Netflix UK throughout the month.
You may notice that a lot of the titles mentioned below are actual TV series and that's just because Netflix buys up TV series in advance and announce the fact a lot quicker than they do for movies. You should treat this list as a sneak peak and keep an eye on our What's New section where we'll post the daily new titles.
Here on What's on Netflix, we're going to keep you scared with comprehensive coverage of the horror selection on Netflix so keep an eye out for the Halloween tag where we'll cover everything horror on Netflix.
Pac's Scary Halloween (2016)
Netflix US & UK (October 1st)
Article Continues Below...

Pacman has been moving beyond the joystick in recent years and Pac's Scary Halloween is a special of the ongoing animated series around the figure. It clocks in at just under 45 minutes and while it won't provide many scares for us adults, it'll certainly keep the kids entertained over the holiday period.
American Horror Story (Season 5)
Netflix US (October 4th)


Undoubtedly the most anticipated title coming to Netflix in October 2016 albeit very late. Season 5 of American Horror Story or more commonly known as AHS: Hotel, is the fifth season in the anthology horror that continues to change what a horror series can be. Season 6 is currently on television meaning you'll have to make it a quick binge to catch up.
Dartmoor Killing (2015)
Netflix US (October 4th)

Onto a thriller movie now which is scheduled to release on Netflix on October 4th. This mystery thriller is your classic who done it setup. It's a fairly B rated movie but that doesn't mean you should instantly avoid it. It's about a pair of young girls who get involved with someone rather dodgy person when they travel to Dartmoor.
iZombie (Season 3)
Netflix US (October 6th)

Although the link to horror pretty much finishes at the title and the basic concept of the show, it's still a good horror title for those not looking to be scared out of your wits. A young girl, who's on track to score top grades and a top job had her life flipped upside down when she becomes a zombie. She's then forced to take a job up in the morgue where she finds an unexpected side effect of her new life.
Supernatural (Season 11)
Netflix US (October 7th)

The CW are king of horror on television, particularly horror for your younger audiences. Supernatural is the first real success story of this pioneering movement from the network and has now reached season 12. In Supernatural, two brothers take up the reigns of their fathers work and hunt down supernatural beings.
The Vampire Diaries (October 8th)
Netflix US (October 8th)

Love Vampires? Then you'll be getting not only the original series of The Vampire Diaries and its spinoff, The Originals. It's somewhere between a mix of True Blood and Twilight and it has millions of fans around the world. It's about one girl who is thrusted into the world of vampires after falling for two brothers.
Black Mirror (Season 3 – Part 1)
Netflix US & UK (October 21st)

Black Mirror is a different kind of horror. It's twisted and often brutally realistic on how technology is changing our lives in an anthology format that gives us a new story each episode. Netflix took the reigns of the shows development and will be premiering 6 brand new episodes this month.
From Dusk Till Dawn (New Episodes)
Netflix UK (Weekly)

Over to Netflix UK now. Throughout October, you'll continue seeing brand new episodes of the excellent AMC series based on the Tarantino movie From Dusk Till Dawn. New episodes will premiere every Wednesday throughout October.
Scream: Halloween Special (Season 2)
Netflix UK (October 19th)

Although season 2 of Scream wrapped up on MTV months ago and has since been added to Netflix. We're happy to report that a special for season 2 has been announced for release on October 18th on MTV and will be released on Netflix UK and no doubt US on October 19th or soon after.
Other Horror Movies/TV Series Coming to Netflix in US/UK
Secrets of Emily Blair (2016) – US (October 1st)
The Uninvited (2009) – US (October 1st)
Dark (2015) – US (October 2nd)
The Originals (Season 3) – US (October 8th)