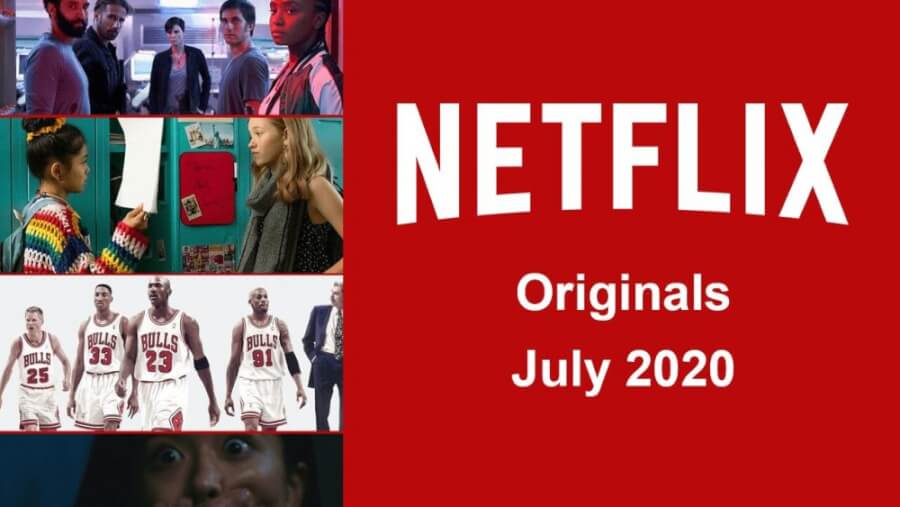 It's time to look over what Netflix is set to release over the course of July. We'll be taking you through all the new Netflix Original movies and TV series to be released in July 2020.
If you missed any of the Netflix Originals for June 2020, head back and check out our preview for those. There's also plenty more to look forward to in the second half of 2020 which we'll have a huge preview for shortly.
Now, let's take a look at the Netflix Originals on the way in July:
Article Continues Below...
---
Unsolved Mysteries (Season 1)
Netflix Release Date: July 1st

If you love your murder mystery docs, this docu-series will be up your alley. It'll look into six different stories of murders that never got solved.
The production comes from 21 Laps Entertainment (same production company as Stranger Things).
Multiple seasons are in development so expect this to be the first set of episodes of many.
---
Cable Girls (Season 5B)
Netflix Release Date: July 3rd

The concluding final season of the Spanish series Cable Girls. The period drama has had a long and successful run on Netflix but it's now time to bid farewell.
---
The Baby-Sitters Club
Netflix Release Date: July 3rd

Fuller House is coming to an end but Netflix rebooting classic IP for kids is not over yet. Netflix will kickstart July with the brand new Baby-Sitters Club series.
The show is set to modernize the format of the show which had its original run back in the mid-90s.
Among the cast for the new series is Stacey McGill, Mary-Anne Spier, Kristy Thomas and Claudia Kishi.
The Baby-Sitters Club, once a club we all wished we were part of gets a modern twist and will be in business this July 3. pic.twitter.com/mRrjvPGknK

— Netflix Malaysia (@NetflixMY) May 8, 2020
---
JU-ON: Origins (Season 1)
Netflix Release Date: July 3rd

If you love The Grudge, you'll be needing to re-up your Netflix subscription in July with the next chapter coming in a serialized format exclusively to Netflix.
The series will follow a paranormal investigator and talent from television who head into a cursed house and the rest, as they say, is history.
---
Mucho Mucho Amor: The Legend of Walter Mercado
Netflix Release Date: July 8th

Walter Mercado is the subject of this new documentary who is most known by his stage name Shanti Ananda. He's well known in Puerto Rico and Latin America through being a television personality.
The documentary has already premiered to critics who generally loved it. The Wrap called it a "radiant documentary" adding that it's "Sure to break the Latino internet"
---
Stateless (Season 1)
Netflix Release Date: July 8th

Netflix has had a string of hits with Australian producers and Stateless, a brand new limited series is heading to Netflix in early July.
With some top names behind it including Yvonne Strahovski, Jai Courtney, and Cate Blanchett, the series follows four strangers who meet at an Australian immigration detention center.
Stateless stars Yvonne Strahovski, Jai Courtney, Asher Keddie, Fayssal Bazzi, Dominic West, and Cate Blanchett. The six-episode limited series premieres July 8 pic.twitter.com/MLBI7TDx8U

— Queue (@netflixqueue) May 27, 2020
---
Japan Sinks: 2020 (Season 1)
Netflix Release Date: July 9th

One of the biggest animes to come to Netflix in 2020 is undoubtedly Japan Sinks that adapts the science fiction novel from Sakyo Komatsu.
The series follows various families that are displaced by a series of huge earthquakes throughout Japan.
Masaaki Yuasa is on board to direct with Toshio Yoshitaka writing. The studio behind the production is Science SARU who are behind Devilman Crybaby.
---
The Old Guard (2020)
Netflix Release Date: July 10th

One of the major summer blockbusters set to hit Netflix this year is The Old Guard featuring Charlize Theron.
From early teasers, the fantasy thriller looks promising with Gina Prince-Bythewood on board to direct. It's about a team of mercenaries exposed and fighting to keep their identifies secret.
---
Fatal Affair (2020)
Netflix Release Date: July 16th

If you loved Secret Obsession, the team behind is back for another dark thriller in July.
The movie will reunite Omar Epps and Nia Long who haven't appeared on screen together since 1999. We've got a bunch more details including some first look photos in our preview for Fatal Affair here.
---
The Last Dance (Limited Series)
Netflix Release Date: July 19th

You've probably heard everything you need to know about The Last Dance but will be finally made available in the US.
The docu-series takes an in-depth look into Michael Jordan and the rise of the 1990s basketball team, the Chicago Bulls.
The only caveat to this release is that almost all regions of Netflix has The Last Dance streaming. The United States is the last to get it as it aired on ESPN first. Although we're not expecting The Last Dance to carry Netflix branding in the US, it's still technically a Netflix Original.
---
The Kissing Booth 2 (2020)
Netflix Release Date: July 24th

We're back again for one of the most popular rom-coms on Netflix. The Kissing Booth 2 continues with change in the air. Noah is off to university and Noah is now a reformed bad-boy.
Vince Marcello rejoins the sequel.
---
The Umbrella Academy (Season 2)
Netflix Release Date: July 31st

It's a big one. The Umbrella Academy finally returns to Netflix for its second outing.
After the literal world-ending events of season 1, we're now going to be picking up where they left off with more adventures with the dysfunctional family.
You can find out more about The Umbrella Academy season 2 in our comprehensive preview here.
---
Other July 2020 Netflix Original Releases
Under the Riccione Sun (2020) – July 1st – Italian romantic teenage drama
Desperados – July 3rd – Romantic comedy
---
Rumored or Expected Netflix Originals for July 2020
The Seven Deadly Sins (Season 4) – We've known for a while The Seven Deadly Sins is coming back but while it's slated for a broad July release at the moment, we still don't an exact date.
Wizards: Tales of Arcadia (Season 1) – The final installments of the Guillermo Del Toro Tales of Arcadia series were mentioned to be coming in July 2020 but no official date lined up yet.
The Protector (Season 4) – The Turkish series has had numerous rumors floating around that a fourth season would arrive in July but again, nothing confirmed just yet.